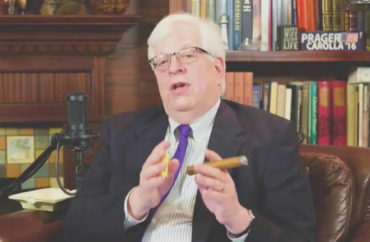 Protester says 'this will be another Milo situation.'
A student government diversity leader has vowed to work "tirelessly" to shut down conservative Dennis Prager's upcoming talk at the University of Wyoming.
So far, Hunter McFarland has amassed a group of nearly three dozen peers who say on social media they plan to help protest the talk, titled "Why Socialism Makes People Selfish."
McFarland, director of diversity for the university's student government, told The College Fix she wants Prager's talk to be canceled because he "is an anti-academic, rape advocate who spews hate speech against Muslims, Black people, Latinas, and many other groups who deserve to be protected at the University of Wyoming."
Prager, host of the Dennis Prager Show and founder of the nonprofit PragerU, is slated to speak on Thursday evening at the University of Wyoming. Hosted by the public university's Turning Point USA chapter, Prager's talk will examine "how socialism makes people selfish."
Prager recently garnered national attention after PragerU, known for its short educational videos, filed a discrimination lawsuit against YouTube and its parent company, Google, for placing a number of its programming on "restricted mode."
According to the Laramie Boomerang, McFarland told Jessie Leach, president of the university's Turning Point USA chapter, in an email that "If you continue, you will have the entire campus against you. This will be another Milo situation."
McFarland was referring to anti-feminist provocateur Milo Yiannopoulos, who has had speeches canceled at multiple campuses nationwide and was prevented from speaking earlier this year at UC Berkeley because of riots.
A Facebook event page for the protest against Prager currently list about three dozen people planning to attend the demonstration.
However, Prager vowed he won't let the protesters derail his visit to the Wyoming campus.
"This event will take place as planned," he said in a press release.
Prager said he intends to answer every question students throw his way, arguing the attempt to silence him is the latest attack against conservatives appearing on college campuses.
"This is yet another example of the illiberal left's attempt to shut down free speech on college campuses. Rather than simply choosing not to attend, or offering a dissenting viewpoint in an informed, respectful and courteous manner, their preferred approach is to intimidate and shut down conservative speakers," he said.
In an email to The College Fix, McFarland said her comment about Yiannopoulos was "in reference to how many students banded together to prevent Milo Yiannopoulos from speaking at their [campuses]" and added she's "working tirelessly" to garner support to get Prager's event at Wyoming canceled.
Prager has pushed back against the accusations made by protesters that he is hateful and racist. He said he'll be vindicated of those claims on Thursday.
"I cannot promise that I will change the mind of every student who comes; I can, however, promise that most students will wonder why anyone at their university called me a bigot and a hater," he said.
A campus spokesperson told The Fix the university "is committed to providing a safe environment for those exercising their First Amendment rights on our campus" and that it will provide a space for peaceful protesters outside the venue for Thursday's event.
"Those attending the event and those protesting the content of the speaker will be encouraged to remain peaceful and have courteous dialogue when given the opportunity to interact with others at the event," spokesman Chad Baldwin said.
Baldwin also said the university is taking safety precautions for the event and will have police officers present at the venue.
MORE: PragerU founder beats professor-led boycott of his symphony
IMAGE: PragerU/YouTube
Like The College Fix on Facebook / Follow us on Twitter