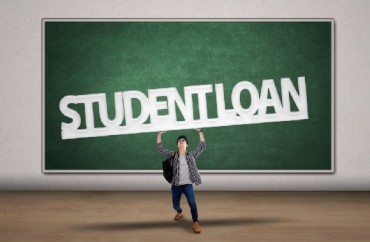 Two professors at Georgetown Law School recommend a new solution to the student loan crisis: rather than delaying repayment indefinitely or forgiving loans outright, Congress should require students to pay only what they can.
Income-based repayment plans could reform a broken system, in which student loans are "the largest body of consumer debt following mortgages, even though it is concentrated among a smaller share of the population," write John Brooks and Adam Levitin in Politico.
Total student loan debt reached $1.5 trillion in 2020, and about one in eight Americans has a student loan, according to the Brookings Institution. 
Additionally, more than 7 percent of borrowers were in default as of 2018, according to the Federal Student Aid Office. Student loans are also delaying homeownership and discouraging Americans from going to college, Brooks and Levitin state.  
Brooks and Levitin argue that President Biden's extended COVID-19 moratorium on student loan repayments doesn't get to the root of the problem: "What really matters is not the total amount owed by any borrower, but the amount of the monthly payment relative to the borrower's income."
"Large debts owed by high-income borrowers are often affordable, while smaller debts of those who do not complete college or attend predatory for-profit schools can pose crushing hardships."
Progressives' calls to forgive all student debt also miss the point, and would offer a politically unpopular stimulus to those who do not need it: 
Blanket loan forgiveness does not distinguish between borrowers who can easily repay their loans and those who cannot … A Harvard graduate pulling in half a million dollars on Wall Street will get the same relief as a community college graduate working as a barista. That could fuel a sharp political backlash, with Republicans all too happy to argue Democrats are bailing out young elites.
Additionally, an act of blanket loan forgiveness by the president could be viewed as illegitimate spending, particularly by a conservative Supreme Court. Former student borrowers would also feel slighted, as would future ones, who would be neglected under a forgiveness system that could not continue forever. 
Federal student loans already allow most borrowers to opt into an income-driven repayment plan, Brooks and Levitin write, which require annual payments no higher than a certain percentage of the borrower's annual income, as reported to the IRS. The borrower pays this adjusted amount for up to 25 years, and any additional cost is forgiven. 
However, income-driven repayment is not the default – borrowers need to know about the system, opt in, and complete new paperwork every year. Borrowers in default, who could benefit most from an income-driven system, face additional hurdles to get into the program.
Congress could easily fix this, the authors write. The solution? Mandate that all federal loans be paid through income-driven repayment, and perhaps collect loan payments through tax withholding, as in Australia and the United Kingdom.
"Moving to a system where all borrowers are in reformed IDR plans would ensure that everyone pays what they are able to pay," Brooks and Levitin argue.
"It would benefit not only current borrowers, but also future borrowers, ensuring once and for all that student loans cease to be a looming economic policy problem."
MORE: No, Biden can't 'cancel' student debt
IMAGE: Shutterstock
Like The College Fix on Facebook / Follow us on Twitter