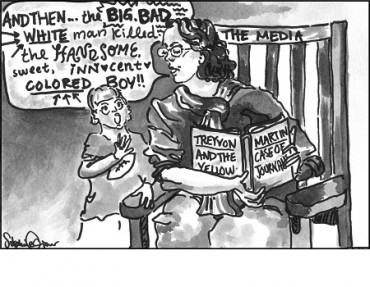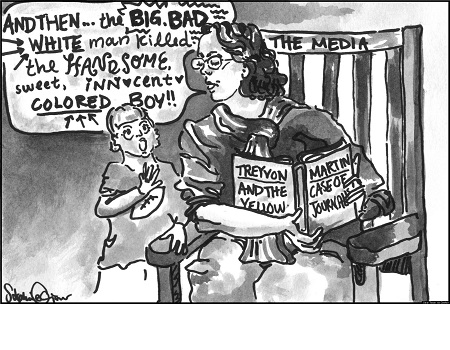 Is this cartoon racist? Take a look: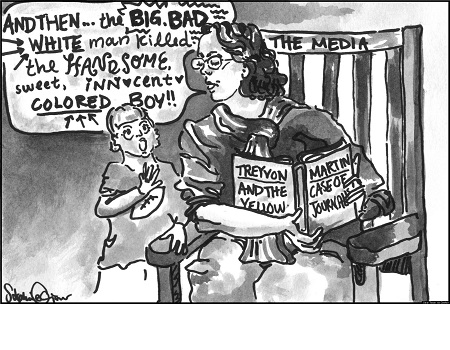 The University of Texas at Austin's student newspaper, The Daily Texan, ran the cartoon on Tuesday. It satirizes the media's response to the Trayvon Martin shooting, which has been to furiously denounce the shooting as an act of racially-motivated violence.
Gawker published an article calling the cartoon racist, and The Daily Texan temporarily removed it from the newspaper's website. But the cartoon is currently back up, accompanied by this disclaimer from the editors:
A controversial editorial cartoon on the Trayvon Martin shooting was published Tuesday on the Opinion page of The Daily Texan. The Daily Texan Editorial Board recognizes the sensitive nature of the cartoon's subject matter.

The views expressed in the cartoon are not those of the editorial board. They are those of the artist. It is the policy of the editorial board to publish the views of our columnists and cartoonists, even if we disagree with them.
One could argue that the cartoon is slightly tone deaf–and the artist did misspell Martin's first name (it's Trayvon, not Treyvon). But is it racist? Absolutely not. In fact, it is making fun of the speculative nature of the racial accusations being lobbed back and forth by those who would convict Martin's killer, George Zimmerman, without adequate evidence.
To be fair, there is already some evidence of Zimmerman's wrongdoing. He inflamed the situation by needlessly following Martin, whom he had no reason to suspect. He had a paranoid habit of calling the police for no reason. And though the initial investigation ruled his actions as self-defense, it's hard to imagine why Zimmerman would have needed to strike a mortal blow, being that he was the only one with a gun.
But there is considerably less evidence that George Zimmerman was a racist man, or that he killed Martin for specifically racist reasons. The Daily Texan cartoon is making this point: The media firestorm over Zimmerman's racist motivations is entirely unwarranted until we have more evidence.
For an example of the media's rush to judgment on George Zimmerman, check out this truly insensitive and over-the-top cartoon in the Pittsburgh Post Gazette:
Like The College Fix on Facebook / Follow us on Twitter