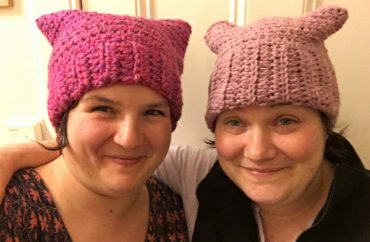 Many people are excluded from the contemporary women's movement due to its "reproductive system-focused" nature, the University of Oregon's Taylor Griggs argues, especially transgender individuals.
Writing in the Daily Emerald, Griggs says campaigns such as "free the nipple" and the knitting of pussy hats overlook the trans demographic, and she quotes Mic columnist Marie Solis who goes further — that such are oppressive to transgender women due to the message "having a vagina is essential for womanhood."
Griggs does concede the whole situation is a bit complicated. She understands, you see, the rationale of "genitalia-centered rhetoric" as a logical backlash to now-President Trump's "attacks on the female reproductive system," and admits that female reproductive organs do have a place in any dialogue.
But … don't dare forget about intersectionality!
[T]here is one group of people who seems to be totally left out here: transgender men, some of whom have vaginas and uteri that cause significant psychological pain for them that is rarely addressed.

"Being intersectional is being intentional," said Fatima Roohi Pervaiz, director of the ASUO Women's Center. "It's taking into account other people's experiences." Intentionality and critical thinking seem to be something that is missed by a vast majority of well-intentioned white women wearing pussy hats or handmade vagina costumes. We just need to recognize that we all have different experiences.

But it's not just transgender or non-gender conforming people who have felt uncomfortable with the reclamation of objectification. In my last article about similar issues, I discussed the SlutWalk, a movement started in 2011 by two Toronto women as a response to a Toronto police officer's comments about how women should dress in order to avoid getting sexually assaulted. I take issue with this usage of the word "slut" for multiple reasons, one of these being that the reclamation of it is pretty exclusive to white women. In a 2011 "open letter from black women to SlutWalk organizers," this exclusivity is explored.
Ah, yes — in these modern times we certainly can't have anyone feeling uncomfortable — or "unsafe" — by … donning a pussy hat.
Ms. Griggs might want to add "preposterously ridiculous" in there, but that wouldn't fit the narrative, natch.
MORE: Sorority: 'A transgender woman is just as much of a woman as I am'
MORE: Transgender activism's threat to women is 'forbidden discourse' on the left
Like The College Fix on Facebook / Follow us on Twitter
IMAGE: Nicola Osborne/Flickr