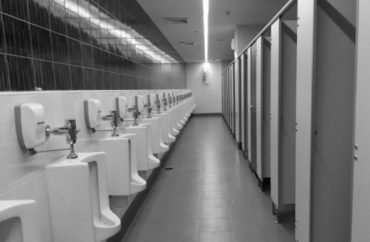 'Not all menstruators are women'
A student writer at the University of Texas at Austin recently argued in the campus newspaper that the school should install free tampon dispensers in men's restrooms on campus, claiming that men are also capable of menstruating.
"Menstrual products need to be two things:  accessible to those who want them and free for those who can't afford them," writes Abby Springs in The Daily Texan. To that end, she argues, the school "should provide free menstrual products in men's bathrooms in buildings without gender-neutral facilities."
Springs' claim is based on the contention that a woman who "identifies" as a man thus qualifies as one, leading to her claim that "transgender men may menstruate." This belief has led numerous schools such as Oregon State University and the University of Arkansas to install tampons in men's rooms.
As Springs notes, activists at UT-Austin have been busy attempting to get menstrual products into men's rooms on their campus, as well:
Student activists have already been making strides in promoting menstrual equity. Last fall, a joint resolution passed by Student Government, the Senate of College Councils and the Graduate Student Assembly called on UT to include free tampons and pads in all women's and gender-neutral bathrooms.

"Menstrual equity is just our way of trying to provide resources to all people, regardless of if they can afford it," said Alexzandra Roman, government and women's and gender studies sophomore and co-director of the Women's Resource Agency. "The University does not necessarily know who is menstruating or who might need certain resources or what economic backgrounds we're coming from."

Low-income menstruators often have a difficult time acquiring period products, as they can't be purchased with government assistance programs. Roman said that Student Government is currently working with UT administration to implement the resolution, an important step in achieving access.

"A lot of people are really for it," Roman said. "It's not just women either, we also found that a lot of men are in support and have even asked when this might be an option in men's restrooms."
The word "menstruators" is a gender-neutral term meant to de-centralize women from the historically and scientifically female-associated act of menstruation. Activists in recent years have promoted similar terms to disassociate women from the state of pregnancy, advocating phrases like "pregnant person" and "gestational parent."
MORE: Dear students: It's okay to say 'he' or 'she'
IMAGE: Shutterstock.com
Like The College Fix on Facebook / Follow us on Twitter