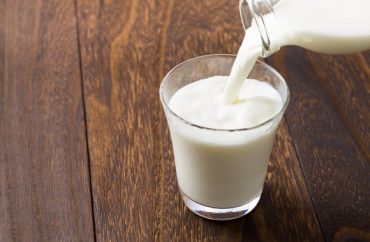 In an op-ed featured in the California State University-Long Beach student paper Daily 49er, Samantha Diaz follows up on stories about the silly usurpation of milk by white supremacists by arguing that yes, the dairy beverage really is racist.
All of us have been "so accustomed to hearing the benefits of milk," Diaz writes, "that you probably didn't even realize the subtle racism hidden in our health facts."
But … aren't our dietary guidelines science? And aren't progressives all about science, especially in this Age of Trump?
Apparently not when "there is a deep-rooted [American] tradition to suppress an entire race's existence," Diaz says.
Federal guidelines which state Americans should drink three cups of milk per day do not take into account the "potential detriment it has on non-white people's health."
"Osteoporosis," you see, "affects Africans at a significantly lower rate than it does most Americans," she writes.
The Mother Jones article [see here] states that not only is milk non-beneficial to Africans, but following the guidelines may actually be detrimental to their health. There is a strong correlation to calcium consumption and an increased risk of prostate cancer, unproportionally affecting African men. Furthermore, both black children and adults generally secrete less calcium on a daily basis than white people, making them less dependent upon milk.

Remember that this is the dietary guidelines for Americans. I want to emphasize that last word. These guidelines are for Americans. This means they should reflect the health needs of the ethnicities that make up America which, news flash, isn't just white people. And since the African American community in the U.S. is continuously rising, it seems only logical to acknowledge that while something may be beneficial for one group of people, that may not be the case for another.
What Diaz leaves out from the Mother Jones article is that the director of the Women's Global Health Institute at Purdue University — an expert on osteoporosis — says she "doesn't think African Americans should consume less dairy."
The insinuation of racism comes from University of North Texas evolutionary historian Constance Hilliard:
[T]he federal government's dietary recommendations don't account for such [racial] distinctions. And that omission, she says, amounts to something like discrimination. "What has happened is the medical community has universalized the particular biology of [Caucasians].
*Sigh*
Let's face it: If you're particularly concerned about your diet, consult a physician. Don't rely on the feds for guidance; they've bungled dietary recommendations before, after all.
It's quite a stretch, however, to allege nutritional guidelines are just another example of, as Diaz says, the "inanimate face of racism."
MORE: Ohio U. official: 'White people are responsible for racism'
MORE: North Carolina State student: Garbage left on his car is 'racism'
Like The College Fix on Facebook / Follow us on Twitter
IMAGE: Shutterstock