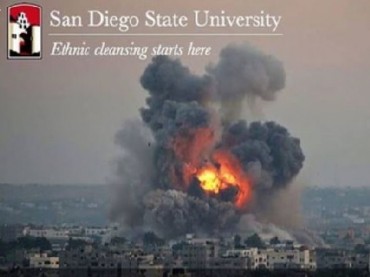 Criticism comes after San Diego State student leaders rejected BDS resolution
A pro-Palestinian campus activist group has laid blame for recent deaths in Gaza very close to home – their home – San Diego State University.
Students for Justice in Palestine recently declared SDSU's refusal to support divesting from companies that do business with Israel means it has blood on its hands.
The SJP Facebook post included an image of an explosion from an Israeli rocket strike, with the campus logo and headline: "San Diego State University – Ethnic cleansing starts here."
It went on to state: "After decades of partnership with Boeing, Raytheon, and Lockheed Martin; and an exceptional performance in 2008 and 2012. We at SDSU are once again, proud sponsors of Israel's bombing of Gaza. This year we continue to celebrate the blood on our hands from thousands of Palestinians' deaths by keeping red and black our official colors."
The declaration comes as the active and controversial student group continues to push its campus to endorse the Boycott, Divest and Sanction movement against Israel.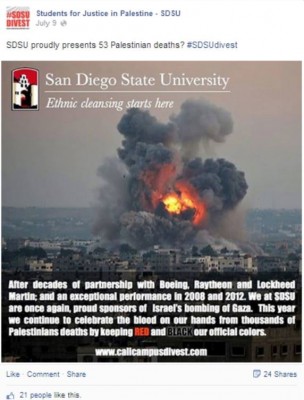 Earlier this school year, Students for Justice in Palestine asked the student government to lobby campus officials to divest in certain companies that do business with Israel, including General Electric, Hewlett-Packard and Motorola. The proposal was narrowly defeated by a student government subcommittee by a vote of 10 to 7, The Daily Aztec student newspaper reported in March. A full vote by the Associated Students in April also denied the resolution 16 to 3.
San Diego State officials told The College Fix they have no comment on the issue.
But other SDSU students are alarmed.
The Daily Aztec earlier this month published an opinion piece by Anthony Berteaux "questioning the integrity" of the school's branch of Students for Justice in Palestine.
"While I used to consider myself pro-divestment and, by default, anti-Israel, 'Ethnic cleansing starts here' shook something in me as an Aztec," Berteaux wrote.
The piece called attention to SJP's questionable appraisal of the current unrest.
"SJP has been adamant about spreading its message of justice for the Palestinians, and in the process has purposely demonized Israel and its citizens." This is a skewed and "violent misrepresentation of Israel convenient to the specific narrative of SJP," according to the column.
The piece also calls out Students for Justice in Palestine for its "undeniably unprofessional" tactics to promote its cause. These include using the school logo and mocking San Diego State's motto: "Leadership starts here."
The group's aggressive tactics implicitly target Jewish students in particular, the article posits. The Daily Aztec interviewed Sydney Abel, a political science sophomore at San Diego State, who expressed her personal concern.
"SJP make me feel uncomfortable. As a student on the SDSU campus, the hostile way SJP promotes its position targets who I am as a person," she said. "SJP looks to point out the Jewish community on campus and targets Jewish students, saying that their homeland is illegitimate. As a person who has recently found their spirituality, Israel is more than a country. It is a place that I can call home even if I am thousands of miles away."
Every year, the school's SJP group also puts up a mock wall on the SDSU campus "to symbolize the apartheid wall Israel built in the West Bank in 2003." Israel has said the wall was built to keep out Palestinian homicide bombers.
An April letter to the editor to the student newspaper denouncing the campus wall display noted that "since the creation of these security measures, suicide bombing and terror attacks in Israel have gone down by 90 percent and thousands of lives have been saved."
Last year, the campus SJP group also launched a new advocacy and membership drive campaign called the "Right Side" that likened the way Palestinians are treated in Israel to South African Apartheid and Jim Crow America.
Again, SDSU students voiced alarm over the campaign.
"The Right Side Campaign has the potential to completely divide and destroy our campus climate," Nirit Revzin, president of Aztecs for Israel, said in an email to The Fix.
SJP has also refused invitations to events hosted by Students in Support of Israel.
Sarah Katularu, president of SDSU's Students Supporting Israel chapter, told The Daily Aztec that "we have tried to hold events to raise money for Palestinian children and they turned us down on our offer to work with them."
What's more, a letter to the editor in the student newspaper by Revzin stated that when the group tries to work with Students for Justice in Palestine, they're told: "SJP officers do not socialize with sympathizers of a brutal apartheid state."
"With such a message behind the movement, we cannot coexist peacefully on campus," Revzin had stated.
Mairead McArdle is a student at Thomas Aquinas College.
Like The College Fix on Facebook / Follow us on Twitter
IMAGE:  Facebook screenshots