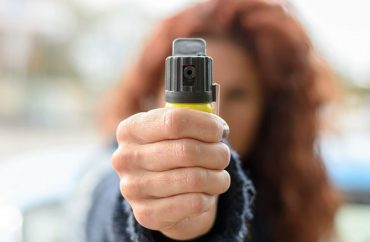 Our fall fundraising campaign runs through Sept. 30, so please consider a tax-deductible donation of any amount to help us continue to publish the best campus news in the nation. Thanks for your support!
A student body president vetoed a resolution supporting students' right to nonlethal self-defense in the wake of highly publicized sexual assault allegations at Capital University in Ohio.
President Jason Fugate is inventing procedural and technical reasons to prevent the bill's passage, according to members of a student group who wrote Senate Bill 1.
Despite majority support for the bill in a Tuesday night student senate vote, Fugate said he wouldn't approve any similar bill until he was convinced the entire student body supported it.
The veto is "little more than an effort by the university administration to bury this conversation before it even starts," the bill's three authors, also members of the university's Young Americans for Liberty chapter, said in a joint statement. "This is a clear example of university bureaucrats putting a political agenda over student safety."
Adopt same rules as UT-Austin
Central Ohio universities issued alerts last week after a "convicted serial groper" who is not a student was arrested in connection with an alleged sexual assault at Capital, ABC 6 reported.
In response to that incident and other violence targeting Capital students, student senator Garrett Kehr, the campus coordinator of Students for Liberty, joined with the pro-liberty student government caucus to advocate for a "No More Victims" measure, a Students for Liberty spokesperson told The College Fix in an email.
Senate Bill 1, which had six sponsors, asks the university's board of trustees to adopt concealed-carry policies similar to those at the University of Texas-Austin and "in line with the Ohio Revised Code."
It would treat stun guns or "tazers" – apparently meaning the electroshock weapons made by the company formerly known as Taser – in the same manner as self-defense sprays such as Mace that students are currently allowed to carry.
Self-defense resolution at Capital University by The College Fix on Scribd
"Every individual and every student has an absolute right to self-defense," Sam Waldvogel, senator and president of the YAL chapter, wrote in a statement given to The Fix before the vote. "It's time for the University to stop suppressing these rights."
Senate Bill 1 claims that Capital policies do not let students "adequately defend themselves against credible and imminent threats," and says that universities that adopted similar self-defense policies "have seen dramatic increase in student safety."
The university currently holds a rating of "C –" for safety on campus and "experiences higher rates of violent crimes relative to other schools nationally," the bill reads, citing the independent ranking service CollegeFactual.com.
Only a referendum will satisfy him?
President Fugate explained in his veto statement that the bill "did not meet the standard" that he believes honors the "obligations to the Student Body." For one thing, the student government "does not have a direct audience" with the trustees.
According to Fugate, senators were not given enough time "for proper individual research and study" because the bill was passed out of committee immediately before Tuesday night's senate meeting. He said the seven footnotes in the legislation, including three news reports, were too many for senators to review that night.
Fugate also found it concerning that the bill was "not made available for the Agenda," which prevented "healthy and necessary discourse" among senators who were not present at the meeting.
MORE: Ohio State leaders silent after pro-gun student murdered
President Fugate has vetoed SB No. 1. Read the statement below. #CapFam pic.twitter.com/fGuJSMVpFT

— Student Gov. CU (@SG_Capital) September 27, 2017
He then appeared to suggest that he would only allow the bill to pass if it were preceded by a student referendum or large-scale survey of the student population, about 2,700 undergraduates.
"On issues as important and contested as this, concrete evidence of clear student body approval should be presented to ensure we are upholding our obligation to the Student Body," Fugate said.
Approved legislation must not only be "procedurally coherent and correct" but also "representative of the student body's wants and wishes," he said.
The Fix attempted to reach Fugate through Capital's main phone number, but the person who answered the call said the student government office was empty and refused to provide Fugate's contact information.
No evidence 'we failed to meet the standards'
The bill's authors disputed Fugate's assertion that it did not pass procedural and technical muster.
Fugate "failed to cite a single specific instance in which we failed to meet the standards outlined in the by-laws, or constitution," read their statement, signed by YAL members Waldvogel, Haley Wehner and Kehr, also the Students for Liberty chapter official.
They followed "procedural precedent set by the last two general assemblies" and were "approved for a vote by the Speaker of the senate who presides over all senatorial decisions."
Despite Fugate's claim that the student body's support hasn't been demonstrated, the bill received "a 2-1 vote in favor of its passage," showing that the president ignored "the will of the student body," they wrote: "We will not rest until Capital University recognizes self-defense as a fundamental human right."
The Fix has been unable to obtain a final tally of the vote; the student government's public records page is more than a year out of date.
MORE: Ohio students convince college to let everyone carry nonlethal weapons
IMAGE: michaelheim/Shutterstock
Like The College Fix on Facebook / Follow us on Twitter