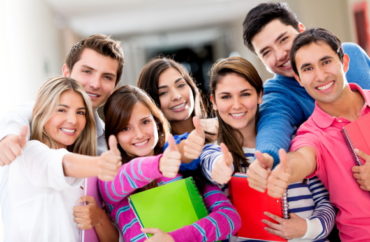 ANALYSIS: Students at Rutgers attempted to get pro-liberty peers investigated and derecognized — but free speech won in the end
A recent attempt by a group of self-described progressive students at Rutgers University to get Turning Point USA and Young Americans for Liberty deplatformed has failed.
The effort took place over the last several weeks, the catalyst being an Oct. 7 rally against the university's mask mandate co-hosted by the Rutgers chapters of Turning Point USA and Young Americans for Liberty.
Although the protesters were met by counter-protesters, and at times things had gotten heated, by all accounts it was a peaceful, relatively civil affair.
"It was a little bit rowdy and raucous, but no one was hurt," Thomas Salem, president of Rutgers' TPUSA chapter, said in a recent telephone interview with The College Fix. "There was no violence of any kind. … No one's safety was ever compromised."
We had a turn out of over 100 people at our No Forced Masks Rally.

Huge thank you to:@JerseyRizzo@NewDayForNJ @Magner4Freedom @iansmithfitness @Mele4Nj
and student activists from Rutgers YAL & TPUSA at Rutgers for speaking up against the mask mandate. pic.twitter.com/owaYbGliGh

— Sara STOP THE COUNT Razi (@LibertyRazi) October 7, 2021
Accounts from Rutgers' student paper, the Daily Targum, don't contradict this description.
Yet, shortly after the protest, a petition began circulating on Instagram calling for the Rutgers TPUSA and YAL chapters to be defunded.
A few days later the student organization RU Progressive posted a statement on Instagram exhorting the Rutgers University Student Assembly to "advocate for the Rutgers Administration to take action towards investigating the events of the recent protest and to take appropriate action towards holding those involved to account."
But for what, exactly?
By all accounts the protest was peaceful. Furthermore, according to Salem, prior to the event, TPUSA and YAL meticulously "went through all the requisite bureaucratic channels to schedule the rally." They reserved the space and spoke to the deans, he said.
However, in the days following the rally, reports were made that individuals at the event compared COVID-19 policies to the Holocaust, while old stories resurfaced that a guest at the event had been involved in a fatal drunk driving accident in 2007.
The guest in question was Ian Smith, the New Jersey gym owner who made headlines in 2020 for openly defying public health orders and fighting to keep his business open during his state's lockdown.
"I know that an individual did make a reference to the Holocaust in relation to some of the vaccine mandates that are being pushed in specific parts of the country like Los Angeles and New York," Salem said.
As for Smith, Salem said TPUSA and YAL brought him to campus "because he's become a prominent voice of the freedom movement, speaking out against some of the COVID measures that are being imposed both here in New Jersey and beyond."
But Smith's past crime — which is serious and to which Smith has admitted culpability in a video he posted to Instagram — is irrelevant and now in the past.
As far as Salem knew, having Smith or anyone with such a criminal record on campus was not in violation of any school policy he was aware of, he said.
Those pushing for action to be taken against the Rutgers chapters of TPUSA and YAL, likewise, did not seem to be aware of any policy the two organizations had violated either; they referenced a Holocaust comparison they found offensive and cited a past crime of a guest speaker they felt should not have been on campus.
In a rather disjointed clarification that accompanied RU Progressive's Instagram statement, they attempted to further impugn Smith's character, indicting him for his disobedience to public health czars, as well as on multiple counts of wrongthink.
"Smith has actively demonstrated his lack of regard for human life by facilitating the spread of COVID through keeping his gym open during the lockdown and his spread of misinformation about the virus and health measures on social media platforms," the clarification read.
"To add to this, he has spread conspiracy theories regarding the 2020 presidential election, and has shown support for notable white supremacist Tucker Carlson."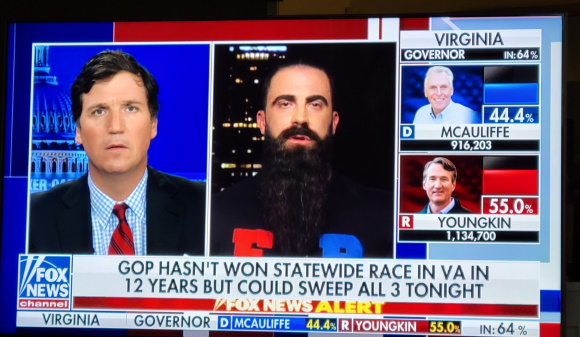 But again, there was no reference to any specific policy that had been violated.
Furthermore, the clarification also, arguably, raises questions of whether RU Progressive takes the stance that questioning public health measures should disqualify someone from speaking at a rally protesting public health measures, as well as how they define white supremacist, and how Smith liking a popular cable news host is relevant.
When The College Fix reached out to RU Progressive, a representative replied with an email statement reiterating their organization's call for an investigation of "the events of the recent protest and for appropriate action to be taken in line with university policies on student conduct during events hosted by student-funded organizations."
The email statement went on to say, "If the university finds that either organization (or students involved in the event) had broken any policies of student conduct, we feel that appropriate action should be taken. We as an organization do not feel that we are in a place to prescribe a set of consequences for the organizations or individuals involved in the event."
Again, there was no reference to any specific policy that had been violated – just the demand that the school look for one and deliver an appropriate punishment if one were to be found.
When The College Fix contacted the Rutgers University Student Assembly about various calls to investigate or defund the Rutgers chapters of TPUSA and YAL, a representative issued a statement via email.
"The RUSA Allocations Board does not have the ability to defund student organizations unless they are derecognized by the University, which is not a course of action that the Rutgers administration will be taking," according to the statement.
"At our general meeting…we clarified this fact to the general assembly. Furthermore, it is worth noting that no student fee money was used in the funding of the TPUSA/YAL event. We make funding decisions based off of a content-neutral model, and we can not [sic] penalize an organization for exercising freedom of speech."
Hence, in this case, it would appear free speech prevailed.
ALERT: Check out our Campus Cancel Culture Database
IMAGE: ESB Professional / Shutterstock
Like The College Fix on Facebook / Follow us on Twitter