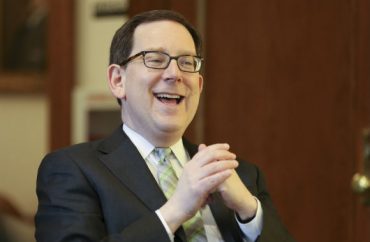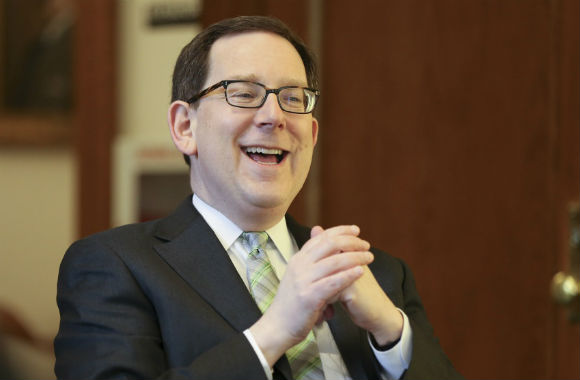 UPDATED
Faculty Senate leader blames president: He 'hurt free speech'
A few dozen student protesters brought a laundry list of complaints when they blocked University of Oregon President Michael Schill from giving his State of the University speech Friday, but unsurprisingly, it all boiled down to "fascism and neo-Nazis."
The Daily Emerald reports they rushed the stage before Schill could even start, chanted that the white leader was a "CEO" and the public university "a business firm," and won the day when the administration canceled the speech and left:
Charlie Landeros, a fourth-year planning public policy and management senior student, gave a speech, at times yelling into a megaphone on stage. He spoke about indigenous rights, minority student safety and oppression, and tuition increases.

"Our demands will be heard, we will be heard, we are the students, we will not be ignored," Landeros said. "Expect resistance to anyone who opposes us."
They ignored Kevin Marbury, interim vice president of student life and a black man, who told them they were infringing on Schill's right to speak and violating the campus "amplified noise" rule.
Bewilderingly, the vice president of the Faculty Senate, Bill Harbaugh, blamed Schill:
He said the administrators should have tried to establish a dialogue instead of leaving.

"I think the administration should have let them say their peace and waited them out," Harbaugh said. "Instead of promoting free speech, the administration hurt free speech."
Asked about a disciplinary investigation into the protesters' actions Friday, the university's Office of Communications told The College Fix in an email Monday afternoon: "The incident is under review as it relates to potential conduct violations."
MORE: UO ditches 'due process' and 'openness' in revised ethics code
From President Schill's State of the University. For more on the speech — and a $50m gift announcement — visit: https://t.co/KJ0cmnQDvs pic.twitter.com/8c0VWwIi2R

— University of Oregon (@uoregon) October 6, 2017
In a followup Monday, the Daily put the shutdown in the context of an anonymous and no-strings-attached $50 million gift to Schill's "Presidential Fund for Excellence," announced Friday morning before the speech. The university also raised tuition 6.6 percent this year.
It elaborated on the demands of the "UO Student Collective," which include "freezing tuition, cutting carbon emissions immediately and creating a Muslim prayer room" in the student activities center.
They also want the administration to "condemn" Immigration and Customs Enforcement, despite Schill already telling students last month he won't let immigration officials on campus without a warrant:
The [UO Student Collective] promoted their demonstration on Facebook as "The State of Reality" protest, a reference to their discontent with the current state of the university.

Landeros thanked all students who came out "to take a stand against the fascism at University of Oregon." He said that the protest was not just against Schill, but "the entire systems of oppression which exist within the halls of our school."

The group also accused Schill of having an "ignorantly happy-go-lucky attitude" while attempting to "suppress [UO] students and to create a wage/class gap between the haves and havenots."

Among the group's concerns were "the recent acceptance of fascism and neo-Nazis" and "the blatant disregard of the student's requests."
MORE: UO punishes professor for 'harassment' of wearing costume at her own party
Protesters take the stage #schillspeech @DailyEmerald pic.twitter.com/sgmyISKLbH

— Will Campbell (@wtcampbell) October 6, 2017
A former law professor whose specialty is property, not the Constitution, Schill later told the paper he wasn't "angry" with the protesters but "sad that they don't understand the value of free speech." He contrasted their shutdown tactics with those of black student protesters two years ago who worked with Schill to raise money for the Black Cultural Center.
The university is planning a series of public lectures on free speech "with the assistance of all the schools and colleges" this year.
Schill has not been a consistent defender of free speech. He justified the university's punishment of a law professor for wearing an allegedly offensive Halloween costume at her own party, a move that earned a public rebuke from the dean of the University of California-Irvine's law school.
MORE: 'Slippery slopes' aren't a thing, so UO can punish costumes
The university was expecting the protest and prerecorded Schill's speech, which noted Friday's turn of events:
Today, I had planned to share with the campus community some wonderful news about investments in three new academic programs, support for student success programming at the soon-to-be-built Black Cultural Center and nine new endowed faculty chair positions for our schools and colleges. We are able to make these investments thanks to an incredibly generous $50 million dollar gift. Unfortunately, I was not able to tell you my good news in person, because my speech was disrupted by a small group of protesters. Instead, I am linking to a video in which I have delivered the speech for you to hear.
He went beyond denouncing "fringe groups" who use public universities to spread "hate" and "seek to incite" a violent reaction:
In other instances and at other universities, students seek to disinvite or shout-down speakers they don't agree with. Faculty who ask probing questions are sometimes vilified as sexist or racist, creating a chilling effect on campus speech.
UPDATE: The administration confirmed it is looking into "potential conduct violations" at Friday's protest. The article has been amended accordingly.
MORE: UC-Irvine law dean slams UO for costume punishment of law prof
IMAGE: University of Oregon
Like The College Fix on Facebook / Follow us on Twitter