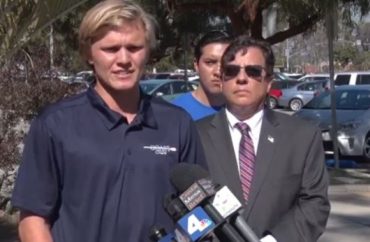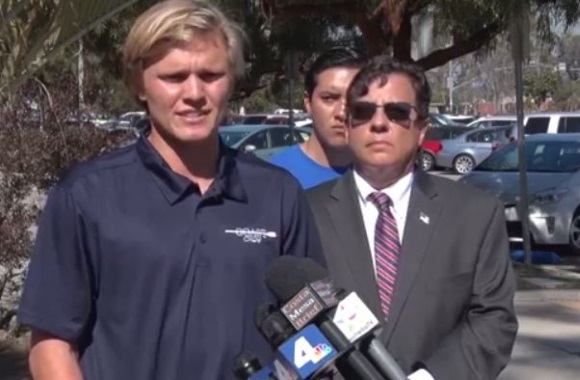 A student who recorded his professor's post-Election Day rant against Donald Trump has been suspended, but his attorney vowed on Wednesday to fight the sanctions, calling administrators' decision punitive and a violation of the student's Constitutional rights.
Student Caleb O'Neil was suspended for a semester from Orange Coast College for allegedly violating a policy that prohibits recording professors, but his attorney, William Becker, called instructor Olga Perez Stable Cox's tirade against Trump an "unconstitutional act that needed to be documented."
Making the comments at a press conference Wednesday, Becker said he is appealing the punishment, adding "if the appeal of Caleb's suspension is not lifted we will take legal action against the college."
"If that [the suspension] isn't punitive, I don't know what is," Becker said. "What the administration has done is completely sided with the teacher at the expense of the student. It should be the other way around — she is a public servant."
O'Neil's video shows the Cox saying in part: "… white supremacist and a vice president that is one of the most anti-gay humans in this country. And so we are in for a difficult time but again I do believe that we can get past that. Our nation is divided, we have been assaulted, it's an act of terrorism. One of the most frightening things for me and most people in my life is that the people creating the assault are among us."
O'Neil, a member of the College Republicans and an open Trump supporter who had worn pro-Trump clothing leading up to the election, recorded the video and gave it to his College Republican peers, who then uploaded it on YouTube. The video went viral and ultimately led to sanctions handed down against O'Neil late last week.
Those punishments include the semester-long suspension, as well as disciplinary probation for another semester, an apology letter to the professor, and a three-page, double spaced essay discussing why he videotaped the professor despite "knowing that it was a violation of the course syllabus," Campus Reform reports, citing a letter to O'Neil.
"It is my hope that this experience will lead you to truly think through your actions and the consequences of those actions when making decisions in the future," Victoria Lugo, interim dean of students, wrote in the Feb. 9 letter to O'Neil, according to the Orange County Register.
Becker told the Register "this is an attack by leftists in academia to protect the expressive rights of their radical instructors at the expense of the expressive rights of conservative students on campus."
Becker is president of Freedom X, a nonprofit that works to defend religious and conservative freedom of expression.
"What that instructor did that day violates the Constitution," Becker said during the press conference. "What she did was threaten and intimidate all students who don't believe what she believes."
O'Neil came forward in public for the first time Wednesday to tell his story. At the press conference, he said he was known as a Trump supporter and recorded his professor's rant as an act of protection.
"I was fearful of my grade," he said, adding he felt personally targeted by the professor, as if she were putting him on notice.
MORE: Professor tells students: Trump's election an 'act of terrorism' (VIDEO)
MORE: Professors call Founding Fathers 'terrorists,' founding ideals a 'fabrication'
Like The College Fix on Facebook / Follow us on Twitter