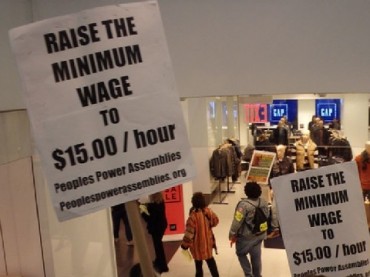 Resolutions are a great way to feel morally superior, but not so great for actually getting things done.
The Ohio University student senate is learning that lesson as it advocates for a $15 minimum wage on campus, The Post reports:
Senate Vice President Caitlyn McDaniel said she is trying to find someone who understands the university's budget and is not willing to keep "administrators' wages high and student worker wages low."

Top university budget coordinators John Day, associate provost for Academic Budget and Planning, and Chad Mitchell, OU's budget director, said they have not been contacted by senate members to explain how the university's budgeting process works.
McDaniel is squabbling with the school's financial chief, who as noted by The College Fix previously said that a $15 minimum wage could drive up tuition:
McDaniel said that dining hall workers' compensation is not covered by tuition, but from dining hall revenue. Dining hall workers make up the plurality of student workers — more than 1,500 — making minimum wage at OU, according to a previous Post article.
Financial chief Stephen Golding said a wage hike could hit students in an even worse way:
He added that an "unintended consequence" that has yet to be discussed is that available financial aid would also be impacted with the adjustment of college and departmental budgets.
Like The College Fix on Facebook / Follow us on Twitter
IMAGE: All-Nite/Flickr