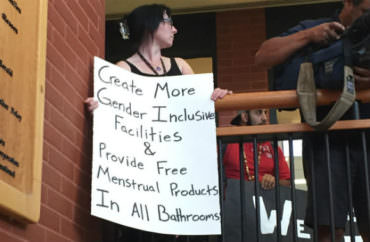 Also, please expel student for dressing as border patrol agent
Washington State University's social justice warriors are wasting no time this academic year, squatting in an administration building to demand a kitchen sink of freebies and relief from racial grievances.
Among their demands, to no one's surprise: free tampons.
The sit-in is organized by activist groups representing black students, black men and women specifically, Asian and Pacific Islander students, LGBTQ students, Latino students and something called Unity @ WSU.
It has no specifically stated provocation, except to claim "students of color and allies" have suffered "one incident after another" at WSU.
One likely trigger is the Charlottesville "Unite the Right" rally, where a prominent WSU student participated. Students have been demanding the expulsion of former College Republicans President James Allsup for that participation and other activities that offend them, including Allsup dressing up as a border patrol agent.
Their resignation list includes the (black) former King County (Seattle) Executive Ron Sims, who is not remotely conservative, and the (misspelled) president of the university, Kirk Schulz.
MORE: WSU professors say 'discourses of free speech' hurt 'marginalized students'
The list of demands includes development of a policy "defining free speech vs. hate speech" (a meaningless distinction at a public institution like WSU); mandatory "cultural competency & ally training" for freshmen, faculty and staff; more nonwhite faculty and staff (no quota suggested); and free menstrual products "in all bathrooms" as well as "more gender inclusive facilities."
The activists claimed they were compelled to take over the building because the administration has "chosen to delay, differ and dismiss" their concerns "year after year."
They say the rural university's climate is evident because students (presumably Allsup) "feel not only comfortable but safe in enough [sic] to spew hate and encourage violence" (no examples given of physical violence).
Former College Fix reporter Peter Maxwell, now a local television reporter in Spokane, is covering the sit-in.
Here is the list of demands for the WSU administration.They're Asking WSU create a policy defining free speech vs hate speech.@KHQLocalNews pic.twitter.com/7O7QVXG9Zo

— Peter Maxwell (@KHQPeterMaxwell) August 25, 2017
Protesters chanting "white silence is white violence" while marching into the French Administration Building at WSU. @KHQLocalNews pic.twitter.com/l9AoYk2sg3

— Peter Maxwell (@KHQPeterMaxwell) August 25, 2017
The activists also demand the administration maintain the Critical Culture, Gender, & Race Studies departments and resource centers devoted to students who are not white, male or straight.
MORE: WSU students plead with peers not to freak out over Milo visit
The Daily Evergreen is live-tweeting the sit-in, and its coverage suggests officials are going to quickly cave in to at least some demands – giving student activists even more reason to sidestep procedural means of achieving change.
Two of those whose resignations have been demanded are begging students to let them keep their jobs.
WSU Provost Dan Bernardo said, "We are very interested in action..we want to see the same kind of action you want to see." #wsusitin

— The Daily Evergreen (@DailyEvergreen) August 25, 2017
"Your voices have been heard…I promise we will make a change." -Kimberly Anderson, Office of Equality and Opportunity #wsusitin

— The Daily Evergreen (@DailyEvergreen) August 25, 2017
Activists may also have a beef with President Schulz because he has defended the freedom of expression of pro-life students whose "Cemetery of the Innocent" was torn down (twice) by a student who found them "disgusting" and said they didn't promote "unity," a common buzzword at WSU.
He then bragged about it on social media, and WSU students cheered him.
Follow Peter Maxwell and the Daily on Twitter for updates.
MORE: WSU student brags about tearing down 'disgusting' pro-life display
Like The College Fix on Facebook / Follow us on Twitter