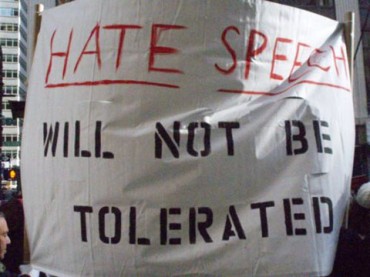 'Foregone conclusion' Brandeis would be on the list
Colleges last year yanked speaking invitations from global luminaries, censored faculty and student speech and even took down art displays, all in the name of not offending people.
The worst of the worst got named and shamed in the Foundation for Individual Rights in Education's annual list of the most unfriendly schools for speech, released this week.
It also includes two institutions that aren't colleges – the Kansas Board of Regents and the U.S. Department of Education.
The others are Brandeis University, California State University-Fullerton, Chicago State University, Georgetown University, University of Illinois at Urbana-Champaign, University of Iowa, Marquette University and Modesto Junior College in California.
FIRE President Greg Lukianoff explained the sins of the schools and government bodies in detail in the Huffington Post.
It was "a foregone conclusion" that Brandeis would reappear on FIRE's annual list, Lukianoff said. It disinvited the human rights activist Ayaan Hirsi Ali from speaking at commencement because of her anti-Islam comments.
The school also charged a student with harassment for a heated argument with a fellow student about Israel, and imposed a no-contact order on him because another student disliked his tweet about a third student.
Lukianoff noted that Brandeis's complicated relationship with free speech dates back to 2008 when a professor was found guilty of racial harassment after using and criticizing the word "wetbacks."
Ay caramba
California State University-Fullerton's Alpha Delta Pi sorority incurred strong sanctions from the school this fall after hosting a "Taco Tuesday" recruiting event, where current and prospective members wore items such as sombreros and ponchos, FIRE said.
The sorority's punishment for the themed night, publicized in a letter from the president, included eight sanctions and additional "recommendations," including attendance at a social justice summit and the forced resignation of all in leadership positions.
"What CSU Fullerton really could have used, however, is a mandatory workshop on the fundamentals of the First Amendment for its administrators," Lukianoff wrote.
The administration told the Orange County Register it "disagrees with this" placement on FIRE's list. "The university respects free-speech rights and protects the rights of all our diverse student body, staff and faculty."
Chicago State University finds itself in an unflattering light for punishing two professors who contribute to a blog critical of the administration. They are claiming censorship violations after facing disciplinary charges for "cyber-bullying."
Violations apparently happen in pairs at Chicago State, as two students sued the school after it shut down their newspaper and "invalidated their election" to student government after revealing controversial information within the university's administration.
Former Chicago State legal counselor James Crowley was fired after reporting misconduct among university officials, including the president. He won his $3 million suit against the school, in a case that only took 30 minutes of jury deliberation, as The Chicago Tribune reported.
The University of Iowa hit complications with free speech when a professor displayed a sculpture with the intention to provide a "provocative critique of ongoing racial violence," according to Iowa City Press-Citizen, but the school took it as racism and removed the sculpture.
"If UI were serious about its legal and moral obligations to protect freedom of speech, it would apologize to [Serhat] Tanyolacar for failing in its duty to reject demands for censorship," Lukianoff wrote.
"The University of Iowa is strongly committed to freedom of expression," Tom Rocklin, UI vice president for student life, told the Press-Citizen in response to its placement on FIRE's list. "The Pentacrest has frequently been used to exercise these freedoms and this use has been encouraged and facilitated by the university."
College Fix reporter Courtney Such is a student at Furman University.
Like The College Fix on Facebook / Follow us on Twitter
IMAGES: Ashley Marinaccio/Flickr, AEI