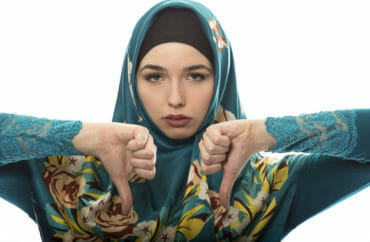 UPDATED
Officials allegedly said it could be 'harassing,' told him to observe 'social cues'
A Missouri high school that suspended a student for making critical comments about Islamic extremism says he's not allowed to appeal the finding of wrongdoing.
Senior Alex Lonsdale, a member of Liberty High's nationally ranked debate club, says he was just trying to have a friendly debate.
During his free period Oct. 17 at the public school near Kansas City, Lonsdale joined a spontaneous conversation among acquaintances about the nature of Islam.
He told The College Fix in a phone call Monday that he pointed to pro-terrorist sentiment among British Muslims, as indicated in polls by ICM Research for the 2016 Channel 4 documentary "What British Muslims Really Think." The program was presented by the former chair of Britain's Equality and Human Rights Commission, Trevor Phillips.
A Muslim sophomore also in the debate club, Faraz Pervaiz, allegedly challenged Lonsdale's viewpoint on account of his own religious beliefs.
Both students had experience debating policy issues in the club, currently ranked second in the nation by the National Debate & Speech Association, where Liberty competes annually during its national competition.
Lonsdale and a debate partner shared a semifinal placement at the Grain Valley High School New Year Novice Kickoff this year, while Pervaiz and his partner tied for first in policy debate at a high school tournament in December 2016, according to The Kansas City Star.
But the impromptu debate on Islamic extremism, by Lonsdale's retelling, turned into a raucous imbroglio.
"Why are you making my religion out to be like that?" Lonsdale said Pervaiz asked him. The Muslim student became reticent, apparently no longer wanting to continue debating, before he ended the conversation by leaving, according to Lonsdale.
"I wasn't saying that 'you're a bad kid because you're Islamic,'" he told The Fix. "I wasn't being rude. I didn't personally attack him at all."
Lonsdale is not the only member of his family to court controversy in an educational setting.
As treasurer of the Young Americans for Liberty chapter at the University of Missouri this spring, his brother Chris was escorted out of a student government meeting for claiming that a candidate ticket tried to rig a disputed election.
'Emotionally unsafe zone'
Three days after the short-lived debate, Alex Lonsdale was called into a meeting with the principal and vice principal, where he said he was asked to explain the statements that Pervaiz alleged he made.
Pervaiz allegedly "claimed that I said all Muslims are terrorists; all kill…" he told The Fix, trailing off. "I don't know how you could even get any of that from this."
School officials told him his behavior could be considered "harassing" or "hounding" and that Lonsdale should be conscious of "social cues," according to Lonsdale.
He said they accused him of "'creating an emotionally unsafe zone.'"
MORE: School replaces MLK Day with Islamophobia seminar
Let's talk about how to be better people by addressing unconscious bias. #LPSLeads https://t.co/Ytm7yYmdwA

— Liberty High School (@LHSJAYS) October 18, 2017
After school officials interviewed three other student witnesses, Lonsdale was assigned to serve an in-school suspension the rest of the day and the following day.
Although the school said Lonsdale was not entitled to an appeal, Assistant Principal Bridget Herrman promised Nov. 20 to give him a letter containing the "necessary information about the suspension," according to emails provided to The Fix.
The letter the school sent his parents, dated the same day, simply said he was suspended "due to behavior" and had been prescribed "corrective disciplinary action."
The in-school suspension actually improved Lonsdale's productivity, he told The Fix: "I got a lot of work done. I got everything done that I needed to do." Lonsdale was permitted to leave in-school suspension to participate in some of his four Advanced Placement classes.
Though Pervaiz called Lonsdale "retarded" in their disputed interaction, the Muslim student appears to have escaped discipline, according to Lonsdale, adding that he didn't want to punish Pervaiz's speech.
Liberty debate coach Tim Baldwin and speech coach Michael Turpin did not immediately respond Wednesday to emailed requests for comment and to help The Fix reach Pervaiz for comment.
Liberty Public Schools spokesperson Dallas Ackerman declined to comment on behalf of Herrman, the assistant principal. It "is not our practice to comment on student discipline matters," he told The Fix in an email Tuesday.
'You need to apologize for how you made Faraz feel'
"I don't know why that kid [Pervaiz] didn't just walk away if it made him uncomfortable," Carrie Lonsdale, Alex's mother, told The Fix in a phone call Tuesday.
A former Army field medic whose youngest son is also at Liberty High, Carrie was baffled when administrators phoned her to accuse her son of being a bigot.
"My kids tell me everything," said Carrie, who saw no wrong in her son's actions as he recounted them.
Lonsdale said he has been ostracized by some students at school: Several now believe he is a racist.
A student who witnessed the debate – and gave a statement supporting Pervaiz to school officials – also had cross words with Lonsdale.
Miles slipped Lonsdale a handwritten letter (below) admonishing him for his "1-sided bash" on Islam and claimed he had equated Islam with terrorism.
"You initiated a 35-minute conversation trying to prove that Faraz's entire religion was about terrorism," wrote Miles. "You need to apologize for what you did and how you made Faraz feel."
MORE: Judge upholds suspensions of students who 'liked' racist posts
According to Carrie, Alex's only previous scrape with administrators came in October when a student anonymously reported him for bullying. It turned out to be a false report, she said: His teammate on the swim team admitted to making the report in jest.
Lonsdale has been accepted at the Missouri University of Science and Technology, where he applied after his incident with Pervaiz. The conflict gave Lonsdale "no complications" regarding his college prospects, he said.
He plans to study engineering or physics after his Liberty graduation this spring, but until then he hopes to abstain from further spirited debates about religion.
Carrie told The Fix she sees a disconnect between the school's mission to prepare students for life and the school's disapproval of uncomfortable topics. School officials say students "need to be responsible, they are young adults," she said. "And then they treat them like babies."
Kids "only have one shot" when they go through school, Carrie said: "And if you are screwing with [their] one shot, this is going to screw up the rest of their life because they've been through that while they're [still] young."
CORRECTION: The original story misstated who was in the meeting with Alex Lonsdale after his conflict with Faraz Pervaiz. It was the principal and vice principal. The article has been amended accordingly.
MORE: Toronto school district removes 'chief' titles because political correctness
IMAGE: Rommel Canlas/Shutterstock
Like The College Fix on Facebook / Follow us on Twitter