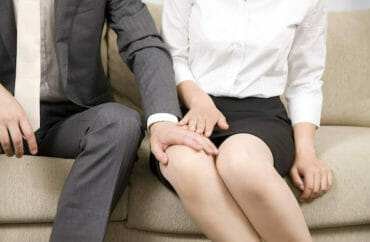 She watched two movies at his place, despite saying she felt weird about it
A Princeton University electrical engineering student recently switched her research area after her academic adviser was found responsible for sexually harassing her and received an eight-hour training session as punishment.
"The university totally failed to express the message that we do not tolerate sexual harassment," Yeohee Im, the former advisee of Professor Sergio Verdù, told The College Fix via email.
Im had expressed discomfort about going back to her professor's house to watch a sexually explicit movie after watching a soccer game with him, but chose to go anyway, according to text messages reprinted by The Huffington Post.
Princeton maintains that Verdù's punishment was commensurate with his decision to halt his behavior when Im, a third-year graduate student, warned him she felt uncomfortable. But Im told The Fix she wants him fired.
Did professor know the film's content?
A Title IX investigation earlier this year found Verdú responsible for sexually harassing Im, based on two separate incidents at Verdú's apartment, according to The Daily Princetonian.
After watching soccer alone with Verdú without incident, Im came back at his invitation to watch "The Handmaiden," a South Korean movie. (Im is from South Korea.)
During the film, which features a sexually explicit encounter between two women, Verdú served Im wine and "put his arm around her for a short time," according to the Daily, citing the Title IX panel's memorandum. At one point he also asked if she had a boyfriend. He is 34 years her senior.
In texts with her friend before she accepted her professor's invitation to watch the movie, Im agonized over whether to ask him if anyone else was coming. "I am not sure he knows" about a "sexual part" of the movie, she continued, telling her friend: "He only knows that it is korean [sic]."
On another date, Im returned to Verdú's apartment to watch another movie. During this encounter, Verdú "touched her upper thigh and stomach while they watched a different movie," according to the panel's memo.
Later that evening, after Im spilled wine on herself, Verdú "put his hand inside her shirt and touched the bottom of her bra" while trying to help her clean the spill.
When another professor learned about these incidents from Im, that professor notified Princeton's Title IX office. A two-month investigation determined that Verdú was responsible for sexual harassment.
Im told The Fix that Regan Crotty, Princeton's Title IX administrator, told her that Verdú's punishment would be an eight-hour training session. The university declined to comment on the specifics of Verdú's punishment, though spokesperson Daniel Day told The Fix via email that "penalties were imposed in addition to required counseling."
'He stopped and took no further action against you'
According to The Daily, the university maintained that Verdú's punishment was adequate given his behavior.
The paper reported that Im recorded audio of a meeting between herself, Crotty and Dean of Faculty Deborah Prentice, in which Prentice justifying the sentence to Im: "When you indicated to him that he was behaving inappropriately, he stopped, and took no further action against you…Under those circumstances, and given that we were treating it as a first-time offense, it doesn't warrant his suspension."
In the same recording, according to The Daily, Prentice also claimed that there were "a broader set of allegations" against Verdú, but that nobody else was willing "to come forward to substantiate any of the other allegations."
Neither Prentice nor Princeton's Title IX office responded to multiple requests for comment from The Fix.
In an email to The Fix, Verdú wrote: "From the beginning, I have unequivocally denied any allegations of advances, let alone sexual harassment."
"Unfortunately," he added, "I am not able to comment further because matters of this kind are to be kept confidential under University rules."
Fearful of 'academic retaliation'
Im told The Fix that she altered her status at the university in order to avoid Verdú. "I switched my research area," she said, "because there are many ways that I can get academic retaliation if I stay in the same research area as Verdu."
"The only fair way is termination of Verdu's capacity as a faculty member," Im said. "It is not fair that the victim had to switch the research area only to avoid encountering the harasser."
Princeton defines "retaliation" under its university-wide regulations as "Any attempt to seek retribution against an individual or group of individuals involved in filing a complaint or report … filing an external complaint, participating in a disciplinary process, or opposing in a reasonable manner an action or policy believed to constitute a violation of [University] policy."
Its sexual harassment policy earns a red-light rating from the Foundation for Individual Rights in Education, meaning that it "clearly and substantially restricts freedom of speech." Under the policy, "unwelcome verbal" conduct such as "jokes" can count as harassment if it is "sufficiently severe and/or pervasive" to "unreasonably" interfere with a person's educational experience or working conditions.
The Supreme Court's definition of harassment in an educational setting, from the 1999 Davis ruling, says harassment must be "severe, pervasive, and objectively offensive" to be actionable under Title IX.
Verdú has been on Princeton's faculty for over thirty years, since 1984, per his faculty page.
According to the Princeton registrar's office, he will be teaching a course on information theory in the spring.
MORE: Professor: my school 'wastes time and money on sexual assault training'
IMAGE: KPG Payless2 / Shutterstock.com
Like The College Fix on Facebook / Follow us on Twitter