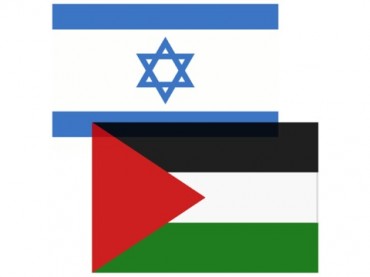 Evidently realizing the beating it was taking in the media, George Washington University hung its head in shame for threatening a student who hung a Palestinian flag out his window and turning a blind eye to everyone else violating school policy by hanging flags.
President Steven Knapp wrote to the entire community, saying he had apologized to Ramie Abounaja for the incident – which included a campus police report and form-letter threat – and blamed the kerfuffle on a "flawed process" involving its system for issuing warning letters.
Knapp's narrative contradicts Abounaja's claim that the responding officer said "multiple complaints" had been lodged about Abounaja's flag. The president says a "passerby" reported the flag to campus police, and the officer "had no idea what kind of flag this was" when he went to Abounaja's room.
RELATED: George Washington University orders Palestinian flag removed from student's room
Because the student immediately complied with the officer's request to remove the flag, "that should have been the end of the matter," Knapp said. He then seems to contradict himself by saying the officer filed a "routine report" and then suggesting the report shouldn't have been filed at all:
This was the result of what we now know was a flawed process that resulted in the student's receiving a standard warning letter even though he had immediately complied with the officer's request.  The student was understandably alarmed and believed that the warning was based on the fact that the object he had hung from his window was a Palestinian flag.
Knapp said he has ordered campus offices to stop sending warning letters "solely because of a reported violation" and to "ensure consistent enforcement" of policies, so students like Abounaja don't feel singled out.
GW has sent down the memory hole its prior media statements on the incident, which said flags aren't allowed to be hung from windows yet they will be removed only when reported to campus police. They didn't address Abounaja's claim of selective enforcement against his viewpoint. GW's initial Facebook post remains up, though.
The school previously removed the warning letter from Abounaja's record following threatened litigation by Palestine Legal, which has represented Abounaja, but the group faulted GW for saying it only takes action on policy violations when it receives complaints, opening the door to viewpoint discrimination.
RELATED: GWU gets pushback for punishing student who posted swastika-like symbol
A law professor at GW, John Banzhaf, noted in an email blast this is the second time this year the school has apologized for targeting a cultural item hung by a student – the first was a Hindu symbol resembling a Nazi swastika:
[I]t took a combinations of legal threats, condemnation and ridicule both in the U.S. and abroad, angry complaints from many religious leaders including its own former rabbi, and a call by a major magazine that donors stop contributing to GWU, for them back down and allow the student to continue.
Palestine Legal posted a timeline of events on the incident. Despite Knapp's message and apology, angry students still held a protest today against the school's initial threat under the banner #FlyYourFlag.
A Change.org petition demanding an apology from the administration has drawn 1,300 signatures.
Read Knapp's statement and Palestine Legal's response.
h/t Foundation for Individual Rights in Education
RELATED: GWU drops its ignorant attack on student who posted Hindu symbol
Like The College Fix on Facebook / Follow us on Twitter