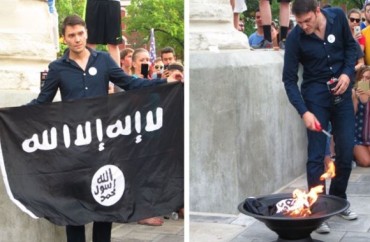 UPDATED
COLUMBIA, Mo. – Chants of "USA! USA! USA!" echoed across the University of Missouri quad Thursday afternoon as a crowd of students cheered on a student who burned an ISIS flag in a symbolic gesture in response to continual human rights violations by the Islamic State in Iraq and Syria.
The student leading the "#MUCKISIS" flag burning, Ian Paris, 21, president of the Mizzou chapter of Young Americans for Liberty, told the roughly 150 in attendance that the rally was meant to build unity among the people who came to see a flag symbolizing "hatred and intolerance" burned.
It was meant to demonstrate to the "monsters" within ISIS that Americans are not afraid, the political science major said.
Paris, a self-described libertarian, said his message was to tell ISIS "we've had enough. And to tell Washington … to stop using our tax money to fund radical Islamic groups in the Middle East."
Prior to the flag burning, university security tried to convince him not to torch the ISIS flag, Paris told The College Fix.
"The MU police pulled me aside earlier today, put me in a room for questioning, and tried to convince me not to burn the flag. They did everything they could to stop me from doing this; they even played good cop, bad cop," he said.
But the scolding was not enough to dissuade him or the other members of YAL to alter their plans. Paris said he believes the fear people have about ISIS is the reason why the event needed to happen, to speak out against what the group has done.
Ian Paris lights the handmade ISIS flag on fire. A crowd of about 150 chants "USA." pic.twitter.com/Wl2vZlcpE7

— Kaley Annabel (@KaleyJohnson6) October 8, 2015
During the rally, he said one of the contributing factors behind the rise of ISIS is the U.S. government's willingness to fund and support radical Islamic groups in Syria and Libya.
"Each time we have toppled a secular dictator in the Middle East, chaos has ensued. This can be seen, for example, in the countries of Iraq, and Libya," he told the throngs waiting to see the flag set ablaze.
"While I sympathize with the innocent citizens of Syria and their plight, I am disgusted, appalled, and downright infuriated that the weapons that you and I have paid for are being used to methodically execute not just Jews, not just Christians, but hundreds of thousands of innocent Muslims throughout the Middle East," Paris added. "To this I say 'no more.' No longer shall we stand idly by while our government arms our enemies. No longer will we allow our government to send billions to countries that chant 'death to America.'"
In a telephone interview with The College Fix earlier this week, Paris said organizers reached out to Muslim students on campus to take part in their event.
One student at the rally, a freshman at MU, told The Fix he felt "a sense of solidarity … and a sense that there are people willing to publicly stand against ISIS."
He also said he thinks the rally did a lot of good. It put a new perspective on an issue – that opposition to ISIS is not anti-Islamic, he said.
A small group of counter-protesters at the rally argued the event will probably make the campus less safe for students. They also said they worried that the rally's message might send the wrong message to the Muslim community in Columbia. Another student held a sign reading "student safety is No. 1!!"
Click here for a full transcript of Paris' speech.
Like The College Fix on Facebook / Follow us on Twitter