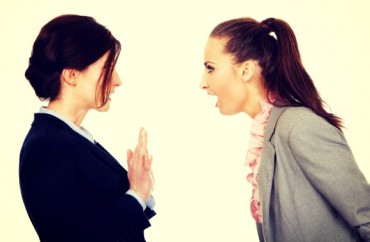 Several students who openly support Donald Trump have become the targets of anger and vitriol from peers furious over the election's outcome.
At Mount Holyoke College, for example, junior Kassy Dillon, president of the College Republicans there, was verbally assaulted on election night.
"Last night as I was driving around the campus people were coming up to my car to yell f*ck you for supporting Trump," Dillon (pictured) told The College Fix. "Everyone was upset when Trump said he wouldn't accept the results of the election, but look what these students are doing. It's more dangerous now than ever to be a conservative on a college campus."
At California State University Los Angeles, student Ana Martinez, a member of the Young Americans for Freedom there, received nasty messages on social media on election night as it became clear Trump would win.
"Is it fun being a racist now," stated one message, a copy of which was provided to The College Fix. "When Trump is raping you are you still going to want him for president?"
Another comment stated: "He is going to deport your … ass right back to El Salvador."
Martinez said she is not shaken by the rude comments.
"Coming from an oppressive government even more corrupt than the U.S., to see that the American people chose the people and freedom and beat the biased media, career politicians and the corrupt establish[ment] makes me even more proud to be American," she said. "What a time to be alive."
MORE: California high school student beaten up by classmate for supporting Donald Trump
MORE: Student loses it after confrontation with Trump voter: 'You voted for a rapist!' (VIDEO)
On Wednesday at Emory University, the College Republicans' regularly scheduled tabling event prompted a throng of students to react in anger, confronting them over their politics and even batting a cell phone out of one of their hands. (Watch the video …)
A video posted by Backroom Knox shows that as demonstrators gathered at the University of Tennessee on Thursday, an anti-Trump protester violently hit a pro-Trump student.
Another student at UT reports that a "peaceful protester" kicked her service dog because she had a Trump button on her bag. "How appropriately tolerant and accepting," she tweeted.
"Peaceful protester" on @UTKnoxville kicked my service dog because I had a Trump button on my bag. How appropriately tolerant and accepting.

— Marisa Ricchey (@marisaricchey) November 10, 2016
MORE: California high school teacher attacked by student during 'chaotic' anti-Trump protest
MORE: Anti-Trump students spraypaint 'AmeriKKKa' on U.S. flag
Like The College Fix on Facebook / Follow us on Twitter
IMAGE: Shutterstock