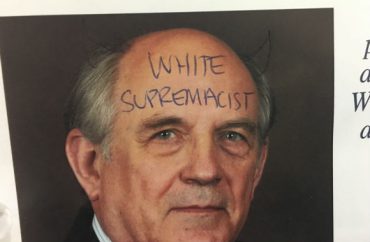 UPDATED
Showing off their vocabulary with 'Fuck him'
Earlier this month, libertarian sociologist and author Charles Murray was shouted down by Middlebury College protesters and physically threatened as he tried to escape the melee.
Last week, students at Barnard College simply vandalized flyers advertising his March 23 appearance at Columbia University, its affiliated school.
Among the more than 100 flyers posted across the adjoining campuses, The College Fix identified 16 flyers on Tuesday and Thursday that had been vandalized in some way in the Barnard Student Center alone.
Four were scribbled with cartoon devil horns on Murray's face and messages claiming that the author of The Bell Curve and Coming Apart is a "white supremacist," as well as "fuck him." Two simply called him a white supremacist and three more flyers were removed. Vandals apparently tried and failed to remove another two.
In a different part of the student center, Murray's depicted face on five flyers was strategically impaled with push pins — a disturbing way to greet a speaker invited by a student group.
Murray's Columbia lecture "Are Elites to Blame for the Rise of Donald Trump?" will be his first since the Middlebury debacle, which also put Murray's faculty sponsor in a neck brace.
MORE: Conservative scholar shouted down, forced to leave lecture hall
It's being organized by Columbia's campus chapter of the American Enterprise Institute, the same group that brought "Factual Feminist" Christina Hoff Sommers to campus last semester.
Dozens of flyers for that event were torn down, and foreshadowing what would happen to Murray's face a few months later, the vandals clawed Hoff Sommers' face on some flyers.
They vandalize because they 'live in a liberal bubble'
Columbia student Jonathan Schatz-Mizrahi, the primary organizer of Murray's lecture, told The Fix that Murray is "in a unique position to understand how division between the white working classes and the white coastal elites is partly to cause for Trump's rise."
That's why Columbia students caught off-guard by Trump's election should hear Murray's perspective "instead of vandalizing flyers," said Schatz-Mizrahi, who has read many of the author's books.
"Looking at Columbia's campus, students were crying on Low Steps after the election," he said. "Many students live in a liberal bubble. They don't understand the issues that are affecting Americans in other cities."
They are particularly out of touch with "white working-class America," said Schatz-Mizrahi: "It's valuable to understand why [Trump appeals to them], and how that's going to impact our country's future."
The author's critics at Columbia "are better off engaging with what Murray has to say" about Trump's rise, Schatz-Mizrahi said: Students "should join that conversation. I'm sure we'll all learn something."
MORE: Professor injured at Middlebury says colleagues egged on students
A Barnard College spokesperson simply told The Fix that the administration expects all students to abide by the rules.
"The Barnard College Code of Conduct prohibits 'attempted or actual theft of and/or damage to property of the College, or property of a member of the College community, or other personal or public property, on or off campus,'" the spokesperson said in an email. "Barnard College stands by its code of conduct and expects all students to abide by its contents."
The spokesperson told The Fix Monday there was no evidence that a student was responsible for the vandalism of the flyers in the Student Center: "Our campus is an open campus, so anyone could be responsible."
In response, The Fix has requested narrow windows of Student Center surveillance footage around the dates and times when the vandalism was spotted.
Murray's lecture is open only to current Columbia and Barnard students, who must RSVP beforehand. It's not clear yet how much Columbia will require the AEI club to pay for event security.
Other Columbia student groups have criticized the administration's security mandates for their events, saying the cost estimates were raised significantly after the events had been approved and planned.
UPDATE: The Barnard administration says there is no evidence that a student was responsible for the flyer vandalism. In response, The Fix has requested surveillance footage of the Student Center in order to verify the administration's claim.
MORE: Columbia approves student events, sticks them with high security fees
MORE: Middlebury thugs whine that security was violent toward them
MORE: Columbia and Barnard host many safe spaces after Trump win
Like The College Fix on Facebook / Follow us on Twitter
IMAGES: Toni Airaksinen, Peaceful Demonstration on Low Steps/Facebook, Shutterstock