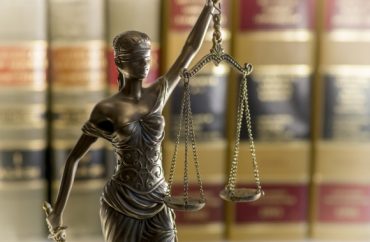 Disagreement over how involved lawyers should be
An elite association of trial lawyers is calling on the federal government and colleges to reinstate a higher evidence standard in campus sexual-misconduct proceedings.
For the past six years, the Department of Education's Office for Civil Rights (OCR) has threatened to revoke federal funding from colleges that don't use the "preponderance of evidence" standard, which requires only 50.01 percent certainty that a student committed rape.
That is too low for the American College of Trial Lawyers (ACTL), an invitation-only body that requires members to have at least 15 years of trial law experience.
In a report highlighting failures of due process in Title IX investigations, the group calls for use of the "clear and convincing" standard, which is approximately 75 percent certainty or "substantially more likely than not to be true." It was used by universities including Princeton before OCR's warnings.
But some of ACTL's recommendations are drawing criticism from other legal experts who say they won't afford enough protections for accused students.
'More than the mere loss of money' is at stake
The report examines multiple areas where colleges, often prodded by OCR's 2011 "Dear Colleague" letter, are depriving students of common protections in judicial proceedings.
They include the right to be accompanied by counsel, ability to cross-examine complainants and witnesses, access to evidence, consideration of partiality, and provision of a written summation of facts and conclusion.
Colleges see themselves in an "impossible position," as Harvard Law Prof. Jeannie Suk has written.
"Not doing enough means risking a federal Title IX investigation, with the threat of losing federal funding," which itself could be a "conflict of interest," she said. But "they face potential lawsuits from accused students for violating, among other things, Title IX," when they go too far.
MORE: Trump repeal of rules against accused students 'would be devastating'
College investigations are "well intentioned" but many have been "fundamentally unfair" to accused students, ACTL's report says.
The mandatory use of the preponderance standard – often justified by campus activists because it's common in civil proceedings – ignores the lasting consequences of a "responsible" finding of sexual misconduct, the group says.
Campus sexual-misconduct cases involve "more than the mere loss of money" and often risk the possibility of a defendant "having his reputation tarnished erroneously," the report says, citing legal precedents in favor of the clear-and-convincing standard in cases involving parental rights and deportation.
In addition to recommending clear-and-convincing, ACTL suggests allowing "some form of cross-examination" for both parties, "in a manner deemed appropriate by the institution."
It recites various methods that colleges have used without approving or criticizing them, including having a third party ask questions posed by each party to the other, with the discretion to ignore questions.
Would make students vulnerable to later prosecution
ACTL's recommendation that accused students have "the right to be accompanied by a legal counsel during all stages of the investigation or hearing" does not go far enough for some observers.
The Foundation for Individual Rights in Education called the ACTL report a "welcome and important development" but said the "accompanied" recommendation is "insufficient."
MORE: Harvard Law caves to feds by adopting 'preponderance'
In an analysis last week, Program Officer Alex Morey said "a lawyer's active guidance" is crucial "[b]ecause statements made in initial campus hearings may later be used against students in a court of law."
Brooking Institution Senior Fellow Stuart Taylor, co-author of The Campus Rape Frenzy, told The College Fix in an email he agrees "that accused students should have the right to have lawyers or other trained advocates for them cross-examine accusers."
While he sees the report as "very encouraging" and a "strong criticism of a grossly unfair system," Taylor also found fault with ACTL's recommendation for "some form" of cross-examination. It sets the bar too low, "making it easy for institutions to bar any meaningful cross-examination," he said.
"There are significant ramifications to these [campus] hearings" and the allegations are "very serious," said lawyer Andrew Miltenberg, who has represented dozens of accused students in lawsuits against their schools: "Most people are not equipped to defend themselves."
He compared ACTL's recommendation that lawyers be involved in a passive role to "taking a flying lesson, but not allowing the instructor to have dual controls."
MORE: Princeton forced by the feds to lower evidence standard
Like The College Fix on Facebook / Follow us on Twitter
IMAGE: Shutterstock