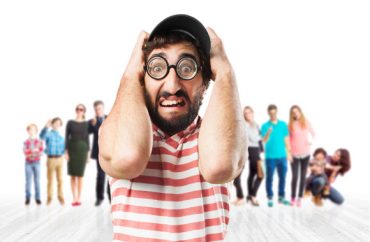 'The adults seem to be afraid of the kids'
WASHINGTON, DC – When Greg Lukianoff wrote Unlearning Liberty five years ago, we knew who was responsible for censorship and illiberalism on college campuses: administrators.
Oh, for those quaint days!
The president of the Foundation for Individual Rights in Education tacitly admitted the work it's doing to protect students from top-down punishment and chilling of their speech is a drop in the bucket compared to a larger cultural problem: students self-censoring out of fear of their peers.
At a Friday event to revisit Unlearning Liberty and look forward to Lukianoff's pending book with New York University social psychologist Jonathan Haidt, Lukianoff and others spitballed ways to encourage students to challenge the mind-numbing campus conformity that is not driven by fear of speech codes.
One promising route: the adoption and franchising of Purdue University's orientation program on free speech.
Black student shoutdowns were rare until recently
Bloomberg View columnist Megan McArdle, a longtime critic of speech codes, told Lukianoff she was struck by how "naive" his 2012 book looks in retrospect, "a picture of this lost beautiful world in which all we had was occasionally overzealous administrators."
Now, students at one college prevent an ACLU leader from speaking because the organization defends "white supremacists," and students at another impose "ritual humiliation" on their president, she said, ordering him "put your hands down" when he's responding to their racial grievances.
"The adults were much more in charge" 24 years ago when she was a student at the University of Pennsylvania during the "water buffalo" incident, which led to FIRE's founding, McArdle said. Recent incidents at the College of William & Mary and Evergreen State College suggest "the adults seem to be afraid of the kids."
When Lukianoff started at FIRE in 2001, left-wing students "were the single best constituency for free speech" and had more common sense than their professors, he said. But he started noticing a change around 2013, two years before he and NYU's Haidt published "The Coddling of the American Mind."
Their coming book, an expansion of their 2015 essay, identifies polarization driven by echo chambers as the major change, Lukianoff said: "You can surround yourself 24 hours a day" with like-minded people and get retweets for saying "empty" things.
Now administrators are considering formal free-speech statements along the lines of the so-called Chicago Statement purely out of self-interest, Lukianoff said, pointing to a dropoff in donations to Yale University after its "shrieking girl" incident around Halloween 2015.
5th anniversary celebration for @glukianoff 's before-it's-time book #UnlearningLiberty w/ Megan McArdle & Jonathan Rauch. @TheFIREorg pic.twitter.com/sioXXHWPWz

— Alex Morey (@AlexatFIRE) October 6, 2017
Audience members brought up points that speakers hadn't touched.
Michael Barone of American Enterprise Institute, the longtime co-author of The Almanac of American Politics, said campus shoutdowns seem largely driven by minority students and wondered how "racial separatism" affected it.
It wasn't until two years ago that black students engaged in many shoutdowns, Lukianoff said: "Chances are it was a rich white kid who didn't like" a person's speech before that. He said Haidt convinced him they had to include "identity politics" in the new book because of how that phenomenon imposed "in-group out-group" dynamics on people from similar backgrounds.
Asked if the failure starts in K-12 schools, McArdle blamed postsecondary schools of education for ordering future teachers to sign on to "affirmative political beliefs" in order to graduate. Lukianoff recounted an incident where a "center-left" Stanford education graduate student was forced out of the program a couple weeks in because of her dissenting views.
Michael Poliakoff, president of the American Council of Trustees and Alumni, pointed to university bureaucracy as a culprit: Administrators "have to prove their worth by prosecution and re-education" of students. Perhaps such bureaucracy can be turned around for good, Lukianoff said.
'Worried about the consequences of candor'
Two new surveys – one informal and unscientific, and another a broad sampling of students' views – show what groups like FIRE are up against.
Brookings Institution scholar Jonathan Rauch, whose 1993 book "Kindly Inquisitors" broadly defended free speech against attacks on campus and elsewhere, said his peers have focused too much on the "supply" side of threats to speech from people in authority, such as professors.
He did an informal survey of the left-wing think tank's 17 interns, all from elite universities, finding that "students are worried about the consequences of candor" socially more than formally.
Seven in 10 have witnessed attempts to shut down conversations or intimidate people in them, but the same number say they are satisfied with viewpoint diversity on campus – and even more with "debate" on campus. About six in 10 say their peers are "too reactive" even as the same number say campus political correctness is "overhyped."
Even though half says intolerance of diverging opinions has affected their educational experiences, and two-thirds oppose shoutdowns of speakers, their attitude is "we can live with it," Rauch said.
Only "a third of fewer" is concerned about the formal consequences of saying controversial things, such as a university investigation, he said. They told him it would have made little difference in campus toleration for opposing views if Middlebury College had suspended students who physically attacked a professor at libertarian sociologist Charles Murray's event last year.
The interns told Rauch that "a lot of questions and conversations" about controversial subjects "never surface to begin with" – students simply don't know the range of ideas debated off campus. He said a recent Princeton University graduate who is "very outspoken" told him he never talks about race, class and gender on campus because of the social "downsides" of doing so.
This default response of self-censorship worries McArdle, who said it reminds her of common social practices in the Soviet Union, where people were only honest with a tiny circle of trusted comrades. Politicians have long been assumed to carefully tailor what they say in public, but that's trickling down to the general public, she said.
Lukianoff said FIRE will soon release its own formal survey, conducted by YouGov, that found fewer than one in 10 students afraid of getting in formal trouble for their speech and "a lot of ambivalence" about hate speech.
At a recent Kenyon College conference on free speech, Lukianoff said he was intrigued by a point made by Mere Civility author Teresa Bejan: Political philosopher John Stuart Mill feared "social conformity pressures" more than the state.
Need better 'counter-mobilization' at the student level
The next important question is "how to find and mobilize students who really care" about free speech, Rauch said: "It's time for a lot of good minds to think about it."
He's working with an organization called Better Angels that convenes groups of committed partisan voters who have a "structured conversation" in which they are forced to listen to each other at length before responding.
Though such exercises change how partisans think, it's hard to get funding for it because the goal isn't to "change their minds," Rauch said. "We'd like to experiment with that on campus." He praised "counter-mobilization" groups such as Students for Free Expression.
Purdue administrators "are very proud of saying" that the public university's First Amendment orientation program "has a transformative effect" on students, he continued: It's "less heavy handed, less coercive [and] more persuasive" than adopting top-down free speech statements.
IMAGE: Kues/Shutterstock
Like The College Fix on Facebook / Follow us on Twitter