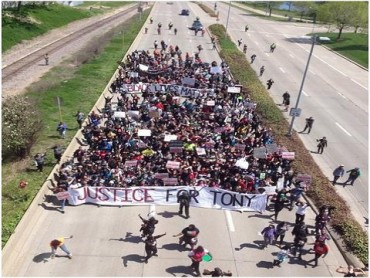 Students were after a "symbolic justice" today in Madison, Wisconsin after word came down yesterday that the (white) police officer who shot and killed (biracial) 19 year-old Tony Robinson would not be charged with any wrongdoing.
Perhaps the officer, Matt Kenny, wasn't charged because back on March 6 Robinson was under the influence of drugs, had attacked people on the street, assaulted someone in an apartment, and then assaulted Kenny when he arrived to investigate.
The fact that the Wisconsin DA is biracial himself doesn't appear to be of significance to protesters.
A "mock tribunal" judge asked protesters "Was Tony Robinson murdered and should Matt Kenny be charged with homicide?"
"Yes!" they shouted back.
Many college and lower ed students bagged classes to demonstrate Robinson's death.
International Business Times reports:
The exercise, led by activists in the Young, Gifted and Black Coalition of Madison, might have been similar to a civics lesson that the students would get in their classrooms, where they were expected to be on Wednesday morning. But those in local middle and high schools seemed to have the support of school district officials to participate in the peaceful demonstrations, especially if their parents also approved.

"My mom called the school," said Tyla Hayes, a 15-year-old East High School student who helped marchers carry a "Justice For Tony" banner. She said Robinson, the 19-year-old who was killed in a confrontation with Kenny on March 6, was connected to her through family ties.

"We're going to keep protesting and marching peacefully to make sure that our voices are heard, no matter how long it takes," Hayes said in a phone interview.

Prior to the district attorney's announcement, the protesters demanded that Kenny be fired and charged with homicide.

Students in cities around the U.S. have been a major presence at recent protests over the police-involved shootings of young black men, lending their voices to a nationwide debate over the use of lethal force and racial discrimination in law enforcement. In Madison, they appear to be doing that with support from schools Superintendent Jennifer Cheatham, who acknowledged the impact the decision by Dane County District Attorney Ismael Ozanne not to file criminal charges against Kenny would have on some students.
Ms. Cheatham requested that parents "keep their children in school if they felt their children could not 'responsibly and safely' participate in the protests."
Perhaps the superintendent could recommend that students view the video below — made by the University of Wisconsin Latino/a Law Student Association and the University of Wisconsin Black Law Students Association — so that they may think a bit before irresponsibly tossing around terms like "murder."
Like that "mock tribunal" judge did, among others.
Like The College Fix on Facebook / Follow us on Twitter
IMAGE: Michael Matheson/Twitter