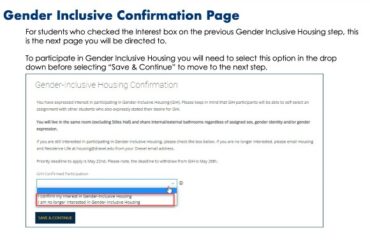 'It kind of disregards a sense of safety,' male student said.
Some freshmen moving into a Pennsylvania university discovered they will have to share bathrooms with students of the opposite sex despite having opted out of "Gender-Inclusive Housing."
Nicholas Landes, a freshman moving into Drexel University's Kelly Hall who opted out of the program, told The College Fix via social media he was only made aware of the shared bathroom situation "when the R.A. emailed us and you could see the list of people tagged in the email." The list included both men's and women's names.
"It kind of disregards a sense of safety," Landes said.
Some students who opted out of the program were placed in Kelly Hall, one of the university's freshman dormitory buildings, living in shared-gender rooms on floors with other rooms occupied by those of the opposite gender.
However, all of Kelly Hall's bathrooms are communal "gender-inclusive bathrooms," meaning they are shared by men and women, according to the dorm's website. Students assigned to Kelly Hall must use the shared-sex bathrooms regardless of whether they opted out of gender-inclusive housing.
The bathrooms, which do not feature a front door, have lockable stalls and showers. They also have one private "single user bathroom," with its own shower and toilet.
Drexel student Ava Samuel told The Fix in an interview that her roommate had decided to drop out of Drexel after learning about the mixed-use bathrooms prior to arriving at college.
Landes and others had opted out of gender-inclusive housing through the university's housing application form.
"This step is an OPTIONAL opportunity for students who wish to live among students with whom they feel most comfortable, extending beyond individuals of the same gender," according to the form. "Students who are not interested in Gender Inclusive Housing should select 'Save & Continue.'"
"Students interested in learning more about Gender Inclusive Housing students should check the box located on this step before moving to the next step," it went on. "You will live in the same room…and share internal/external bathrooms regardless of assigned sex, gender identity, and/or gender expression."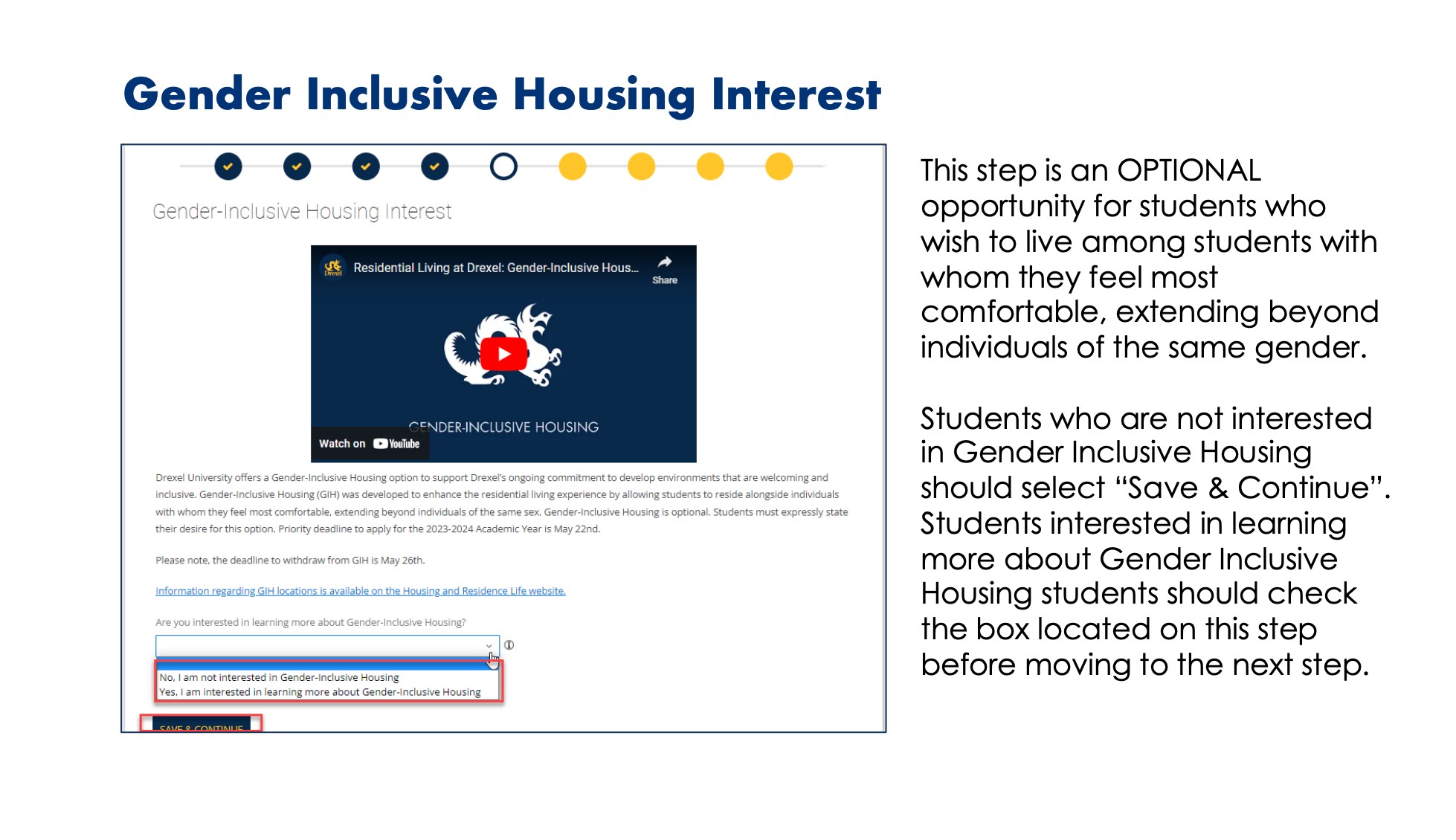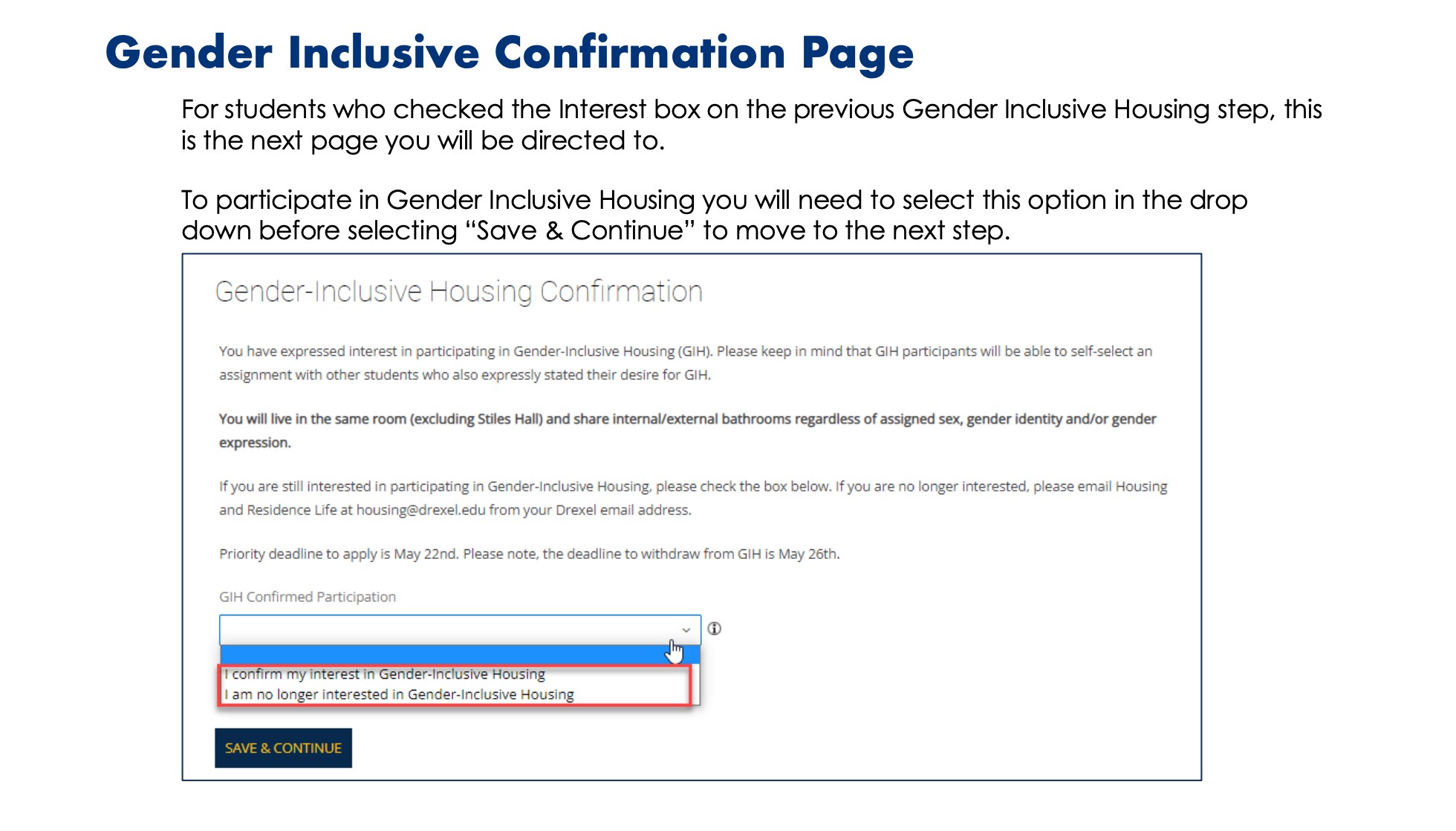 Students were required to select an "interest" in this arrangement as well as "I confirm my interest in Gender-Inclusive Housing" from a drop-down menu on the next page.
The "Gender Inclusive Housing" site of Drexel University, a private school in Philadelphia, states "Drexel University offers Gender-Inclusive Housing (GIH) assignments in its residence halls to support Drexel's ongoing commitment to develop environments that are welcoming and inclusive."
"GIH enhances the residential experience by allowing students to live in the same room and share bathrooms regardless of assigned sex and/or gender expression," it continued. "GIH is optional and students must expressly state their desire for a GIH assignment in their housing application."
The Student Life Office at Drexel declined to comment on the matter, and referred The College Fix to the university's media relations division. Media relations officials Britt Faulstick and Niki Gianakaris did not respond to multiple requests from The College Fix asking about the shared-bathroom controversy.
Kelly Hall underwent renovations beginning in 2022 and reopened for the fall term. The renovations were announced in 2021. They included "reconfiguration and replacement of all floor bathrooms, converted to be gender inclusive," according to Drexel's website.
Drexel Students for Christ, the Jewish Student Association and Drexel Muslim Students Association did not provide comment to The College Fix despite requests.
Right now The College Fix has a back-to-school campaign to help us continue to support our amazing student journalists. A donation today will be matched thanks to a generous limited-time matching gift opportunity from a friend of The Fix! CLICK HERE for more details — and thank you!
MORE: Cornell provides free menstrual products in men's bathrooms
IMAGE: Drexel University
Like The College Fix on Facebook / Follow us on Twitter