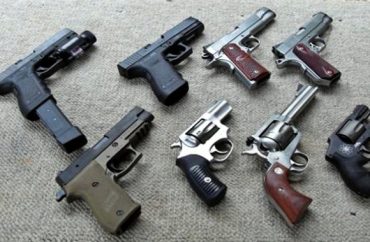 Legal gun owners in Missouri can now keep their firearms locked inside their cars while on campus at some of the state universities.
The Board of Curators for the University of Missouri System's four campuses voted to allow employees, students and visitors to keep guns locked in their cars.
A libertarian student organization praised the decision in an email to The College Fix but said more can be done.
"While this policy change is a good start, schools like the University of Missouri and their administrators who pass such cookie-cutter, in-offensive policy changes simply aren't doing enough to protect student rights on campus," Young Americans for Liberty's Daniel Gonzalez-Allende told The College Fix via email.
"That's why YAL makes it a point to help students change policies by encouraging and guiding them to engage in grassroots activism to activate more students concerned about their rights on campus," Gonzalez-Allende said.
MORE: Check out the cancel culture database
One trustee for the public university system the policy would be a "tremendous disservice."
"I think somebody does something stupid by leaving a handgun laying down on the seat," Greg Hoberock said, according to ABC 17. "Somebody else walks by the car door and pulls it out. I think we're doing a tremendous disservice to our students in the city of Columbia."
"And I'm really really concerned that we're going to allow guns on campus and not have a rule that if you're going to leave it in your car, it's got to be out of the site and locked," Hoberock said.
The College Fix reached out to Curator Hoberock through his business, hth Companies, but has not received a response. The Fix reached out a month ago. Contact information for curators is not publicly available through the system's website.
Young Americans for Liberty said that political leaders like Hoberock treat students childishly.
"Administrators like Curator Hoberock are a classic example of bureaucrats who view themselves as the babysitters of their adult students," Director of Student Rights JP Kirby told The Fix via email. "The students of the Missouri college system are adults who have the same rights as the rest of us off-campus. It's time to stop pretending that their rights stop where university grounds start," Kirby said.
"With the well-documented dangers of college campuses, we support the right of students to keep and bear arms wherever they need to in order to feel safe," the libertarian activist told The Fix.
One curator said he supports the policy because it will save money on legal fees.
"We don't have to have unnecessary rules on top of rules on top of rules and again the number we were given this morning is that we've spent $1.25 million over the last five years, six years," Curator Jeffery Layman said at the meeting, according to ABC 17. "It's just unnecessary and we're still open to that exposure."
A law professor, Royce Barondes, sued Mizzou in 2015 to be allowed to carry a gun on campus. A federal court ruled in 2021 that guns could be brought to campus but not fired.
MORE: Mizzou football coach says players cannot own guns
IMAGE: Joshua Shearn/Wikimedia Commons
Like The College Fix on Facebook / Follow us on Twitter