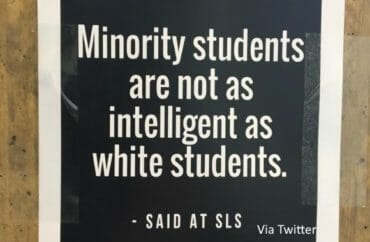 Students of color at Stanford Law School are accusing the institution of being steeped in bias against them, claiming that "racism, bigotry, and the forces of white supremacy" pervade the school.
A group of student activists made that claim in a recent op-ed that introduced an anti-racism campaign that includes a slogan of "Racism Lives Here, Too." As part of the campaign, the students put up a series of posters on campus earlier this month that include remarks allegedly made by students and professors that the activists deem as racist and insensitive.
The "Racism Lives Here, Too" campaign has extended past the Stanford campus with students at Harvard Law School also adopting the movement on their own campus.
In an op-ed published Feb. 7 by the Stanford Daily, the group of students behind the campaign claimed that racism runs rampant at Stanford Law School and suggested their fellow students as well as the school's administration are largely indifferent to the issue.
"We wish this was surprising, but the reality is that as law students of color, we deal with racism– through both overt acts and micro-aggressions, every day," the op-ed stated.
The students listed a hate note found recently in a classmate's mailbox and posters put up last year on campus by a white supremacist group as racist acts seen at the school. But the students also argue that the racism they face is "death by a thousand proverbial paper-cuts," pointing to microaggressions they say they are constantly bombarded with.
"We endure our classmates complimenting our excellent English, or opining on the relative benefits of slavery. We hear our teachers question the legal protections without which we, and those who look like us, would not be walking these halls," the students wrote in their op-ed.
With a tagline of "Said at SLS [Stanford Law School]," the posters hung up on campus by student activists seek to highlight offensive comments made by their classmates and instructors.
"Minority students are not as intelligent as white students," one of the posters reads.
Another poster states: "If someone is really starving, slavery starts to seem like a great deal. You get free food and shelter and only have to give up a few rights."
Other posters include alleged comments such as "I have trouble with Chinese names. I am much better with German or Italian names" and "Why should we pay for the education of an illegal's children?"
"We hope you'll see these messages as an opportunity to reflect internally and reach out to those in your life who confront these issues daily. We hope– earnestly– that this is the beginning, not the end, of a much bigger conversation and change," the student activists said of the posters.
The students assert the law school's curriculum doesn't adequately cover race and that the administration's response to racist incidents has usually been "reactive, not systemic."
"It's stunning that you can graduate with a Stanford Law degree and completely avoid discussions of race and structural inequalities in your three years here," the students' op-ed said.
Stanford Law School did not respond to The College Fix's request for comment regarding the student's accusation of racism on campus. Student activists also did not respond to requests for comment.
One Stanford student is pushing back against the claims of racism within the law school. In a column published in The Stanford Review, a conservative student newspaper, Philip Eykamp said the student activists should focus on overt racist acts rather than exposing microaggressions.
Eykamp says the activists' campaign "will only encourage currently minimal racial divisions to grow into precisely the resentful, noxious environment they claim to be fighting."
MORE: Stanford bans men from the gym twice a week
IMAGE: Twitter screenshot
Like The College Fix on Facebook / Follow us on Twitter