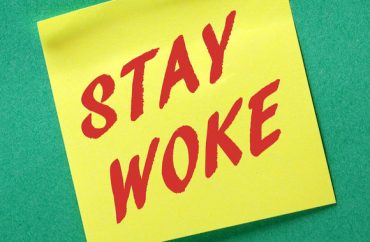 Blocking traffic to read demands
Surprising no one, student protesters at American University are demanding academic concessions based on the racist-banana incident earlier this week.
Campus newspaper The Eagle is tweeting from the protests and marches on campus today. Protesters and media are using the hashtag #ItsInTheAir.
They are chanting "We can't breathe," in reference to the death of Eric Garner after New York City police officers suffocated the black man during an arrest. "We aren't finished," they continued.
They want extensions on finals for all students of color and no penalization for previous exams. Though the audio is difficult to make out, the student behind the bullhorn appears to call for the university to hire a team of outside investigators to "investigate cases of racism and discrimination" committed by the university itself.
.@AmericanU students are calling for all students of color to have extensions on their finals and not be penalized for exams they have taken https://t.co/rGLIofekNy

— The Eagle (@TheEagleOnline) May 5, 2017
Student reads list of demands @TheEagleOnline pic.twitter.com/1x7f0fvkhy

— Maria Carrasco (@mariaspov) May 5, 2017
They are occupying a tunnel on campus and blocking traffic from getting through until their demands are met. They claim they will take over a student-operated cafe on campus, The Bridge, as a "sanctuary for all people of color" the rest of the semester.
Students are blocking cars from leaving in the Bender tunnel, say they will occupy the space until their demands are met https://t.co/xpGdy9Pd8o

— The Eagle (@TheEagleOnline) May 5, 2017
.@TheEagleOnline Cars blocked by students from leaving @TheEagleOnline pic.twitter.com/IRDCQMpMdB

— Maria Carrasco (@mariaspov) May 5, 2017
Blocking of Bender Tunnel, protestors chanting "this tunnel is closed" @TheEagleOnline pic.twitter.com/R5FN1oauYt

— Maria Carrasco (@mariaspov) May 5, 2017
They are also calling on protesters to harass President Neil Kerwin.
Protestors chant "call Kerwin" @TheEagleOnline pic.twitter.com/wlC6UHfAiQ

— Maria Carrasco (@mariaspov) May 5, 2017
The university banned off-campus media, and even the NPR station it hosts on campus, from covering protests earlier this week where activists marched and listed predictable demands about hiring more faculty of color and mandatory faculty training.
It hosted a Facebook Live session today billed as a "town hall," but it appears to just be 45 minutes of conversation between spokesperson Terry Flannery and Doug Pierce, assistant director of physical security, on "strategies for cybersecurity and personal protection in response to recent acts of hate."
AU said in a press release this morning that it sent law enforcement to the home of Taylor Dumpson, the student body president, after a "white supremacist" encouraged his followers online to "troll" her.
Dumpson is a black female and one of the presumed targets of a hanging banana that was marked "AKA," understood to refer to the historically black sorority Alpha Kappa Alpha, in which Dumpson is a member.
The university said law enforcement is giving Dumpson and her family "additional security and technology protections," while noting she has not received physical threats.
The Eagle identified the white supremacist as the founder of The Daily Stormer, Andrew Anglin, based on a letter to AU from the Anti-Defamation League.
Follow The Eagle for more protest updates and read its story on the trolling of Dumpson.
Like The College Fix on Facebook / Follow us on Twitter
IMAGE: Thinglass/Shutterstock