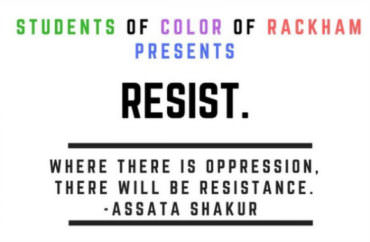 UPDATED
'His arguments have been linked to a rise in race-based violence'
Libertarian social scientist Charles Murray should prepare for a repeat of his wild night at Middlebury College last year, when a mixed mob of students and community members attacked him and sent a liberal professor to the hospital.
Student activists are pledging to stop his University of Michigan event tonight, which is sponsored by the UMich chapters of the College Republicans and American Enterprise Institute, where Murray is a scholar.
While the chair of the Ford School of Public Policy's Student Affairs Committee didn't specify the form of protest in emails to student listservs Tuesday night, one of the participants in a protest group made its aim clear.
"Students of Color of Rackham (SCOR) and the Multicultural Leadership Council (MLC) are asking you to please join us this Wednesday, October 11th, as we shut down a speech on campus by Charles Murray," student Angela Davis wrote on SCOR's public Facebook page Tuesday.
As with most protests targeting Murray, this one is based on Murray's discussion of race and intelligence in his 1994 book with the late Harvard psychologist Richard Herrnstein, The Bell Curve.
Murray's recent work on the white working class, Coming Apart, is the focus of Wednesday's event, though the sponsors note that The Bell Curve "sparked heated controversy for its analysis of the role of IQ in shaping America's class structure."
The post by Davis, who identifies herself as a resident adviser studying "community organizing" in the School of Social Work, notes the Southern Poverty Law Center has listed Murray as a "white nationalist." Murray has two biracial daughters from his previous marriage to a Thai woman.
Davis claims The Bell Curve "argued Whites as [sic] intellectually and morally superior to people of color. His arguments, which have been repeatedly debunked, have been linked to a rise in race-based violence and white nationalism."
The SCOR flyer for the protest reads "resist" and features a quote from Assata Shakur, the first woman named to the FBI's "Most Wanted Terrorist" list. She fled to Cuba after her conviction for murdering a police officer in 1973.
In a Tuesday night email obtained by The College Fix, the Student Activities Committee's Jackson Voss informed the undergraduate, graduate and PhD listservs in the Ford School about the Wednesday protest, though he incorrectly said it was "Tuesday, October 11th."
Voss's email was sent several hours after Davis promised a "shut down" on the SCOR Facebook page, and he used milder language to describe the pending protest.
"The Students of Color of Rackham (SCOR) and Multicultural Leadership Council (MLC) have organized a protest to show the UM College Republicans and AEI that Murray's ideas should not be accepted by students on Michigan's campus," wrote Voss, who is white:
SCOR and MLC will be gathering at 4:30PM at C.C. Little Hall, then marching to Palmer Commons to demonstrate outside the event. I plan on being there myself, and if you wish to join me, please let me know.
Voss's description of Murray's views also suggests the demonstration will be heated, even as he implies that protesters cannot shut down the event.
He claimed the sociologist "continues to defend his belief" that "black and brown people are genetically predisposed for failure" and that the government "should not fund programs aimed at making equal or equitable outcomes between different groups of people."
Voss also credited Murray with influencing "many of the racist flyers put up around campus in recent months," citing an undated post from the diversity, equity and inclusion section of the College of Literature, Science and the Arts:
Because of this, Murray is widely considered to be a white supremacist, who should not be offered a platform to spread his pseudoscientific claims and racist policy goals. …

However, it should be noted – Murray's right to say detestable things is protected, but as policy students, we should challenge ourselves to exercise our free speech rights by protesting his being invited to campus. We should not passively accept Murray's speech simply because of his advanced degrees, his association with a reputable think tank, or because we think his ideas are irrelevant or not worth dignifying with a response. …

As Ford School students and aspiring policymakers, I hope we share the beliefs that people ought to be treated equally and equitably, with dignity and respect, regardless of their race, gender, sexuality, or ability. I do not believe that Charles Murray does – and we should take a stand for our classmates and our beliefs.
The College Fix has reached out to Voss by email for more details about the form of the protest and its intent as he understands it, and to Davis on Facebook to confirm SCOR is planning a shutdown.
Middlebury College formally sanctioned nearly six dozen students who participated in the disruption and shutdown of its Murray event, though local police could not identify the person whose physical attack on his faculty interviewer, Allison Stanger, sent her to the hospital.
On the UMich event page for Murray, the student sponsors encouraged attendees to "ask tough questions" during Q&A after Murray's speech, "but engage respectfully with the speaker."
Informed of Davis's post, the co-chair of the university's AEI Executive Council told The Fix that it welcomed those who disagree with Murray "to listen to him firsthand and respectfully and frankly engage with him during this event."
"We will not welcome any threats of violence or attempts to shut down speech," though, said Ben Decatur, who is also a contributor to The Fix.
"The Student Life staff at the University of Michigan has been working closely with students from the College Republicans who are hosting Charles Murray tonight," Rick Fitzgerald, assistant vice president for public affairs at the university, told The Fix in an email when shown the Davis post:
This is assistance offered to all student organizations that bring high-profile speakers to campus. The overall goal is to help students have a safe and successful event.

That effort, of course, includes our Division of Public Safety and Security, which is carefully considering the safety of our community before, during and following this event.
Fitzgerald did not respond to a question about whether security will escort out protesters who try to disrupt the event.
UPDATE: A university spokesperson's response to a Fix request for comment has been added.
IMAGE: Students of Color of Rackham/Facebook
Like The College Fix on Facebook / Follow us on Twitter