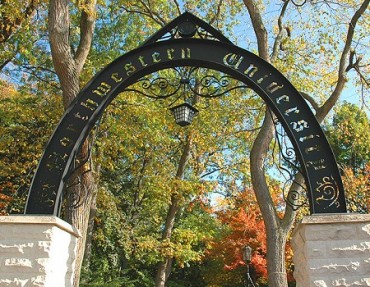 An occurrence of racial harassment at Northwestern University earlier this month has galvanized the university community to do everything—absolutely everything—to combat racism on campus.
What happened?
Tonantzin Carmona was walking home late at night on January 12th when several inebriated female students tried to get her attention. When she ignored them, they rolled their 'r's at her and asked, "What, no hablas ingles?" (What, you don't speak English?)
The incident prompted some students to take action. A "race caucus" was held one week later, with 150 people in attendance. The caucus was led by Carmona, and allowed students to discuss their personal experiences with discrimination on campus and how they could solve it.
Those who attended the caucus found it to be worthwhile.
"I think the student response is justified and reflects a broader problem on campus," said Valeria Jimenez, a graduate student who attended the caucus. "What happened [to Carmona] definitely reflects racial ideas some students may have had."
After the race caucus, a follow-up event was held in Northwestern's House of African-American Student Affairs, where 70 students announced the creation of a new student group called "The Collective." The purpose of The Collective will be to encourage racial diversity and desegregation on campus. A similar student group, Coalition of Colors, was created in 2009 in response to an incident in which some Northwestern students wore blackface as part of a Halloween costume.
"I was really happy to see students rallying behind Carmona at this event," said Roger Almendarez, a member of The Collective. "I still don't feel like the university is doing enough. The Collective will be pushing for the university to hire diversity officers to increase diversity at Northwestern."
Some on campus have even suggested that Northwestern add a diversity requirement to its roster of courses.
"Northwestern, like so many other universities in our country, certainly has an issue with white privilege,"said Derrick Clifton, a student and columnist for The Daily Northwestern. "We're not a community that is actively engaging in conversations about social justice, and we need to be."
In a column promoting the addition of a diversity requirement, Clifton wrote, "when it comes to racism and cultural ignorance, NU still has a ways to go."
Compared with the activities planned by students, the university's official reaction has been somewhat muted. Still, President Morton Schapiro sent out an email to all Northwestern students on Jan. 23 calling the incident "reprehensible" and requesting a meeting with students in February that would "discuss ways we can continue our efforts to make Northwestern a more inclusive and welcoming community."
Provost Daniel Linzer also noted that an investigation has been launched to determine what exactly happened. He called the allegations "a very serious charge." Linzer also said that Northwestern has changed its University Faculty Diversity Committee to a more general Diversity Council in response to the developments. The Council will set up task forces to encourage diversity in student recruitment and on-campus activities.
Whether these myriad efforts will prevent intoxicated students from making insensitive remarks in the future remains to be seen.
Fix Contributor Charles Rollet is a sophomore at Northwestern University.
*This story has been updated to reflect the following change: A source's name was misspelled.
Like The College Fix on Facebook / Follow us on Twitter