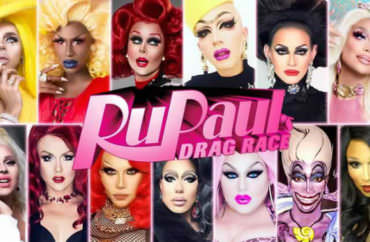 SUNY-Geneseo risks a lawsuit for chilling academic speech
Today's college students may be too young to remember the original run of Arrested Development, the mid-2000s cult comedy that often made jokes about incest, sexual orientation and transsexualism via clever wordplay.
In one episode, Maeby bought her limousine-liberal mother Lindsay a shirt that reads "shemale" after the aging cougar started hitting on the boy that Maeby liked. "It's a 'sheh-mahl-ee,'" Maeby told her fashion-obsessed mother, who agreed to wear it to dinner.
Her sexually confused father Tobias seemed no more clued in. When he went to a bar frequented by drag queens during a marital rough patch, he enthused to his wingman: "All ladies!"
The next big "shemale" joke in pop culture would come several years later on RuPaul's Drag Race, when the best known drag queen in the world quizzed drag-queen contestants on distinguishing "biological women" from "psychological women."
The segment was called "Female or She-male," and even though the point of it seemed to be that we're all Tobias – it's tough to distinguish the two – critics panned it as transphobic.
A sociology lecturer at the State University of New York-Geneseo appeared to be riffing on the RuPaul segment when he gave students a "female or shemale" quiz, and now the public university might fire him for it, raising grave questions about academic freedom at the public institution.
Not even BuzzFeed knows about RuPaul?
According to the Livingston County News, gender and sexuality were the scheduled discussion in David Sorbello's Friday class.
Immediately after the lecture, a few students confronted the adjunct – who can be fired at the drop of a hat – to inquire what the point of the quiz was:
"The term was a bad choice," said [student Jillian] Sternberg, who added that having students analyze the pictures was concerning. "It's as if he was negating the existence of transgender people. It was like telling a transgender woman that she was not really a woman." …

Sternberg and [student Jessica] Friedman described the professor as being defensive about the course materials and indicated to them that he was trying to engage the students through humor and to teach sexual dimorphism, a reference to the physical, non-reproductive differences between males and females of the same species.

Sternberg said that Sorbello brought up sexual dimorphism only after being asked about the just-concluded class session.
It sounds like Sorbello though too highly of his students – both their intelligence and their pop-culture knowledge – when he failed to explicitly explain the quiz.
It's hard to think what other purpose he might have had than getting his students to think about what truly distinguishes the sexes apart from their reproductive organs – and how it may not be as obvious as some think.
Oddly enough, the Livingston County News didn't grasp the RuPaul reference. The students demanding Sorbello's firing, including petition leader Amelia Stachowiak, seemed clueless on what Sorbello was referring to as well.
BuzzFeed, which apparently launched the story after it blew up on social media, had no idea of the RuPaul connection, which is hard to believe for a news outlet that grew out of shallow pop-culture lists.
Amazingly, it fell to Avi Seik at The Washington Post to explain the origin of the quiz in a TV show about drag-queen contestants. (Thanks to Seik for giving me a specific example of alleged transphobia on RuPaul's Drag Race, which I previously knew had been targeted for a range of perceived offenses by trans militants – the same people who have harassed gay sex columnist Dan Savage for years.)
'Inclusivity' over the Constitution
In a troubling response to the mob campaign to fire a defenseless adjunct who was trying to discuss a polarizing subject with humor and pop-culture references, SUNY-Geneseo President Denise Battles did not defend Sorbello's academic freedom.
She wrote to the community that while "the classroom is an environment in which students and faculty can and should discuss challenging topics and ideas," Battles made clear that she values "diversity and inclusivity" more.
That's why the school is "gathering the facts to determine if and what action is warranted," according to the president.
Translation: A public university is chilling the speech of faculty by suggesting it will investigate them if any student is offended by a faculty member's attempted use of humor to make an academic point.
That is blatantly unconstitutional, and Sorbello would probably find a sympathetic ear in the courts if the school punished him in any way.
How not to respond to an uproar
The professor's response only inflamed the situation, I'll concede. After the quiz he reportedly joke-warned students not to get drunk so they wouldn't accidentally go home with the wrong person, either a biological woman or transgender woman.
After the confrontation by his offended students, Sorbello issued a new "zero tolerance" policy that reiterates his syllabus's pre-existing prohibition on the active use of laptops, phones and anything that can record audio or video. (Student Jasmine Cui, an early leader in the witch hunt against Sorbello, apparently never read the syllabus.)
Per the Streisand effect, this only drew more attention to his original behavior and made him look like he had something to cover up beyond using cultural references that flew over his students' heads.
Clearly Sorbello is fearing for his job, which is reasonable. His discipline touches on gender and sexuality, discussion of which seems equally likely to offend progressive and conservative students, and he has no job security as an adjunct.
As First Amendment experts on a recent panel discussion in Washington noted, administrators seem far more fearful of their students than even five years ago, and giving them the scalp of an adjunct may seem like a reasonable price to keep the peace until the next student outrage in a week.
If they don't want to spend money defending against a lawsuit by Sorbello, however, SUNY-Geneseo leaders could probably appease the activists with more mandatory diversity training for faculty, as they are unsurprisingly offering as a compromise measure.
The only cost in the long run will be to the intellectual vibrancy of campus.
IMAGE: RuPaul's Drag Race
Like The College Fix on Facebook / Follow us on Twitter