Students at Lewis & Clark College are calling for the dismissal of an English professor for alleged "inappropriate behaviors" and "harmful messages," according to some of his students.
Earlier in the fall semester, William Pritchard, an associate professor of English, penned a two-page apology letter and read it out loud in class after showing a movie clip with blackface and facilitating a discussion on the subject that students perceived as defending blackface.
But the apology did not ease students' concerns, as they have described it as performative and lacking sincerity, and they have since lodged more allegations against the scholar, who has worked at the Oregon-based college since 2003.
Students from three of his English courses have signed on to a 14-page letter arguing he should be terminated for "inadequate performance and repeated violation of duly adopted policies of the college."
The letter is attached to a petition calling for his dismissal. Titled "Students Stand against Racism, Rape Culture, and offenses against Trans Community," the petition has received over 300 signatures as of mid-December.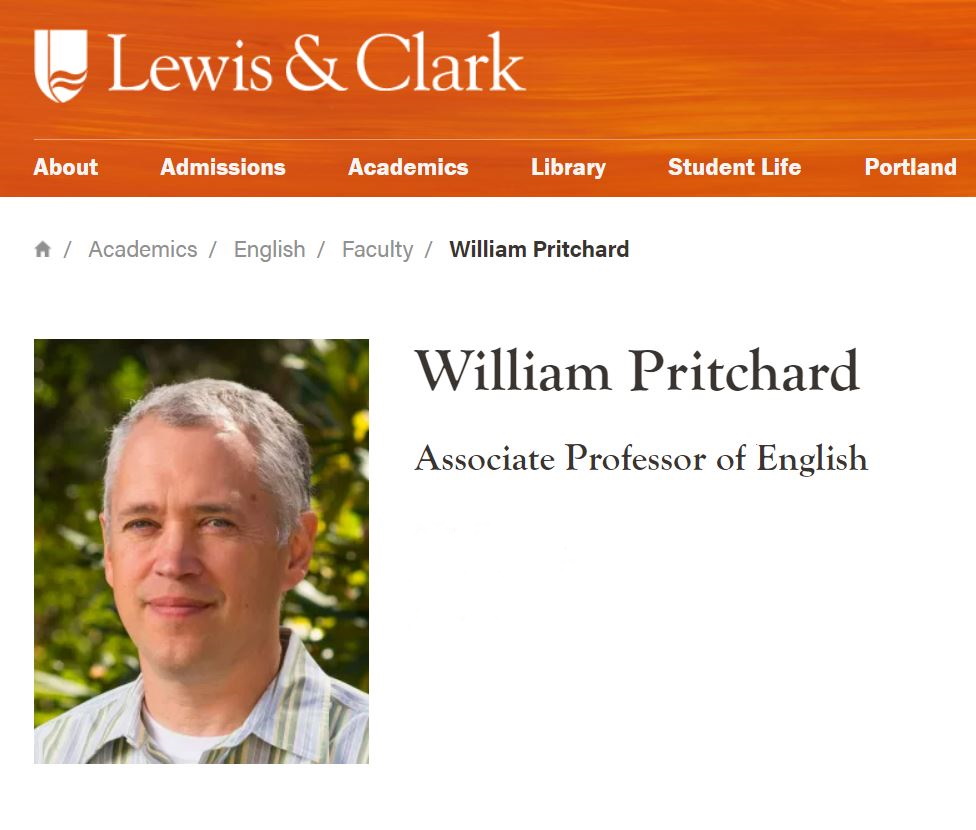 It cited his failure to use trigger warnings prior to classroom discussions of sexual assaults, a reading assignment that argued being transgender is the same as being transracial, his frequent tactic to play "devil's advocate" with students as part of his pedagogy, and his alleged insensitivity for marginalized identities.
"His repeated crusade for 'the importance of discussion' on topics he has no footing in has been harmful to the safety of his students – [especially] that of his students of color, sexual assault survivors, and members of the trans [community]," the letter stated.
"His inability to accept that there are some conversations he, as a cishet white man, has no valid input in to comment on the lived experiences of marginalized groups, comes off as offensive, brattish, and embarrassing."
Pritchard did not respond to requests from The College Fix about the letter and petition.
The letter emphasized Pritchard's "risky" discussions, which students argued exploited "the resources of the racist discourse for multiple in-group rituals performed in a classroom where ethnicity matters greatly."
The concept of teacher-student hierarchy was also highlighted for its role in limiting "the counter options of students and marginalized identities who are the 'butts' of the attacks of their teacher."
Supporters request that Dean of Arts and Sciences Bruce Suttmeier form an advisory committee to consider Pritchard's dismissal as outlined in the faculty handbook.
Suttmeier did not respond to requests from The College Fix seeking comment.
Controversial classroom
In the students' letter, they cite as one large area of concern a class assignment on Mark Twain's "The Tragedy of Pudd'nhead Wilson."
"Pritchard stated multiple times in defense of teaching Pudd'nhead Wilson that 'the benefits outweigh the cons' of reading it. The cons he identified were Twain's use of the n-word and a caricature of African-American Vernacular English," the letter stated.
"When a student asked what said benefits were, Pritchard claimed that the work provided 'perspectives' by portraying how racial identity was defined before the 20th Century. However, we read the book without discussing why race was defined this way or questioning the validity of these definitions and the perspectives they were made with."
In another instance, Pritchard assigned a reading written by a "cisgender white professor" that "equated being 'transracial' to being transgender."
"Pritchard argued that the author of the piece was merely exploring this line of thinking, while we students found it to be an argument that gave credence to these harmful ideas," the letter stated.
Student Claire Champommier, who is leading the effort against Pritchard's actions, told The College Fix on Dec. 15 that the endeavor has received support from fellow students, alumni and professors.
While "the support from the student population has been overwhelming," Champommier mentioned that a professor in the English department opposed the movement to dismiss Pritchard. She said he emailed students who signed the petition saying they should be ashamed for their actions because Pritchard has a wife and child.
"His excuses for his colleague have embarrassed us, and we wish that he did not bring Pritchard's family into this situation, as they are not responsible for their family member's actions," Champommier said.
Those calling for Pritchard's dismissal have also "received hate messages and threats from burner accounts on social media," Champommier said.
Supporters are open to Pritchard changing his ways and retaining his position, but they will persist in advocating for dismissal, Champommier added.
"We will continue to stand by this demand regardless of what our school's administration decides to do," Champommier told The College Fix.
Students have a scheduled meeting with Suttmeier in early January to discuss Pritchard and potential solutions. Even with a possible resolution on the horizon, Champommier said the chance of "success" in these types of situations are extremely low.
"We understood coming into this situation that we cannot expect much, nor should we, from an administration that has a hard time entertaining changing even our name, Lewis & Clark College," Champommier said.
MORE: Professor pens two-page apology for offending students with blackface discussion
IMAGES: screenshots
Like The College Fix on Facebook / Follow us on Twitter