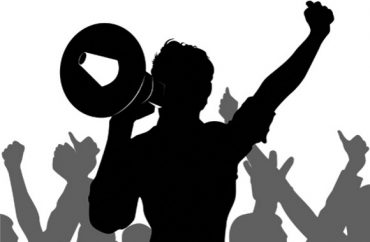 Students at SUNY Plattsburgh are demanding the resignations of several university officials due to how they handled the revelation of a student's racist Snapchat message.
In late January, a white student participating in a group chat wrote "Lynching n***ers tonight." A couple weeks later when word of the message got out, hundreds of students protested throughout the day to demand, among other things, the ouster of President John Ettling, Vice President for Academic Affairs and Provost Michael Morgan, Director of Student Conduct Larry Allen and Chief Diversity Officer Dr. J.W. Wiley.
The administration was implored to "fix this shit," with President Ettling told "You don't need this job, bro."
According to The Sun, the SUNY Plattsburgh Student Senate passed a vote of "no confidence" in Ettling, Allen, and Wiley on February 21. Six days later, the Faculty Senate approved support for the administration's anti-racism measures, but "stopped short of offering support for students' call for […] administrators to resign":
That conversation is being reserved for an all-faculty meeting on Friday, according to Dr. Wendy Gordon, a history professor.

"The faculty senate doesn't have any purview over personnel," she explained.

But if faculty agree to support students' vote of no confidence, whether in its entirety or by singling out certain administrators, it's an opinion that will resonate, she said.

"This is a document that carries moral weight."

If approved, from there the vote would travel to the PSU College Council, Ettling's office and likely SUNY administration in Albany, she said.
Some faculty wanted answers regarding the campus's current anti-racism efforts, but balked at the cost of a possible independent review and/or creating another committee to look into them.
Other student demands include flying the Black Lives Matter flag at the Angell College Center, expelling the Snapchat student's boyfriend, and suspending "every student that saw the SnapChat message and didn't report it" (emphasis added).
Minority student have complained about being "stared at while entering classrooms," hearing people use the n-word, and of passers-by spewing epithets "from pickup windows" (which also fly Confederate flags).
MORE: Students demand Cal State San Marcos' president resign
MORE: Missouri system president resigns to quell black students' rage
IMAGE: Shutterstock.com
Like The College Fix on Facebook / Follow us on Twitter