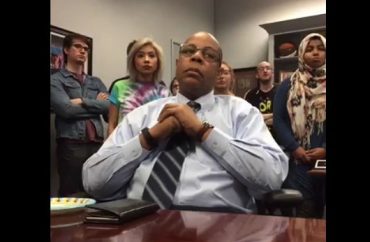 UPDATED
Targeted official says 'Student Accountability Board' is a 'fine' idea
Students at the University of Missouri–Kansas City could soon decide to boot staff and administrators responsible for "victim-blaming and invalidation of rape" if officials accede to the latest demands of campus activists.
One object of students' ire: an email from Vice Chancellor Mel Tyler in which he "routinely" referred to an alleged rape as "alleged."
They are also upset that the reported rape went unacknowledged by administrators for two days after local media began reporting on it.
Jackson County prosecutors have charged a Colorado man with rape, saying surveillance video shows him carrying an unconscious female student into a locked dorm and past a security desk last month.
University protocol calls for the desk attendant to call law enforcement when a student is incapacitated, according to the Associated Press, though it's not clear whether the on-duty desk attendant was there at the time.
The administration has said it didn't send a security alert to students because the suspect, an undocumented immigrant, had already been apprehended off-campus when the rape was reported, according to The Kansas City Star.
Spokesman John Martellaro later apologized to students for initially saying that "the victim went out willingly with the suspect" and "after socializing … she was taken advantage of, or raped, whatever you might call it."
John Martellaro with Kasey at the #UMKC MCom rebranding party #roostories pic.twitter.com/mbV96ifAQ4

— RooStories (@RooStories) October 21, 2013
Students also marched on Tyler's office March 8, where they found him "eating pizza," according to a report in student newspaper University News that portrays the protesters in a heroic light.
They were led by student Helen Proctor, co-founder of Squad of Siblings, who told Tyler that "all of the administrators" need to go through sexual-violence training. She said without evidence that "one in five women will be sexually assaulted" at UMKC.
In a Facebook video of the meeting, one man claimed: "It's in everybody's head by default that they think rape is OK."
Asked by a woman whether he agreed that administrators should seek support from the Women's Center and Title IX office on campus to "get educated about sexual violence so this doesn't ever happen again," Tyler disagreed.
"It's really hard not to agree with anything that you say," said Tyler, who appeared uncomfortable but remained firm. "You are questioning my integrity because … I made a mistake" by bungling the administration's response to the reported rape.
Pressed again by students on the issue later, Tyler said he had already participated in programming for women on campus, although he declined to say what lessons he found valuable.
"It seems like the students need a bigger voice on this campus," student Brennan Schartz, who recorded the video live on Facebook, told Tyler in the meeting. He suggested a "student accountability board to check the mistakes that you made."
MORE: Student leaders buy off race activists with their own 'multicultural' government
The board would be tasked with overseeing "enforcement" of university policy, "keeping administration officials in check by reviewing incidents of violence on campus and at campus-sanctioned events," according to a list of demands read aloud at the meeting.
It would be fully funded by the university and given deference to "hire and fire" staff and administrators "based on a set of criteria that will be established at a later date."
Tyler called these "fine demands" and agreed to another meeting with the protesters.
'Low attendance for violence awareness events'
Administrators hosted a "safe space" with students last week so they could share their feelings about the university's perceived delayed response to the alleged rape.
As a result, university officials barred The Star and other nonstudent media outlets from attending the meeting. U-News was allowed in on the condition that it not record video or audio.
At the 90-minute listening session, Chancellor Leo Morton apologized to students for not informing the campus about the reported rape right away.
A proposal circulated by students at the meeting accused administrators of "victim-blaming." They said by "routinely prefacing the word 'rape' with the word 'alleged,'" Tyler's email and "University News articles" had committed "invalidation of rape."
(The campus newspaper also had trouble consistently describing the reported encounter, twice describing the rape as "alleged" and four times referring to the anonymous accuser as a "victim." It also called the charged man a "perpetrator.")
University of Missouri-Kansas City demands by student activists in response to "alleged" rape by The College Fix on Scribd
The submitted proposal suggests that the students want training to be both stronger and mandatory, but it's not clear for whom. "Existing Title IX training appears inadequate; awareness advocacy appears optional/marginal," it reads.
The optional nature of many anti-rape programs seemed to be a sore spot for those at the listening session. Faculty cited "low attendance for violence awareness events" and said their colleagues should "invite these types of programs into their classrooms," according to U-News.
Students also re-upped earlier demands that the proposed student accountability board, whose members would be elected, be given hiring and firing privileges.
It's not clear who they want the power to hire and fire, though spokesman Martellaro is mentioned twice in the listening-session proposal.
"We have received many suggestions from our students since the Listening Session," UMKC Public Relations Specialist Bridget Koan told The College Fix in an email Wednesday.
"Some of them we acted on immediately or already are in place, some require additional study and discussion," she said. The administration has "invited" those students to meet with student affairs leaders "regularly."
Koan provided meeting minutes requested by The Fix. They indicate one speaker said the meeting's no-media policy showed how far the administration had to go to become "transparent."
Minutes from University of Missouri-Kansas City "listening session" about response to reported rape by The College Fix on Scribd
Time for 'a conversation with HR'
After the meeting, a "group of select students" stayed behind to discuss this proposal with administrators, The Star reported.
Sybil Wyatt, a faculty senator and staffer on the university's human resources team, said the legality of granting students broad powers to remove faculty, administrators and staff would have to be determined through "a conversation with HR," according to U-News.
Morton did not immediately respond to a Fix query about how he felt about students having unilateral authority to make employment-related decisions.
One student who attended the meeting questioned whether the attendees were actually interested in helping the alleged victim or just wanted to push their own agenda, U-News reported.
Morton said he expected the university could respond to the students' demands when spring break ends next month.
MORE: Chelsea Clinton gets fat check for short talk at UMKC
Like The College Fix on Facebook / Follow us on Twitter
IMAGE: Brennan Joseph Schartz/Facebook