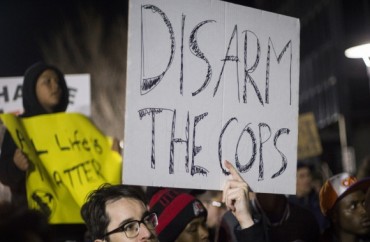 A vocal group of students and faculty at the University of Washington have demanded that campus police be disarmed, saying officers are racist and the department is guilty of institutional racism.
The recent unrest largely centers on an incident on campus Sunday, March 6, in which an officer arrested a visiting male on a felony warrant, The Daily student newspaper reports.
The arrested man was among a small group of Seattle Center College students visiting the campus with Amman Girma, a black academic adviser in the Department of Global Health. Girma claims officers racially profiled his friends, held them at gunpoint, and "humiliated" them, The Daily reports, adding Girma is currently on leave.
Norman Arkans, associate vice president of media relations for the university, told The College Fix in an email there are "conflicting versions of the initial incident involving UW police and the undergraduate adviser and students from Seattle Central College." The university has hired an independent, external investigator to fact-find and determine what transpired, a process still in the works.
"If it turns out there was inappropriate behavior on the part of any of our employees, that will be dealt with," Arkans said.
Meanwhile, a group of faculty in an open letter to President Ana Mari Cauce have called for administrators to "review and restrict the presence and use of weapons and canine units by UWPD on campus" and prohibit "racial profiling, surveillance, search, stop and frisk and harassment based on skin color or any identity/appearance without a warrant."
Underscoring that, a Change.org petition launched in late March accuses campus police of systemic racial profiling and asserts "campus police should not be armed." It has been signed by 740 people so far.
The clamoring to disarm campus police is just one part of larger racial unrest at the University of Washington right now. While the campus is no stranger to it – students marched in solidarity with the protests at Mizzou last fall and in January faculty approved a resolution supporting Black Lives Matter – this latest incident and others appears to have some tempers and tensions flaring.
The campus hosted two meetings this month at which students and faculty bemoaned the University of Washington's alleged institutional racism, claiming there is an urgent need to address systemic racial discrimination.
Other demands from protestors include campus leaders issuing a statement of zero tolerance for racism, hiring professional "overcoming racism" mediators, and comprehensive and ongoing "overcoming racism" training for staff, students faculty in the Department of Global Health.
The Department of Global Health is chaired by Dr. Judith Wasserheit, who is white. Students claim there is racial inequity in the department, including a lack of faculty of color.
There is also a video showing Girma, the black academic adviser in the Department of Global Health who is on leave, confront his department chair, Wasserheit, over what happened to his friends – as well as her reportedly telling Girma to respect her authority. The video shows Girma excitedly confront Wasserheit, who remained calm and professional. At the end of the video, Girma tells her he wants to get her fired.
The video has prompted some sympathies for Girma, including an open letter on Facebook about the incident.
"Tragically, the Global Health department became fearful of their safety based on his communication style. I challenge everyone reading this to ask yourselves how you would react if you were held at gunpoint at your place of business, one of your students was in federal custody, and your superiors dismissed your concerns," the letter states. "Amman and his students were targeted based on the color of their skin. This is evident by drawing parallels to the national epidemic of black body slaughter at the hands of law enforcement. … Could this be attributable to their race? Have any white UW staff/faculty member been held at gunpoint on campus?"
Arkans, the campus spokesman, said officials are continuing to look into the "broader issues of race and racism that continue to plague higher education and society. That is a longer-term matter and we are fully engaged in dealing with that, as well."
Like The College Fix on Facebook / Follow us on Twitter
IMAGE: Brent Olson / Shutterstock