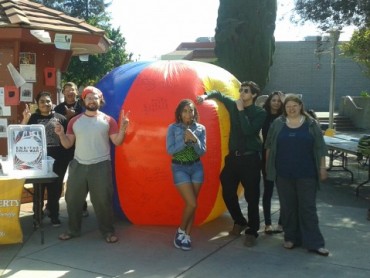 A strategic plan to put the administration on the defensive
A student group at Merced College in California hopes to use a dean's unexplained firing to expand the university's "free speech zones."
Nicholas Mejia, a member of the campus Students for Liberty chapter, has been testing the limits of free speech at Merced since the fall semester, waiting for the right opportunity to recruit supporters.
When the board of trustees voted March 10 to let go of Everett Lovelace, Merced's dean of student services and an African American, with no explanation, students were not happy about it, according to the Merced Sun-Star.
And Mejia saw his opportunity.
Student protesters made flyers to inform the rest of the Merced community the following day, but according to school policies, all flyers must have a stamp of approval – and these were denied that approval.
Protesters hung the flyers anyway, and the administration ordered them down.
The Merced Community College District, which decides where to locate "public forums," has designated the quads at each campus as such.
But it "doesn't necessarily" require protesters to move their activities to the quad from elsewhere, Vice President for Student Services Chris Vitelli told The Sun-Star.
"As long as it's peaceful and not disruptive, there really isn't a zone [where] our campus police would prohibit free speech," Vitelli said.
Influenced by similar fight at nearby Modesto Junior College
Mejia kickstarted his free speech project months earlier, after a friend had a bad experience with Modesto Junior College's free speech policy.
That's the school where students were prohibited from passing out copies of the Constitution on Constitution Day. The two schools are about 45 minutes apart.
"So I took it upon myself to look into Merced College's policy," Mejia wrote in an email to The College Fix.
He started by reaching out to Azhar Majeed, director of the Individual Rights Education Program at the Foundation for Individual Rights in Education (FIRE), but Mejia has a penchant for spectacle as well.
"Last semester, I bought a 12-foot beach ball that we nicknamed 'The Free Speech Ball' to test the limits of our freedom on campus. We roll it around a couple times a month and have everyone write whatever they want on it," Mejia said.
The result?
"No censorship. It gets a lot of attention and to my surprise we never get told to stop what we are doing,​" Mejia added.
Thanks to the beach ball, Mejia drew more support from students and expanded his organization. Students for Liberty approached the student government and convinced it after a month of meetings to support his group.
As luck would have it, the board of trustees was meeting the same day the student government threw its weight behind Mejia's effort.
"I intended to go to the board and make a speech regarding the policy," he said. "When I arrived at the meeting the room was packed. The board of Trustees was going to fire a dean and people came out to give public support," Mejia wrote.
That's what Mejia needed to spread awareness of his efforts, which he had feared would fail if there were "no one left to fight" after he graduates.
FIRE's Majeed is working with Mejia to convince the school to expand the speech zone and relax its flyer policies.
"We always try to work cooperatively on universities' free speech policies, because we think that it is very easy to get these policies resolved without having to resort to negative publicity or certainly litigation," Majeed said in a phone interview.
Merced's review of its speech policies did not occur without negative publicity, though, as Mejia's efforts drew widespread local media coverage.
"In response to this incident, Merced College is reviewing its flyer policy and is looking to improve its regulations," Majeed said, but no other specifics were mentioned.
The Merced administration did not respond to a Fix email sent through a media relations form.
College Fix reporter Courtney Such is a student at Furman University.
Like The College Fix on Facebook / Follow us on Twitter
IMAGES: Students for Liberty chapter at Merced College