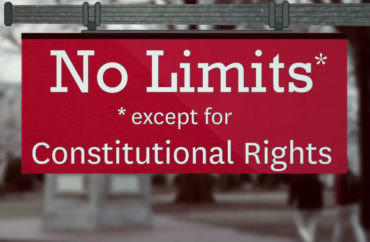 Appeals court must overturn ruling that dismisses 'chilling' effects
The University of South Carolina's investigation of libertarian students for showing potentially "triggering" posters has much broader implications for campus free speech, according to First Amendment and pro-life advocacy groups.
They filed "friend of the court" briefs with the 4th U.S. Circuit Court of Appeals in support of the school's College Libertarians and Young Americans for Liberty chapters, who lost their First Amendment case against the public university this summer.
While a trial judge said USC was within its rights to "protect the rights of all students on campus," including "those who felt discriminated" against by the libertarian event, the outside advocacy groups argued the university was unconstitutionally chilling speech and selectively enforcing its rules.
A spokesperson for the Foundation for Individual Rights in Education, which is sponsoring the lawsuit against the school, told The College Fix that both briefs had been accepted by the appeals court and oral arguments are currently scheduled for the week of January 22.
'Notice of charge' and a gag order
The lawsuit challenges USC's nondiscrimination and non-harassment policies, which the plaintiffs claim allow the university to investigate speech that is merely offensive to some people, thus chilling their protected expression.
But Judge Margaret Seymour ruled that since the libertarian students – whose materials had been explicitly pre-approved by the director of campus life as "educating the campus" – were never found responsible for a policy violation, they couldn't challenge the policies' constitutionality.
The November 2015 event that drew the investigation was intended to foster dialogue on the importance of campus free speech on college campuses. It showed displays of potentially controversial words and images that had been censored at other colleges, sparking a few student complaints.
One said the libertarian students hung "several offensive signs" and used university space "to post offensive symbols and racial slurs." Another described a visual of a Nazi flag as a "hate crime against USC's Jewish population."
MORE: Students sue USC for threatening punishment over 'triggering' wall
College Libertarians President Ross Abbott was issued a "Notice of Charge" and slapped with a gag order preventing him from discussing the complaints with anyone, and asked to schedule a "pre-complaint/preinvestigation" meeting with the Office of Equal Opportunity, Seymour wrote in her ruling.
The judge repeatedly denied that the 45-minute meeting between Abbott, who brought along YAL President Michael Kriete, and the assistant director of the office, Carl Wells, constituted an "investigation."
Seymour called it an "inquiry" that was "narrowly drawn" and served the university's "compelling interest in protecting students' rights to be free from discrimination based on race, gender, religion, or other attributes."
As a result, the College Libertarians "avoiding putting on any public events" at the university and YAL "similarly hesitated" to put on public events, the plaintiffs said in their appeals brief. They feared they would "face possible discipline" or be asked to "justify our actions" again, Abbott had said.
'Process is the punishment'
Seymour's ruling ignores Supreme Court rulings and threatens students' First Amendment rights throughout the 4th Circuit's jurisdiction, which also includes Maryland, Virginia, West Virginia and North Carolina, several free speech groups said in a joint brief.
Longstanding precedent holds that offensive but nonthreatening speech may not be shut down at a public university campus, which USC's policies permit, argued the ACLU of South Carolina, DKT Liberty Project, Individual Rights Foundation, National Coalition Against Censorship, Reason Foundation and Student Press Law Center.
USC cannot ignore that the "process is the punishment," even if no "punishment or retribution" results from calling students into a meeting with an administrator, the brief said.
"The protections of the First Amendment would be of little value if university officials can with impunity subject students to unreasonable and burdensome procedures simply for exercising their First Amendment right to free speech," it said.
The groups called the students' event an example of "classic expressive activity at the core of the First Amendment" that administrators across the country "knowingly and willfully" infringe in violation of Supreme Court precedent, often devising new policies "as fast as lower courts invalidate" their old policies.
The brief gave a long list of "inquisitorial investigations" against similar expression at other schools and said it was contributing to students' increasing unwillingness to speak on campus for fear of being labeled "offensive."
MORE: Court rules against USC students in pro-free speech lawsuit
USC failed to "screen accusations" to ensure they met a "compelling interest" and were not "frivolous" before launching its investigation, the brief said.
It compared the university's action against the libertarian students to the "strategic lawsuits against public participation" that are outlawed in many states:
While the targets might ultimately be vindicated, the vindication will only come after the expenditure of great expense and time, and that assumes the target has resources to challenge the government's actions.
The free speech groups denounced Judge Seymour for failing to cite any case law that says "a university's interest in preventing discrimination" justifies its prohibition of "protected expressive activity that is at the core of the First Amendment," including through a groundless investigation.
The ruling "effectively eviscerates" First Amendment protections for students, they said:
If the District Court's ruling is not reversed, public university administrators will learn the lesson that they have an absolute privilege to subject students to investigations so long as the investigation is triggered by an allegation of "discrimination," no matter how frivolous the allegation.
University policy botches Supreme Court harassment test
In another friend-of-the-court brief, Students for Life of America said its campus chapters have often suffered from the selective enforcement of unconstitutional speech codes such as USC's.
Various schools have blocked the chalking of pro-life messages as discriminatory, required steep security fees to host subjectively "controversial" pro-life events and forced pro-life students to post "trigger warnings" so passers-by could avoid their activism – all while leaving alone pro-choice and secular student activism, the brief said.
"The presence of these policies chills student speech, causing students to fear expressing opinions that others may deem offensive—a category that seems to be growing daily," it said.
USC's speech code is unconstitutionally overbroad because it does not include an "objective offensiveness requirement" under the Supreme Court's 1999 Davis ruling on harassment in educational settings, the SFLA brief said.
MORE: Public university sued for requiring student to censor himself to graduate
By punishing conduct that is "severe, pervasive, or persistent," it added, the university can punish a single instance of harassment or "mild comments" over a period of time. But the Davis test requires all three elements – "severe, pervasive, and objectively offensive" – to count as punishable harassment.
Because the USC policy does not give "fair notice" to students of what is prohibited, but rather relies on the "subjective feelings" of offended listeners, it's also unconstitutionally vague, SFLA said.
The policy "requires a student to choose between speculating as to its meaning and risking punishment, including expulsion, or not speaking," and because its terms aren't defined, "college officials will be pressured to use the standards to silence disfavored expression," the brief said.
This was illustrated by USC's impermissible investigation of the College Libertarians' event "only after a few students complained" based on their "subjective reactions," not an objective violation of clearly defined policy, it added.
Responding to the university's claim that the College Libertarians don't have standing to sue, SFLA cited the Supreme Court's 2014 ruling in favor of a pro-life group that publicly criticized federal lawmakers who voted for the Affordable Care Act.
Just as the Susan B. Anthony List was impermissibly investigated by the Ohio Elections Commission for its free speech, the College Libertarians' conduct is indisputably "affected with a constitutional interest" and "arguably prohibited" by USC's vague and overbroad policy, the brief argued.
It also faces a "substantial" threat of future enforcement, SFLA said.
MORE: Students more afraid of offending each other than breaking speech codes
IMAGE: Foundation for Individual Rights in Education/YouTube
Like The College Fix on Facebook / Follow us on Twitter