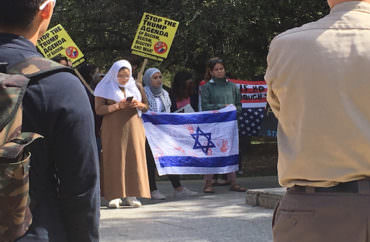 VIDEO: Pro-Palestine group claims 'confluence in fascism and Zionism'
A pro-Palestine campus activist group recently called for violent action against "fascists," a term it linked with "Zionism," or the political support of Israel.
The University of Illinois at Urbana-Champaign chapter of Students for Justice in Palestine recently held an event called "Smash Fascism." Their Facebook advertisement for the event described it as a "radical anti-fascist demonstration," and declared there to be "no room for fascists, white supremacists, or Zionists at UIUC."
In video of the event obtained by The College Fix, one student can be seen holding an Israeli flag with bloody handprints on it, with the word "genocide" written on the flag. Protesters are heard chanting "no justice! No peace! No war in the Middle East! No Zionists, no KKK, resisting fascists all the way" and "no Trump, no KKK, no fascist U.S.A.!"
The group sent out a Facebook post leading up to the event, which took place on Tuesday, September 5, claiming that the "confluence of fascism and Zionism is becoming more obvious by the day" and that as the "two forms of racial supremacy merge seamlessly together, the Palestinian struggle for human rights and dignity can set the model for discursive changes."
In another Facebook post, the group endorsed the tactic of "violent resistance," claiming that while "nonviolence and peaceful civil disobedience have their places," violent action "also has its place."
In a statement given to The College Fix, StandWithUs, a non-profit Israel education organization, denounced this rhetoric, saying the group "strongly condemns Students for Justice in Palestine at the University of Illinois Urbana-Champaign for equating Zionism with white supremacy and fascism, trying to create a hostile environment for students who believe in Israel's right to exist, and advocating violence. We call on the university administration to publicly condemn them as well."
StandWithUs issued a call to action to the University of Illinois, saying they hope that administrators will use their First Amendment rights "to issue a clear condemnation of SJP, and affirm that Zionist students have every right to a safe learning environment at the university."
On the matter of "advocating violence," Students for Justice in Palestine wrote on its Facebook page: "We do not believe there is any other option when it comes to dealing with fascists and white supremacists."
"The struggle for liberation," the group wrote, "must exist on multiple levels and scales–it cannot, and will not, be confined."
The Facebook event for the Students for Justice in Palestine event claims that 147 people attended it, although the videos and photos obtained by The Fix appear to show a far smaller crowd.
MORE: Israeli academic silenced by antiwar, pro-Palestine campus activists for promoting 'war crimes'
MORE: Jewish students fight back against 'Zionism is Racism' events at Columbia
Like The College Fix on Facebook / Follow us on Twitter