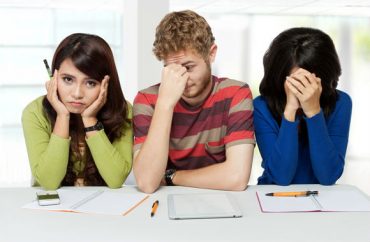 Young Americans for Liberty at Linfield College compared to terrorists, accused of threatening school's 'safe spaces'
All they wanted to do was promote free speech and intellectual diversity. Instead their activities were condemned and shut down by professors and students.
So say members of the Young Americans for Liberty campus club at Linfield College, who tell The College Fix their efforts were stifled and stymied through fear and intimidation, administrative power, and student hysteria at their small school in McMinnville, Ore.
The liberty-loving students say they faced repeated and intense backlash from some professors and students after launching their club this past spring — mostly notably their event with controversial Professor Jordan Peterson was canceled by campus leaders. Peterson is the University of Toronto psychologist recently famous for his opposition to the requirement of made-up gender pronouns.
The student group was also investigated for circulating a "free speech ball" on which someone drew Pepe the Frog, the unofficial alt-right mascot. After an investigation, during which YAL leaders were called in and interrogated, the student who drew the image was forced to write a conciliatory essay.
Another of their events, a screening of "The Red Pill," a documentary on men's rights activists and critical of the contemporary feminist movement, drew even more ire from campus leaders, with one even likening the libertarian students' events to terrorism recruitment.
The associate dean of faculty wrote in the Linfield Review: "Just as becoming a terrorist is a gradual, step by step process, people do not become part of the alt right overnight. These events represent a kind of soft recruitment into more extremist ideas."
Another professor accused YAL of threatening the school's "safe spaces."
In response to these controversies, a recent campus survey found that "there should be some restrictions of speech, people should watch their language as to not offend anyone, and that offensive speakers should not be restricted," the Linfield Review reports.
"Coming out against [campus leftists] is going to subject you to some real trouble," recent graduate Parker Wells, a member of Young Americans for Liberty, told The College Fix. "There's a real climate of fear for people who are outside of the normal liberal campus way of thinking. People are not comfortable saying what they think."
Pervasive left-wing campus culture
In telephone interviews, Wells and rising sophomore Keifer Smith (pictured) said it was their school's pervasive, left-wing campus culture that led them to help launch the Young Americans for Liberty club.
They said they were inspired by the lack of intellectual diversity at the private liberal arts college, which enrolls about 2,800 students and pledges to create "global citizens" out of its pupils, according to its website.
"There was a lot of complaining that the campus was moving too far in one ideological direction," Wells said.
He added he felt there was a strong left-wing culture established by professors that felt nearly impossible to escape. For example, during a wine course he took the professor "went on a forty-five minute lecture about the wage gap. You can't really escape a certain set of ideas no matter where you go."
So they launched Young Americans for Liberty. Wells became its events coordinator, Smith its vice president.
Then all hell broke lose.
The saga of the free speech ball and Pepe the Frog
The group's first event of the year was a "free speech ball" on April 12. To playfully promote free speech and free expression, group members set up a large beach ball on campus upon which students could draw or write anything they wanted.
When students came up to the beach ball, YAL organizers gave out fliers advertising the other events they would be hosting – the Peterson lecture and "The Red Pill" men's rights documentary screening.
On the ball, one student drew Pepe the Frog – the notorious image that some deem to be representative of the alt-right. The view that Pepe is a hate symbol is evidenced by the Anti Defamation League's inclusion of Pepe in its list of general hate symbols. However, the ADL explicitly notes that "the majority of uses of Pepe the Frog have been, and continue to be, non-bigoted."
While Pepe's presence on the ball did not immediately spark any censure – in fact, many students found it "hilarious," Wells said – when the image of Pepe on the beach ball wound up on Linfield's Instagram, censorship, slander against YAL, and an administrative investigation into the group ensued, according to Smith and Wells.
Linfield's President, Thomas Hellie, received a number of emails from people outraged that Pepe – an (alleged) "symbol of racism and white supremacy" – was on the ball. Hellie took down the instagram post and told the Linfield Review that "As soon as it was pointed out that the photo included the image, the Instagram post was removed."
The Linfield Advisory Committee on Diversity then held a free speech forum for the whole campus the Monday after the free speech ball. The diversity committee told YAL that it would not specifically focus on their group or the free speech ball, but that it would be an opportunity to talk about free speech in general.
However, according to Smith, the forum turned into three and half hours of 90 students and professors interrogating and slandering members of Young Americans for Liberty.
The two men said English Professor Reshmi Dutt-Ballerstadt alleged that YAL is "funded by conservative dark money" and "funded by alt-right white supremacists." Wells and Smith both reject these claims.
"There is absolutely no evidence to support that," Smith said.
But "extremely problematic" is how Dutt-Ballerstadt described the libertarian club's invitation to Peterson and its screening of "The Red Pill" in an interview with the Linfield Review.
"Problematic because neither Peterson nor the film will be promoting dialogues about gendered inclusions but rather be promoting a dangerous and offensive logic of gendered exclusions," said the English professor, who is also co-coordinator of the Gender Studies Program. "The promotion of such exclusionary practices greatly threatens 'safe spaces' for our students, staff and faculty who belong to marginalized groups and violates our ethos of upholding mutual respect' on our campus."
Free speech is penalized
After the free speech forum, Wells said, the administration "called in every member of YAL for one on one interviews and asked us – who drew the frog?" After administrators found out who it was, they made the student write an essay about the Pepe incident. (This student preferred not to be identified so as to avoid outrage from other students.)
During the developing controversy, Professor Peterson, in comedic opposition to the existence of "safe spaces" on college campuses, tweeted: "I'm violating some more safe spaces soon: Linfield College, April 24."
I'm violating some more safe spaces soon: Linfield College, April 24 https://t.co/CHA1avaLvu

— Jordan B Peterson (@jordanbpeterson) April 18, 2017
After this tweet, the Associated Students of Linfield College, citing Peterson's "violation of Linfield's harassment policy" and Peterson's lack of punctuality in turning in an application – it was a day late – canceled the talk.
A spokesperson from Linfield stated in an email to The College Fix: "There are always conditions for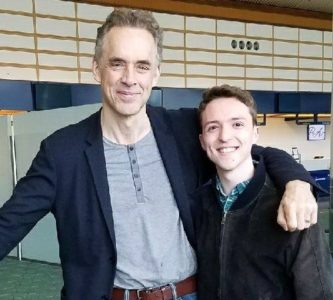 funding. Dr. Peterson and the student organization failed to meet any of the conditions set forth, and ASLC responded by removing its sponsorship and cancelling its funding."
Wells (pictured with Peterson) said that the college has happily looked over such lateness in the past, and it is by no means a precedent for canceling a talk.
Nonetheless, the show went on. Peterson and YAL rented space at the Evergreen Aviation Center Museum grounds and, according to Smith, about 400 fans showed up, and more than 300 people watched it on livestream. The talk was exceedingly well received: Peterson received a standing ovation and the lecture has since been watched more than 86,000 times on YouTube.
As for Linfield cancelling his speech: "You were obviously just looking for any excuse," said Peterson in his YouTube response to Linfield.
MORE: College disinvites professor who won't use gender-neutral pronouns because of 'safe space' joke
More trouble ahead
But even during this success, YAL still faced hostility from students.
After Peterson's lecture, people congregated in the theater discussing the talk. Wells says that a student at Linfield who he had never spoken to went directly up to him and said, "Hey. I appreciate what you're doing here, but seriously fuck you." Putting his middle finger right in Parker's face he said, "I think you're just doing this for yourself and you don't care about how it effects other people. And for that all I can say is fuck you."
They also didn't win over many left-leaning ideologues on campus for their May 2 screening of Cassie Jaye's "The Red Pill."
Professor Dutt-Ballerstadt, in an op-ed in the Linfield Review, rhetorically suggested the YAL events "promote racism, homophobia, transphobia, bigotry, misogyny, rape culture, violence against women and a disregard for disabled individuals on our campus."
She continued: "The agenda of groups like Alt-Right and campus clubs that are either supported by the Alt-right or providing a platform for the Alt-Right is clear. They want to challenge college campuses for their numerous diversity and inclusion initiatives that provide a legitimate space for ideas and knowledge base that have been historically marginalized and excluded."
Dutt-Ballerstadt did not respond to a request by The College Fix for comment. Linfield's media spokesperson Scott Nelson did not respond to a question about Dutt-Ballerstadt.
Wells also alleged that students were worried about being publicly associated with YAL not only due to social pressures, but due to possible negative academic consequences.
"I've heard this from multiple students in multiple professors' classes. And it's really not that surprising when you look at what's been said. If you're a freshman and you read what Professor Dutt-Ballestadt said then you wouldn't dare tell her that you had any part of the YAL," he said.
Meanwhile, in the Linfield Review, professor and Associate Dean of Faculty Dawn Nowacki wrote: "Overt white supremacism, misogyny, and hatred of LGBTQTI people have not been strongly expressed in the events organized by the Young Americans for Liberty. In fact, these efforts are a lot more subtle. Just as becoming a terrorist is a gradual, step by step process, people do not become part of the alt right overnight. These events represent a kind of soft recruitment into more extremist ideas."
But a Linfield spokesperson stated in an email to The College Fix that the claims of suppressing intellectual diversity are not true.
"I flatly rejected the notion that speakers on campus reflect a political homogeneity. Among conservative and libertarian speakers Linfield has hosted in recent years are Jim Hoffman (twice), Steve Knott, Justin Dryer, Tom Palmer, Mark Blitz, Peter Berkowitz, Mark David Hall, Jason Brennan, Chris Preble, Patrick Allitt and Michael Zuckert. All have strong conservative credentials. Huffman is not only a constitutional scholar, but was also a Republican candidate for attorney general of Oregon. We have hosted these speakers because we believe it's important to have a civil debate on our campus. We have also hosted liberal speakers for the same reasons," said Linfield's spokesperson Scott Nelson.
Lasting impact?
At the end of the day, efforts by the Young Americans for Liberty at Linfield College have helped pave the way for intellectual diversity and free speech, said its president Lucas Carter in an op-ed in the Linfield Review.
"Among other things, a conservative equivalent to Young Americans for Liberty, known as Turning Point USA, has spruced up on campus and there is word that a democratic socialist club is in the works," Carter stated. "This is exactly what we wanted and we couldn't be any more proud to have pushed Linfield's culture in this direction to be able to discuss such variety of views. That is true diversity. Relating back to the previous paragraph: It might've been a bumpy road, but our activism ultimately paid off and helped foster a culture of respect for the Linfield community."
MORE: Student government rejects Young Americans for Liberty chapter: It's 'dangerous'
Like The College Fix on Facebook / Follow us on Twitter