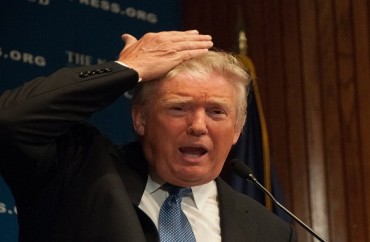 Use our resources without disbanding your chapter
College students who identify as Republicans and feel protective of their liberties may be less than enthusiastic about their party's nominee when they enter voting booths today.
Some have disavowed Donald Trump altogether, including College Republican chapters at Harvard, Cornell, the University of Connecticut and University of Missouri.
It's this group of students that the international nonprofit coalition Students for Liberty is targeting with an "Open Letter to College Republicans."
The letter, made public Oct. 26, says Students for Liberty can help students who aren't on the Trump Train defend free speech and gun rights and oppose the "nanny state."
Read SFL's Open Letter to College Republicans: https://t.co/gdIhRDRmdm pic.twitter.com/aPLsUJzpg1

— Students For Liberty (@sfliberty) October 27, 2016
"Our message is quite simple," David Clement, North American programs director, told The College Fix in an email. "If you are a College Republican who is discouraged by your party's candidate, and want to spread a pro-freedom message, then SFL is here to help."
The letter portrays SFL's offer as an additional resource for CR groups, not a way to raid campus chapters of their members.
MORE: Libertarian Gary Johnson beats Trump with Harvard CRs
"Since we're not a chapter-based organization, College Republicans groups can retain their status while still taking advantage of resources from SFL," it reads.
"We want to make sure liberty-minded student groups are getting the support they need despite the challenges and frustrations of this election cycle."
Apply for our free pro-liberty activism kits today! https://t.co/FG04RsUUjW pic.twitter.com/4eZvtoHfGu

— Students For Liberty (@sfliberty) November 7, 2016
You need help to protect freedom against anti-speech forces
Clement portrayed campuses as a minefield for liberty-loving students.
"There are definitely a variety of organizations … that push to limit, curb, or straight up ban freedom of speech and expression," and they threaten "a student's social freedom, economic freedom and academic freedom" as well, he said.
The open letter notes that SFL gives "grants, training, activism resources, and access to a network of pro-liberty students not just in the United States, but all around the world."
It promotes Second Amendment issues through "Get Out the Liberty" grants and the #NotJustAGun campaign, helps student activists to make free speech walls and "police" free speech zones, and dedicated its quarterly publication this summer to activism against the nanny state.
MORE: UConn CRs say Trump is 'mentally unstable'
"I do feel that many College Republicans are disillusioned by the current state of politics," Clement said, noting that some groups have endorsed Libertarian nominee Gary Johnson.
Not all CR groups have left the Trump fold. For example, chapters at Florida State and Georgia State told The Fix they are voting Trump or discouraging members from voting for third parties.
There are over 100 College Republicans here in Las Vegas, NV to Make Nevada Red Again! We knocked 14,000+ doors yesterday! Trump will win! pic.twitter.com/myGQbwOzwA

— Ariana Rowlands♛ (@IamQueenAri) November 6, 2016
Pennsylvania State University's CRs are among the Trump skeptics. Clement noted that chapter President Michael Straw previously explained the club's non-endorsement to Politico: "I don't think it's extraordinary because obviously young voters are having a hard time supporting Donald Trump. I think it was bound to happen."
Tristan Kaisharis, former president of the University of Alabama CRs, believes in the importance of supporting major political parties and supports Students For Liberty's platform.
MORE: Mizzou CRs give Trump a rude welcome at presidential debate
"Our system, being comprised of Single Member Districts requiring a majority of votes, only allows for two parties because that offers the best opportunity to win," Kaisharis told The Fix in an email.
Yet even he is making an exception this election: "I could not vote for Donald Trump and instead opted to write-in the person I want to be President of the United States."
I am SO PROUD of @GACRs, who represent thousands of College Republicans across #gapol. Their General Assembly has voted to disavow Trump. pic.twitter.com/7DzqhJ20tq

— Chandler Epp (@chandlerepp) October 17, 2016
The 'bridge' between different philosophies of liberty
SFL takes the opposite tack with its work. It launched the "Get Out the Liberty" campaign instead of a traditional get-out-the-vote campaign because "our goal is to highlight voters as individuals, and to emphasize the importance of choice," Clements said.
It gave out grants up to $250 in September for outreach and recruitment intended to promote libertarian ideas on campus. Students could get the money for tabling activities, educating their peers on "single-issue topics" and Constitution Day events on Sept. 16, among other activities.
One in three Americans think you have to be an "R" or "D" to run for president! https://t.co/5b92LgjX6P New survery from @goacta #tlot

— Students For Liberty (@sfliberty) October 30, 2016
Students for Liberty says on its website that it wants to "serve as a bridge" between philosophies that justify liberty in different ways: "We want members of different political parties to discuss with each other what a public policy of liberty means."
MORE: Members of Yale CRs resign after group backs Trump
Like The College Fix on Facebook / Follow us on Twitter
IMAGE: Luis Molinero/Shutterstock