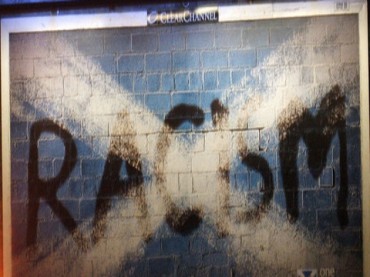 Who knew that ignorance was a legitimate excuse for falling behind in course work?
The University of Iowa removed an anti-racist statue from campus shortly after it was erected because several students mistook it for a racist statue. Some thought it heralded a return of the KKK.
Some students were apparently so traumatized they couldn't focus on coursework – and the school pressured faculty to grant their extension requests, The Gazette reports:
The next day, Vice President for Student Life Tom Rocklin sent an email mentioning social media buzz around "extensions for students affected by current and recent events" and said Helena Dettmer, associate dean for the College of Liberal Arts and Sciences, had advised faculty to approve it. Rocklin also provided a contact in the Dean of Students Office for others "who need accommodations" to help them "sort through options and sometimes advocate on their behalf."

College of Liberal Arts and Sciences policy states students can make up exams missed due to illness, religious obligations, authorized university activities, or unavoidable circumstances. Such circumstances could include jury duty, family tragedy, or a car accident, according to the policy.

UI spokeswoman Beck said, "It is up to individual faculty members to determine if an academic accommodation should be made."
Though he eventually caved, chemistry professor Christopher Cheatum wrote in an email to administrators this was a bad idea:
Cheatum said one student missed a makeup exam at 6:30 p.m. Dec. 5 — about eight hours after the statue in question was dismantled and more than an hour after meeting with administrators on the topic. That student emailed a professor just before midnight Dec. 5 to report he had missed classes and "was not in my right mind to be able to think about chemistry concepts tonight."

"This student, by his own admission, had 1.5 hours after the event(s) in question were over to gather himself and prepare for the exam," Cheatum wrote in his email to administrators. "If we were to allow an exception in this case, we would then set a precedent that being involved in some protest or political action is a legitimate basis for missing an exam, which we might then have to accommodate for other protest situations, to which we would not be so sympathetic."
If this sounds familiar, it's because Columbia Law School did the same thing for its students traumatized by the non-indictments in the Eric Garner and Michael Brown cases.
Wonkette had some fun with these delicate students in a post headlined "Poor Dears At U Of Iowa Terribly Upset By Anti-Racist Art Piece. Makeup Tests For Everyone!" (the "KKK" subhead is great too):
So yay for Doc Cheatum (who really sounds like a character in a Western) both for being nice and recognizing that This Sort Of Thing Could Get Out Of Hand. Yes, it was upsetting art (art often is!), and yes, the protests over censorship were also very intense, but come on, kids, you're college students, too, and neither an upsetting art installation nor a protest about its removal is a car crash or a death in the family. For heavens sake, we couldn't sleep after the finale of M*A*S*H in 1983, but we certainly didn't try to duck out of any exams, even though it wasn't a chicken, it WAS A BABY!
Like The College Fix on Facebook / Follow us on Twitter
IMAGE: Gregor.Maclennan/Flickr