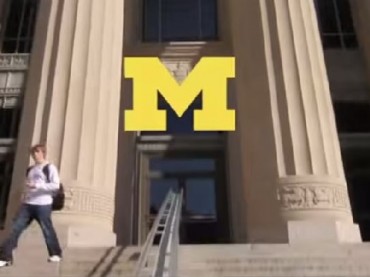 Students, community activists hold 'public tribunal on hostile campus climate' at University of Michigan
Disgruntled students at the University of Michigan have declared an alleged drop in minority enrollment a "national scandal" and representative of "the new Jim Crow," and pledged in conjunction with community organizers at a recent strategy meeting on campus to "kick this university's ass" and "shut the campus down" unless minority enrollment increases.
The comments were made by University of Michigan students as well as radical Ann Arbor-area activists with By Any Means Necessary, or BAMN, who were back on campus Friday night for what was dubbed a "public tribunal on hostile campus climate."
The three-hour trial featured a parade of speakers who bemoaned a wide variety of grievances they claim are prevalent on campus, including racism, sexism, Islamaphobia, misogyny and more to a crowd of approximately 30 people, of which less than half were current University of Michigan students. In fact, children as young as 8 and adults as old as 55 were among the crowd.
BAMN and its cohorts already garnered national attention last year when its raucous campus protests and demands prompted administrators to fork over $650,000 for a Trotter Multicultural Center makeover and create campus campaigns to address alleged racism. But it's clear they are not satisfied with those concessions, saying Friday they were half-measures and have ultimately changed nothing.
"Day in and day out we are forced to sit awkwardly in class because we are scared of what people might think of us," said freshman Tala Taleb, who wears a Hijab, or headscarf. "I always feel like I have to be on my absolute best behavior to not portray Arabs in a negative light. I don't feel comfortable knowing that I am being judged for everything I do."
Taleb went on to call award-winning Professor Victor Lieberman, who teaches "History 244: The Arab Israeli Conflict," a "Zionist" and suggested he discriminates against Muslim students.
Junior Austin Hamling claimed that "hate crimes against Muslin women (are) on the rise." He did not address FBI crime stats which have found hate crimes against Muslims have stabilized following a spike in 2001, however.
BAMN organizers also circulated a petition titled "In Defense of the Rights of Muslim Women," which stated in part "we unequivocally defend the right of Muslim women to freedom of religion and religious expression." The petition did not state what specific actions would be taken to realize this goal, nor clarify the policies that would have to be enacted to ensure Muslim women are free from anti-Islamic bigotry.
Nevertheless, the petition was approved by all in attendance in a unanimous verbal vote.
Another topic they addressed was affirmative action. A long-standing demand of BAMN has been to have at least 10 percent of students enrolled at the University of Michigan be black, although more recently they have pushed for Michigan to adopt a program similar to the one in Texas, where all students who finish in the top 10 percent of their class are guaranteed admission to the state's public universities.
To force administrators to move forward on this, they pledged to "occupy" the Nov. 20 Board of Regents meeting and impede campus operations.
"We are ready to shut down this campus at the Regents meeting if they cannot turn their wrongs into rights," freshman Joseph Frailey declared.
A guest speaker who introduced himself as "Donovan" chose a more inflammatory approach: "We have power, and we can kick this university's ass. This is our campus, and they better open it the f*** up, or we will shut it down." It's not clear if he is a student.
BAMN members repeatedly claimed Friday night that 3.7 percent of the fall 2014 freshman class at the University of Michigan is black – a figure they say is unacceptable and reflective of racist policies.
However, student Joseph Frailey in his speech to the crowd said: "I myself have never experienced racism on a personal level, but I've read numerous articles about racism occurring, and I've entertained the idea of this possibly happening to me."
What's more, it's unclear where BAMN members get the 3.7 percent figure. Official university figures show that 250 out of 5,466 freshman students, or 4.57 percent, are black, according to calculations by The College Fix using figures provided on the university's website.
In an interview with The College Fix after the meeting, Taleb was asked what specific measures she would like to see implemented on campus.
"I would really just like to change things up and finally defeat racism and sexism on campus," she replied.
College Fix reporter Hunter Swogger is a student at the University of Michigan.
Like The College Fix on Facebook / Follow us on Twitter
IMAGE: YouTube screenshot