Professors and students are rallying behind one professor's affirmative action progressive stacking classroom policy to call on "less privileged" students before those who are "more privileged" in her sociology class.
Binghamton University sociology Professor Ana Maria Candela spelled out a policy in her syllabus that prioritized calling on "minorities, women and shy people," reported Syracuse.com.
Candela wrote in her syllabus that "if you are white, male, or someone privileged by the racial and gender structures of our society to have your voice easily voiced and heard, we will often ask you to hold off on your questions or comments to give others priority and will come back to you a bit later or at another time," the New York Post reported.
Candela was reportedly forced to remove her policy from the syllabus. Students and professors demand she be allowed to put it back in.
The College Fix reached out to Candela for comment, but she replied stating she will not be speaking to the media at this time. Binghamton University's Media and Public Relations Department did not respond to a request for comment.
At BU, over 100 people gathered to support Professor Candela and her progressive stacking policy in a rally on March 4, with some advocating for academic freedom and "Kick[ing] Racism out of Bing," WSKG reported.
Professor and rally attendee Tina Chronopoulos told the news outlet she felt the university should not have censored Candela.
"[Faculty] are worried that, you know, whenever they bring up, quote unquote, 'these difficult topics,' that they'll get blowback from people who feel like they're being discriminated against," she said.
At the end of the rally, Candela spoke to the crowd, stating she feels that the support she has received shows that affirmative action policies such as progressive stacking are still needed.
"That tells you something about what students are experiencing on this campus," said Candela, WSKG reported. "That you have to write a statement to help them to feel safe coming into the classroom space, to speak their voices, to have their voices heard."
In addition, Binghamton University sociology Professor William Martin created a Change.org petition in support of Candela and her "inclusive" policy, condemning the "the failure of the SUNY-Binghamton administration to support her."
"Dr. Candela recognizes as we do that our classroom discussions are often dominated by a minority of persons reflecting societal class, racial and gender inequalities. … Many of our students all too often feel marginalized, and discussions are constrained and limited as a result. We should not pretend otherwise," he wrote in the petition.
Instead of reprimanding Candela, Martin writes that he and the signers of the petition "celebrate and endorse her ability to foster a more equitable classroom and university."
Professor Martin did not respond to The College Fix's request for comment.
The petition, titled "Promote Inclusive Classrooms–SUNY-Binghamton," has 981 signatures to date. In a March 6 update to the original petition, Professor Martin listed out the 955 names of the original signers.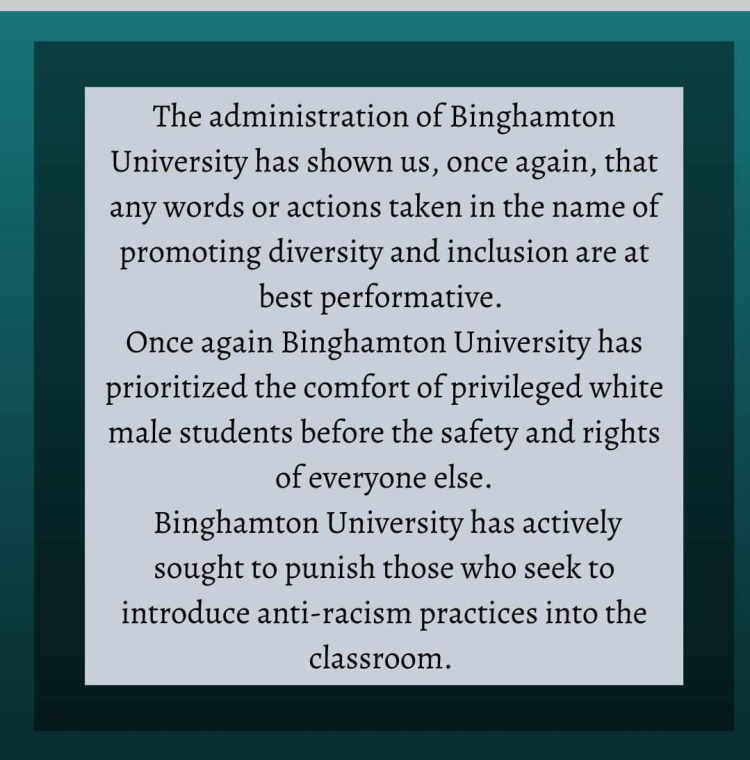 He included links to statements of support from various campus organizations, including the Sociology Department, the Women's Student Union, the Latin American and Caribbean Area Studies program, Sociology 100 Teaching Assistants, the Sociology Graduate Student Union, and the Graduate Students Employee Union (pictured).
"Vicious attacks from Fox, the right-wing press, and trolls continue," he wrote. "The campus administration remains unmoved, publicly and firmly opposed to opening up classroom spaces."
But one student in Professor Candela's class, Sean Harrigan, filed a Title IX complaint against her progressive stacking policy for discrimination based on sex.
"How am I supposed to get a full participation grade if I'm not called on because of the way I was born?" Harrigan told the New York Post.
A statement put out by the BU Women's Student Union opposed Harrigan's decision to file the Title IX complaint, stating he brought a "privileged and white perspective." The organization stated it does not feel that the progressive stacking policy is discriminatory, instead believing that this is a "culture where 'whiteness' is the norm and Western ideals set up the basis of our education system."
A university spokesperson provided Fox News Digital with a statement regarding its stance on the policy.
"The Faculty Staff Handbook outlines principles of effective teaching, which include valuing and encouraging student feedback, encouraging appropriate faculty-student interaction, and respecting the diverse talents and learning styles of students. The syllabus statement you have brought to our attention clearly violates those principles. The faculty member has updated their syllabus, removing the section in question, and is now in compliance with the Faculty Staff Handbook," the statement reads.
SHOCK VIDEO: Aggressive, frenzied mob attacks conservative students, destroys display at SUNY Binghamton
IMAGE: SUNY Binghamton
Like The College Fix on Facebook / Follow us on Twitter