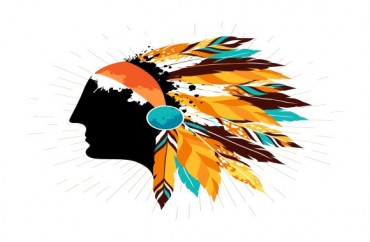 When the Boy Scouts of America's National Order of the Arrow Conference hit Michigan State University last week, it seems that was a golden opportunity for a few students to point out how that organization is a bastion of "cultural appropriators."
There is a big rock on MSU's campus (appropriately dubbed the "Rock") which, apparently, is used by students when they feel the need to make a "point." As such, senior Hayley Cook and alumnus Dan Grenzicki painted the Rock "to raise awareness of Native American cultural appropriation" by the Scouts.
After painting "'We're a people, not your mascot' from Indigenous People of America," Cook then complained that some Scouts took issue with what she and Grenzicki did.
"They went out of their way to sit at the rock in the middle of the night, after their camp schedule, to heckle us at the Rock. We were like, 'this is like a camp, don't they have stuff to do in the morning or curfews?' I've worked in the dorms. I know camps do curfews or else they get in trouble," she said.
She added that some of the Scouts made fun of her appearance.
"So many of the leaders were equally disrespectful, if not more than the boys. One of them I told, 'Hey you have a problem here, your scouts have been harassing us through everything that we are doing.' He first said it wasn't his problem, 'this is a youth led organization. We can't be held responsible for what our scouts are doing.' He then suggested that the harassment was in my head and it wasn't actually happening. It spiraled into a whole other thing that we weren't really expecting," Cook said.

The following scouts were spoken to on Friday afternoon, they were not known to be at the Rock during the Thursday night painting:

John Quimby, an Eagle Scout from Conn., said, "I've grown up in the Native community. It is just a touchy subject and it should be changed. They are trying to go for an image that is old and outdated. What I was taught in Boy Scouts and what I learned at the powwows were completely different."

Quimby said he has spent a lot of time at powwows and was adopted into Native American tribes, even though he is of Filipino descent.

Jasper Wallen, 19-year-old assistant Scoutmaster from Idaho, said, "I dont always feel happy about the ways that we act as Native Americans. But we do have Native American tribe leaders that watch over and make sure that we are doing it respectfully. It is not really the racist thing that a lot of people think."
The article points out that "students have taken issue to the Boy Scout's use of Native American culture and imagery," but aside from Cook and Grenzicki there has been only one other student — at least based on the linked letter to the (State News) editor.
Like The College Fix on Facebook / Follow us on Twitter
IMAGE: Shutterstock