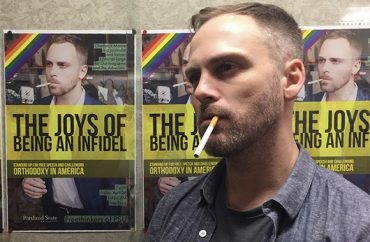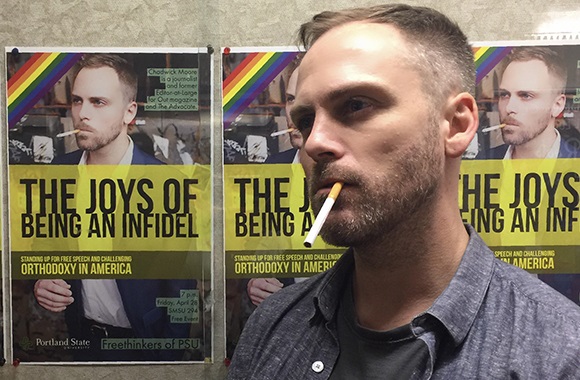 Gay journalist Chadwick Moore – who recently came out as a conservative – spoke at Portland State University in a speech that drew protests and prompted Moore to boldly engage demonstrators who heckled him.
The speech, "The Joys of Being an Infidel: Challenging Orthodoxy and Standing Up for Free Speech in America," drew roughly 60 students and community members, including about a dozen student protesters.
They held signs declaring "No sympathy for alt-right trash" and "Destroy your local fascist," and at times disrupted the speech with verbal outbursts. Moore responded in sometimes feisty rebuttals as the two sides clashed.
Moore entered the national spotlight after coming out as a conservative in an op-ed in the New York Post in February that detailed the intense backlash and hatred he received from his once beloved and supportive gay community for writing a feature on Milo Yiannopoulos for Out magazine.
"If you dare to question liberal stances or make an effort toward understanding why conservatives think the way they do, you are a traitor," Moore wrote in his coming out piece. "It can seem like liberals are actually against free speech if it fails to conform with the way they think. And I don't want to be a part of that club anymore."
Now, as an emerging defender of free speech, he finds himself a target.
'The Joys of Being an Infidel'
In opening his Portland State speech on April 28, he alluded to its title with an Islamic greeting: "As-Salaam-Alaikum," he said. "That's how they say it in France."
The event was organized by Freethinkers of PSU, a nonpartisan classical liberal and humanist student group.
Blake Horner, one of the leaders in Freethinkers of PSU, said that some protest was expected given that dozens of flyers promoting the event had been vandalized or torn down during the preceding week.
"It seems that many people at PSU were motivated to halt public knowledge of this event," Horner said. "We were also confronted by someone who was determined to intimidate us."
On the day of the speech, messages plastered on the group's display case called Moore a "fascist defender."
Moore reserved strong criticism for PSU's Queer Resource Center at the beginning of his speech. He pointed out what he perceived as the center's political bias for refusing Freethinkers' request to place a flyer in its space while socialist promotional material is displayed on its windows.
"Here I am, a public gay person who was working for the two largest gay magazines in the world as their top investigative journalist, and they can't put that up there because they don't like my politics," Moore said. "Maybe the Queer Resource Center should rebrand itself as something less misleading."
Moore suggested the center call itself the "Ministry of Propaganda" or the "I'm with Her Memorial Museum and Gift Shop," referring to Hillary Clinton's failed 2016 presidential bid. The audience burst out in laughter.
.@Chadwick_Moore christens the PSU Queer Resource Center the "I'm With Her Memorial Museum & Gift Shop." Full video: https://t.co/vqhlAw0GBn pic.twitter.com/0medDT34P7

— Andy C. Ngo (@MrAndyNgo) May 7, 2017
Moore later read from a "power and privilege" training document he received from a PSU student. He criticized the training material, which defined white people, heterosexuals and English-speaking people, among other groups, as "agents of oppression" due to their privilege.
After addressing the training material's arguments point-by-point with counter facts and statistics, Moore ripped up the document.
"Anyone who gets this in a future class, this is what you have to do to it," he said. "Sign up for a new class."
'We can punch you too'
Protesters began to heckle and disrupt Moore further in his speech as he continued to ridicule social justice activism and the political far-left.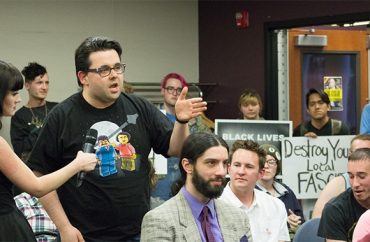 "Can you not wait until the Q&A and be polite?" Moore responded as the interruptions continued. "Why don't you shut up and have respect for your fellow students?"
Later, an audience member called out the rude behavior of some protesters. "Stop being homophobic, let the gay man talk!" he shouted. "You're stifling gay speech."
Moore carried on with his lecture but about midway through another student yelled at him from the middle of the room.
"I am black, I am disabled, I'm a woman," she shouted. After a back-and-forth, Moore invited her to speak during the Q&A. The student stormed out of the room and pounded on the window with her fists.
"Girl, there's still time, we can punch you too," a student shouted to Moore after he mocked the disrupters' low energy. "Sorry, not a threat," she said after the audience gasped. Some students in the audience recognized her as a candidate for student government.
Protester to @Chadwick_Moore at Portland State: "We could punch you too." Full video: https://t.co/wKe2Naaesm #PDX #Portland pic.twitter.com/9RE7Ed8ft3

— Andy C. Ngo (@MrAndyNgo) May 7, 2017
1 in 5 gay Americans are conservative
Moore closed his speech by reading part of a letter he received by a gay man who thanked him for "coming out" in his New York Post op-ed.
"This touched me so much and I cried a little because I was thinking about how much the gay community has meant to me my entire life," Moore said.
Citing a Gallup survey that estimates 1 in 5 gay Americans are conservative, Moore shifted his ire to queer resource centers across the country.
"If you decide to shun a huge percentage of your community simply because they might not agree with your political views … you're denying people a chance to true happiness of living authentically," he said.
During the Q&A, audience members used the opportunity to express support, criticism or gratitude for Moore's partisan views.
"I was one of those people who wrote you a message when you came out," said a young woman in the audience. "I want to personally thank you for being as loud as you are because you're speaking up for people like me."
Later on, one of the protesters who earlier held a "Black Lives Matter" sign asked Moore about his views on racial matters.
"You talk about how you feel like you don't have free speech in some places," she said. "Are you also fighting then for the free speech of black gay Americans?"
Puzzled by the question, Moore asked her to clarify.
"Knowing people who side with the right-side … they tend to be racist," she said.
Moore stated that he supports free speech full stop.
"Why would I not want black people to have a voice?" he asked. "I want everyone to have a voice. More speech is more speech."
Freethinkers
After answering questions for about 40 minutes, Moore thanked the audience and some of the protesters for voicing their dissent in a respectful manner.
Several attendees expressed their gratitude to event organizers for hosting the event.
"I was impressed by Chadwick standing up to these bullies and speaking his mind," said Mykle Curton, a self-identified leftist who graduated from PSU in 2013. "Just because I disagree with him on politics doesn't mean I can't like and support him. I agree with him about his rejection of identity politics. They argue that you can lump people into groups and generalize their experiences and beliefs."
Marko Balogh, a student leader of the Freethinkers, expressed concern that the event was too politically polarizing and didn't further the mission of the organization.
"While I think free speech—including the freedom to offend—is an absolutely vital component of an intellectually healthy society, I don't think the excessively combative demeanor of the speaker was helpful," he said. "If we are going to reduce political polarization and make our society better for everyone, we have to approach politics from a charitable and well-meaning mindset."
Balogh said he hopes future events organized by Freethinkers would encourage conversations in which "all sides of the issues are considered wholeheartedly."
Editor's note: Andy Ngo was involved in organizing this event.
Like The College Fix on Facebook / Follow us on Twitter
PHOTO CREDITS: Main, Twitter screenshot; Top, Collin Berend; Bottom, Andy Ngo