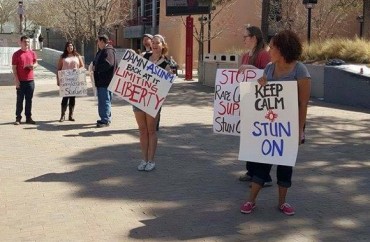 Conservative, libertarian and Republican students at UNM join forces to demand right to carry stun guns
Albuquerque, N.M. — As administrators at the University of New Mexico float a policy to ban stun guns on campus, a group of conservative, libertarian and Republican students there have joined forces to demand their right to carry stun guns at school, citing assaults and other crimes on campus as a big reason why.
"We need to implement greater measures to make sure that this campus is safe for all, regardless of gender, sexual orientation, or race," Marina Herrera, vice chairwoman of the UNM Young Americans for Freedom, told The College Fix. "This isn't about promoting violence, this is about promoting safety on one of the most dangerous college campuses in the nation."
According to the university's 2015 campus safety report, there were 15 aggravated assaults, 15 burglaries, 28 instances of stalking, 15 cases of domestic violence, and 12 rapes on campus in 2014.
"The basic premise here is we have students on this campus that have been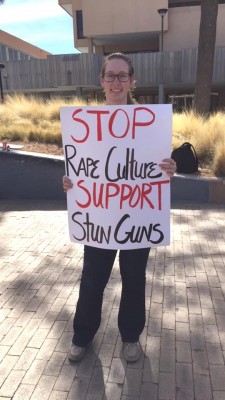 routinely assaulted, we get the alerts all the time," junior Langston Bowens, a member of Young Americans for Freedom, told the Daily Lobo. "There are people that are robbed, that are sexually groped, this is a real concern. The issue is the idea of protection."
Currently the public university's regulations on bringing stun guns to school are ambiguous, and administrators are in the process of clarifying the policy in what many expect will be a move to explicitly prohibit stun guns from campus.
Citing a Tenth Circuit Court of Appeals opinion from last November that characterizes at least a certain type of stun gun as a dangerous weapon, a campus spokeswoman told The College Fix officials have penned a draft revision to the school's weapons policy to specifically bans stun guns.
"Except for law enforcement officers in the performance of their authorized duties, all other persons are prohibited from using or possessing tasers, stun guns or any other electro-shock weapon on campus," states the draft.
"[T]he draft would have to go through the policy review process, which includes a public input component, before approval," Dianne Anderson, director of media relations, said in an email to The College Fix.
RELATED: Oregon campus attacked by shooter is gun-free zone guarded by unarmed security guard
Meanwhile, students on campus are weighing in on the controversial matter.
More than a dozen students — including members of UNM Young Americans for Freedom, Young Americans for Liberty at UNM, and the UNM College Republicans — recently held a protest on the quad demanding their right to defend themselves.
They gathered signatures in support of stun guns and held aloft signs reading "Keep Calm on Stun On," "Let Us Defend Ourselves," "Don't Tread on My Stun Gun Rights" and "Stop Rape Culture, Support Stun Guns."
The groups' demonstration came after the undergraduate student government at UNM voted down a resolution in support of the right to allow students to carry stun guns on campus.
"There are 21 students for Young Americans for Liberty, 10 students in Young Americans for Freedom and only 20 students in College Republicans, and there are nearly 2,500 students opposing this law just between (the) Residence Hall Association and National Residence Hall Honorary, as well as the Women's Resource Center, serving way more than 51 students. For three organizations out of 466 student organizations wanting this resolution to pass, I don't think that directly relates what the students are asking for," student Sen. Justin Cooper said before the vote, according to the Daily Lobo.
But during the counter-protest, more than 300 signatures were collected in support of allowing stun guns on campus.
"The 300 signatures provide more clout and flies in the face of the claim that our groups are the only people who support it," Ryan Ansloan, chairman of YAF and a member of YAL, told The College Fix.
A new pro-stun gun resolution is expected to be brought before the student government again, and the student groups say they will continue to collect signatures and host campus protests to help gain support for its approval.
RELATED: Texas students to protest new gun-rights law with 'Campus (DILDO) Carry' demonstration
Like The College Fix on Facebook / Follow us on Twitter