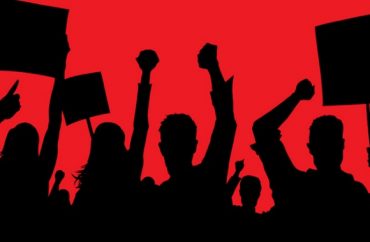 UPDATED
Activists also want system in place 'to report our fellow classmates'
A group of students at The College of Wooster engaged in a sit-in earlier this week, issuing a set of 23 demands that included the expulsion of a right-wing student and a system for reporting "bigoted statements or actions" made by Wooster students.
The sit-in, which took place on Wednesday and lasted until around 10PM,  occurred in Wooster's Galpin Hall, according to the local channel News 5 Cleveland.
About three hundred and fifty students participated in the protest.
As part of the protest, the group issued a list of 23 demands to the university, declaring: "As a result of administration continuously dismissing students' concerns, we, the student leaders at the College of Wooster, have united in order to create a set of demands that represent each of our respective groups' interests."
The demands, spread out over seven sections, include the expulsion of a student with allegedly racist views; the creation of a "student-led Administrative Transparency Board;" mandatory "consent and bystander intervention training" for new students; a "survivor hotline and house" staffed by students "dedicated to ending sexual violence on the College of Wooster Campus;" the order that the college's website "must immediately becomes language-friendly in every possible language;" and numerous other stipulations.
Notably, the list of demands stipulates that the college "will not penalize, prosecute, or punish any student involved in the protest and the taking over of Galpin Hall on January 24, 2018."
Part of the list of demands also calls out, by name, multiple instructors on Wooster's campus who "continue to perpetuate anti-blackness, stereotyping of minority groups and simply hate speech." The list offers no proof or evidence of these claims.
According to News 5 Cleveland, Wooster president Sarah Bolton stated that the school "share[s] our students' concerns, and deeply appreciate their engagement with this critically important work." According to Bolton's statement following the takeover of Galpin Hall, the school has acceded to at least some of the students' demands:
We began developing the plans to do so today, and will share them with the community over the coming days, as they become more fully developed. Those plans will include more comprehensive educational efforts in the areas of cultural competency and sexual misconduct; more effective and easily accessible reporting and response mechanisms for all types of bias-related harm; and new resources for student groups engaged in work related to diversity, equity, and inclusion.
It is unclear if the school will expel the right-wing student as requested by the activists, or if it will establish segregated spaces for "multicultural student groups," as the students demanded.
Read the report here, and the list of demands here.
UPDATED: Following the publication of this post, College of Wooster spokesman John Hopkins contacted The College Fix and wrote that the student-demand document linked above "makes allegations against several college staff members by name that are…completely unsupported by any evidence. In fact, the college has not received a single formal complaint about any of those individuals."
MORE: Black student group threatens more takeovers if demands not met
Like The College Fix on Facebook / Follow us on Twitter