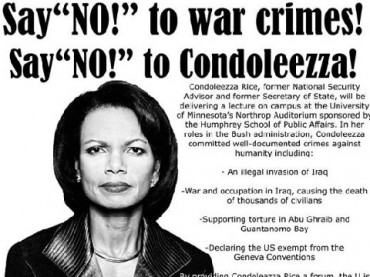 A self-proclaimed "radical" student activist group at the University of Minnesota has called on campus police to arrest and question former Secretary of State Condoleezza Rice on Thursday when she visits the campus to give a speech.
The group, called Students for a Democratic Society, oppose her presence on campus and said she is guilty of "war crimes" and "crimes against humanity," such as "an illegal invasion of Iraq," "supporting torture in Abu Ghraib and Guantanamo Bay" and "declaring the U.S. exempt from the Geneva Conventions."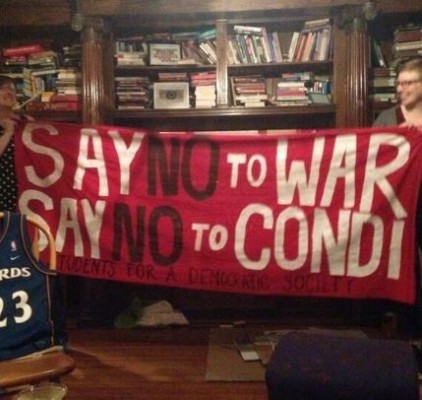 The group sent a letter to the chief of the university's police department and the University's Office of General Counsel alerting officials that there is "probable cause to believe Dr. Rice has been involved in massive criminal activity" and that she is a "truly dangerous" person to allow onto campus.
The letter goes on to offer a physical description of Rice as "a 59-year-old African American woman, 5'8″ tall, and will be present on Northrop Auditorium's main stage" so officers can recognize and locate the former Secretary of State and bring her in for questioning.
"We hope, however, that you do not employ the interrogation techniques she so willingly approved," the letter concludes.
The students have also scheduled a protest to take place on Thursday. However, out of more than 1,500 people invited to the demonstration on Facebook, so far only 156 have indicated they will participate.
In addition to the student group, math Professor William Messing in resolution condemned the university for allowing Rice to speak on campus, saying her speech "violates the university's core educational mission" in that "it serves to obscure the historical record by honoring rather than critically addressing her actions and legacy."
Messing submitted the resolution to the university Senate toward the end of March, urging administrators to rescind Rice's invitation to speak due to objections over her "moral authority." But, before that resolution could be put to a vote, Messing revised the resolution, instead changing the language to ask the university Senate to condemn the college for hosting Rice's speech.
The revised resolution was rejected by a 122 – 22 vote, with 3 abstentions, according to assistant director of communications for the Humphrey School of Public Affairs Andrea Cournoyer in an email to The College Fix.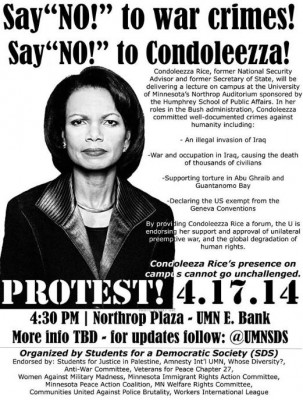 Professor Messing declined to comment to the Fix.
More recently, nearly 200 university educators signed a letter saying Rice is not a good fit for the lecture series' topic this year on civil rights.
Campus officials have defended Rice's upcoming visit.
"The Humphrey School of Public Affairs firmly believes in the value of public dialogue and the presentation of varying perspectives," Cournoyer said. "Dr. Rice played a major role in critical issues impacting the United States and we welcome the chance to host events like this that support public discussion."
"The Humphrey School hosts speakers of widely varying perspectives – including many who have views that differ markedly from those of Dr. Rice – and that is our role and obligation."
Cournoyer also addressed criticisms over Rice's speaking fee of $150,000, which has been labeled by some an outrageous sum.
She said "the selection committee believes that her fee is consistent with fees commanded by other speakers of similar stature," factoring in "time and inflation."
In 2006, Retired Gen. Colin Powell received $100,000 as payment for delivering the annual speech in the lecture series that Rice is delivering this year. In 2010, the selection committee had booked former Soviet leader Mikhail Gorbachev for an agreed sum of $100,000 before the speech was cancelled for an unknown reason.
College Fix contributor Julianne Stanford is a student at the University of Arizona.
Like The College Fix on Facebook / Follow us on Twitter