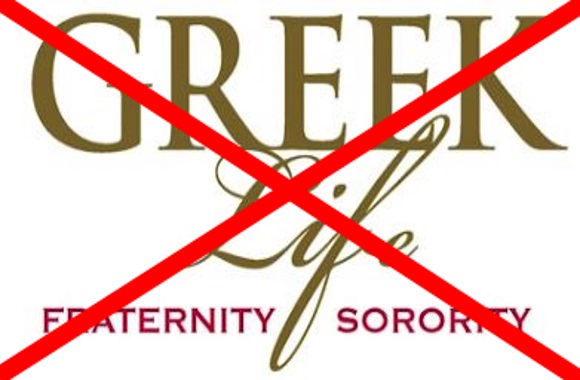 UPDATED
Students involved in a fraternity or sorority at the University of California Merced have been instructed not to use the terms "Greek," "rush" or "pledge" because they are "appropriating Greek culture" and are "non-inclusive," several students told The College Fix.
In particular, they've been told:
Replace "Greek Life" with "Fraternity and Sorority Life"
Replace "rush" with "recruitment"
Replace "pledge" with "potential new member"
"Greek Life" is an ubiquitous term that for decades has represented and encompassed fraternity and sorority activities and organizations nationwide on college campuses.
But in recent years, fraternities and sororities have come under intense pressure and scrutiny by campus leadership — students and administrators alike. The groups are frequently charged with cultural appropriation for the themed parties and fundraisers they host.
MORE: National fraternity group tells members not to wear 'funny, ironic, trendy' Halloween costumes
MORE: Greek Events at Stanford Prompt Cultural Sensitivity Forum
At UC Merced, the students said the prohibition of the term "Greek" has been handed down largely by Fraternity and Sorority Life staff coordinator Richard Arquette, who did not respond to repeated requests seeking comment.
However Steve Lerer, assistant director of student government and leadership development, confirmed to The College Fix in a written statement last week that the UC Merced Fraternity and Sorority Life division has recommended some terminology guidelines to be more inclusive.
"UC Merced Fraternity and Sorority Life recommends the use of the terms 'Fraternity and Sorority Life,' 'Potential New Member' and 'Recruitment' by fraternities and sororities on campus. This recommendation is based on national trends and the inclusive language choices that have been made at many other campuses and national organizations," Lerer told The Fix. "While our staff members in Fraternity and Sorority Life choose to use these terms and recommend their use to the local chapters, there is no formal requirement in place for their use."
But several students involved in Greek Life on campus told The College Fix in interviews last week that it's been strongly recommended that they switch up their terminology. They also said that while many students do not agree with the politically correct language, they fear possible repercussions against their chapters for pushing back or ignoring the proclamation.
Changes to UC Merced's Fraternity and Sorority Life have slowly evolved in recent years, a student involved in Greek Life there told The College Fix.
The word "rush" was last used in the 2011-2012 academic year. Its use was prohibited because it "promoted a negative stereotype of fraternities and sororities." The word "pledge" was last used in 2012 because it is considered "a form of hazing."
Arquette now strongly discourages the use of the word "Greek."
The student, a former member of the Fraternity & Sorority Council who asked to remain anonymous because he didn't want to run the risk of his fraternity being punished, told The Fix that Arquette told students in Fall 2015 that using Greek Life is "appropriating of Greek culture, perpetuated bad stereotypes, and not an inclusive term."
UC Merced once held "Greek Week" but it has been renamed "Fraternity & Sorority Life Week" (or "FSL Week"), and a conference once called "Being A New Greek" has been renamed to "Being A New Member."
Now the focus is on "Greek" from the term Greek Life.
"He instructed us several times over the course of the year, in [Fraternity & Sorority Council] meetings, one-on-ones, in casual conversations when we said those words – even if we just slipped up in the terminology we chose," the student said. "And we even held meetings dedicated to the use of the term 'Greek' that went nowhere. It was both a strong suggestion for individual use, but also a requirement for the organizations themselves."
In interviews with The College Fix, some students were willing to openly voice their frustration.
"The plague of political correctness has once again attempted to implement unnecessary and nonsensical law. Who are we offending? Greek people? Our traditions have continued for over 200 years. Greek Life is part of our own American university culture," said Harry Duran, an uninitiated new member of Pi Lambda Phi who spoke on behalf of himself, not the fraternity.
And Shayan Rostami, also an uninitiated new member of Pi Lambda Phi, said he personally believes that "as a member of a fraternity at University of California Merced I believe it's ridiculous that we must filter ourselves on a college campus because some people get offended at words like 'Greek life' 'pledge' 'rush' and 'frat.'"
Editor's Note: After publication, the Director of Operations and Development for Pi Lambda Phi Fraternity contacted The College Fix and asked to clarify that the two students quoted in the article are "uninitiated new members" of Pi Lambda Phi and that their opinions do not reflect the opinions and beliefs of the local or international organization. We have updated the article to reflect this. 
MORE: Fraternity under investigation for wearing sombreros, mentioning Trump's border wall
MORE: All-You-Can-Eat Taco Bars Deemed Offensive, Face Campus Extinction
Like The College Fix on Facebook / Follow us on Twitter