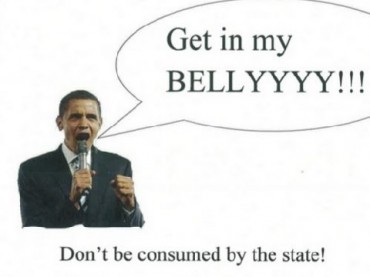 Lawsuit filed to reverse speech policies at Dixie State
Students at Dixie State University have filed a lawsuit against their school after administrators refused to approve their request to distribute flyers to promote their libertarian club, hand outs that rebuked big government by playfully lampooning George W. Bush and Barack Obama.
Campus officials denied the flyers on the grounds that they violated school policy, which does not allow students to disparage others, according to the lawsuit. But the students, members of Young Americans for Liberty, allege their free speech rights have been infringed, and a leader of the group said in an interview administrators are "silencing and marginalizing" them.
The lawsuit also cites an incident in which a security guard for the Utah campus actively monitored the group's "free speech wall" display for so-called hate speech.
The plaintiffs – students William Jergins, Joey Gillespie and Forrest Gee – have demanded in their lawsuit that the public university's "excessive" policies be revised to comply with the First Amendment. They also seek monetary damages and legal expenses.
"All YAL at Dixie did was represent a view different from that of the administration at Dixie State and the status quo, and because of that we were barred from promoting our club and marginalized in pursuing the activities we wanted to on campus," Jergins said in an interview with The College Fix. "Especially on a university campus, people who represent differing views and are brave enough to stand up and express them should be celebrated."
One flyer stated "learn to hold your leaders accountable" and featured a picture of President Bush with the caption "miss me yet?" next to a photograph of a grumpy cat with the caption "Why aren't you in prison?" Another flyer featured President Obama with the air quote: "Get in my BELLYYYY!" over the
caption "don't be consumed by the state!" The third flyer pictured Che Guevara with the words "real rebels don't support centralized state authority." Each flyer also listed the time, date and location of the group's meetings.
The three flyers were reviewed last October by the dean of students and the administrative assistant to the dean of students and were denied because they "mocked individuals" in violation of Dixie State policies, the lawsuit stated, adding the flyers were only approved for distribution after the students agreed to remove the images of the three political figures.
The lawsuit also states the university's director of student involvement and leadership told members of the libertarian campus group that their request to set up a "free speech wall" could only be held in a designated "free speech zone" on campus.
But the free speech zone is located in an area on campus with no classroom buildings, so students have little reason to pass by, the lawsuit states. Moreover, the "free speech zone" comprises only around 0.1 percent of Dixie State University's 100-acre campus, the suit adds.
What's more, a campus police officer spent 30 minutes looking over the "free speech wall" to search for anything that could be deemed "hate speech," according to the lawsuit. The presence of the officer during the October event also caused student participation to decrease, it alleges.
Overall, Jergins said, the university is "silencing and marginalizing" the club by limiting the free expression of ideas and thoughts on campus.
"It is our right not only as students and citizens of the United States, but as human beings [to] express our opinions and be heard by those who are willing to listen," Jergins said. "It is also our right as human beings to hear and learn from the opinions of others when they are brave enough to express them."
He continued: "Regrettably, Dixie State's administration has chosen to pretend as if we are neither students, United States citizens, nor even human beings and has not only completely ignored but actively infringed upon our rights as such. So we're suing so that our rights, and the rights our fellow and future students will be recognized and respected."
When contacted by The College Fix, a Dixie State spokesman declined to comment on pending litigation.
As for potentially being ostracized on campus by peers, faculty and administrators for taking the legal action, Jergins told The College Fix he has not encountered any backlash, adding administrators have yet to contact him about the lawsuit, nor release a statement on it.
He also said the students with whom he has spoken have all been very supportive of his efforts.
"The restrictive policies at Dixie State, I feel, have made it very hard to start clubs and to get them operative and attracting new members after they're started," Jergins said. "In speaking with other students, it has been my impression that they've recognized this and know firmly both what a restriction it puts on student life and on their learning environment."
The lawsuit was filed in conjunction with the Foundation for Individual Rights in Education.
"Dixie State is a public university bound by the First Amendment, and the First Amendment is quite clear that you have the unequivocal right to criticize or mock political figures," FIRE President and CEO Greg Lukianoff said in a statement. "One has to wonder how Dixie State students can engage in serious political discussions—or any discussion at all—when they are forced to follow the university's ridiculous policies, which go so far as to forbid any poster in a residence hall that students or administrators can claim creates an 'uncomfortable' environment."
College Fix reporter Andrew Desiderio is a student at George Washington University.
Like The College Fix on Facebook / Follow us on Twitter
IMAGES: Courtesy, FIRE