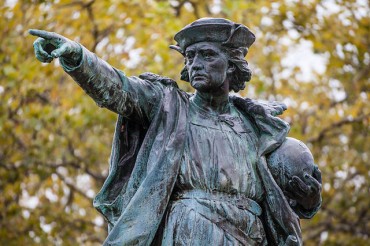 The student government at Arizona State University has voted to change Columbus Day to Indigenous People Day. The Tempe Undergraduate Student Government Senate passed Bill 44 to rename the holiday after contentious debate on campus.
Christopher Columbus has long been known as an admirable adventurer in American lore whose adventurous spirit led him to "discover" America. But, in recent years his legacy has faced mounting criticism for the perceived negative effects his life had on Native Americans.
In the United States, Columbus Day is an official federal holiday. However, not all states recognize the day. South Dakota, instead, celebrates Native American Day. The name "Indigenous People Day" originated in Berkley, California, a city that began celebrating the holiday as an alternative to Columbus Day in 1992.
In Tempe, students were split on the issue. Those in support of the change believed that the bill was a positive way to commemorate the Native Americans whose lives they say were lost as a result of Columbus's arrival to the New World. The opposition said the bill was an example of unnecessary political correctness. There was also another group that preferred that the campus do away with celebrating the day for either cause.
Many admirers of Columbus view him as a symbol of exploration, perseverance, innovation and the beginning of the American spirit. However, critics of the famous explorer paint a darker picture of the man, and more broadly, of European settlement of the New World that he represents. They often cite, for example, the diseases carried by European explorers like Columbus and his men, which caused the deaths of many Native Americans.
An editorial in The State Press, a campus student newspaper, praised the intent behind the name change. "When we recognize the holiday as Columbus' Day, we already remember the person who launched the trajectory that left Native Americans in the state they are today — living on reservations where they suffer from the lowest rates of education and health care in the country."
However, Roger Clegg of the Center for Equal Opportunity questions the rationale behind the name change. "There's nothing wrong with celebrating Native America — as a heritage, not a race, since the principle of E pluribus unum means that we shouldn't be singling out particular races for celebration," he said. "And there's nothing wrong with celebrating the heroic explorers of America either."
"We should be able to celebrate both without denigrating either. The juxtaposition in replacing Columbus Day with Indigenous People Day, on the other hand, is a silly anti-Western statement and a celebration of fashionable victimhood," Clegg added.
Bill 44 has been passed in Tempe, but Columbus, his legacy and his holiday remain controversial subjects. It is clear that Columbus's complicated legacy will continue to inspire controversy for a long time to come.
Fix Contributor Blake Baxter is a student at Eureka College.
Click here to Like The College Fix on Facebook.